Events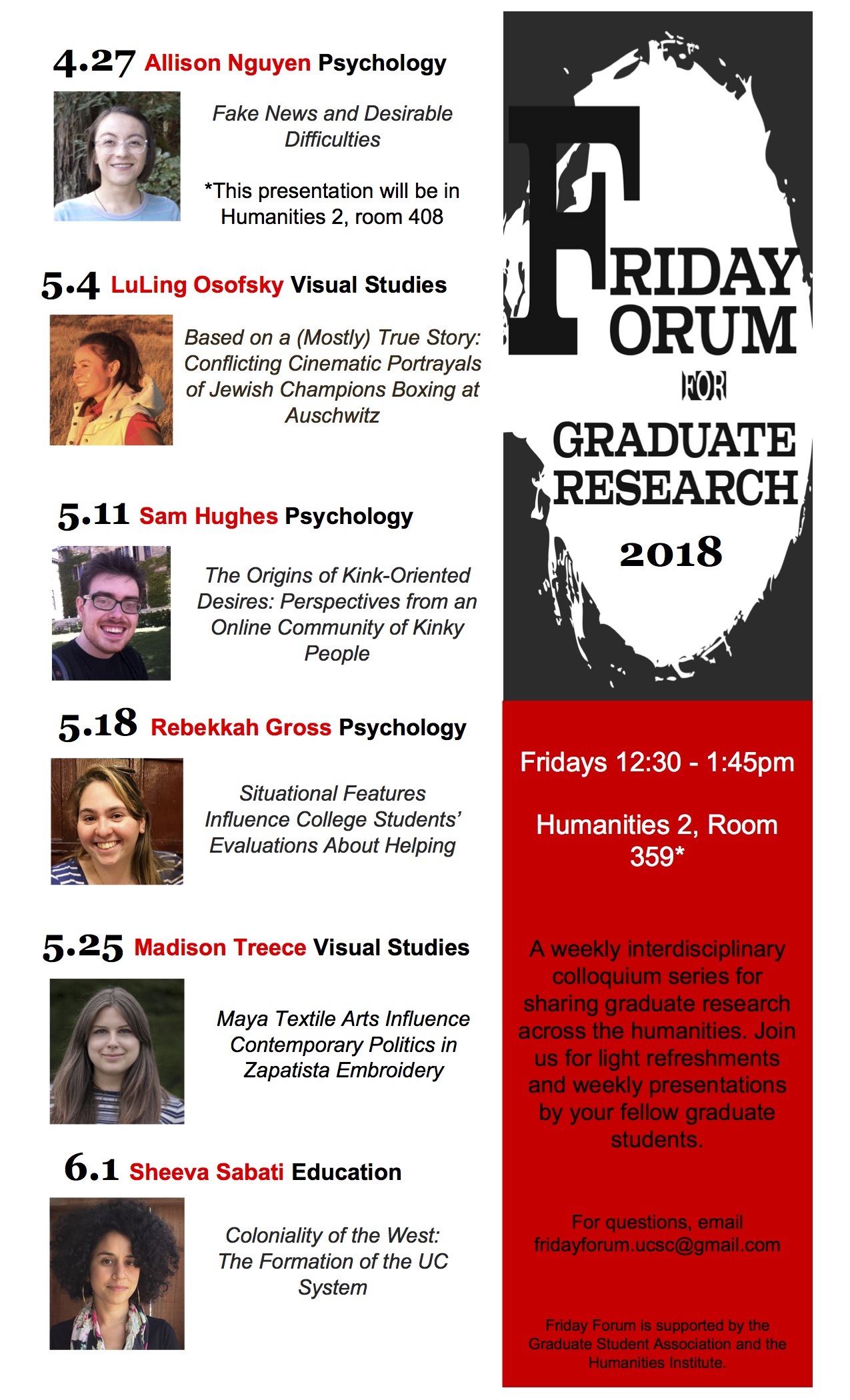 Friday Forum: LuLing Osofsky
May 4, 2018 @ 12:30 pm

-

1:45 pm

| Humanities 2, Room 359
Share
"Based on a (Mostly) True Story: Conflicting Cinematic Portrayals of Jewish Champions Boxing at Auschwitz "
In 2011, I traveled to Tel Aviv to interview eighty-seven year old Noah Klieger, the last remaining Holocaust survivor to have boxed for Nazi officials at Auschwitz. That amateur and champion Jewish boxers boxed at the camps to entertain SS is largely unknown, and the few accounts are contested and contradictory. The "based on a true story" 1989 film Triumph of the Spirit shows Jews boxing fellow Jews to the death; Klieger derided the film as lies. It compelled me to investigate the complications and consequences of representing and narrativizing this horrific predicament in film. My essay blends interview and film criticism, and reflects on which Holocaust narratives get preserved, adapted, or willfully winnowed away.
LuLing Osofsky is a PhD student in the History of Art and Visual Culture program. She's interested in how artists, filmmakers, curators, and political entities represent and narrativize trauma, destruction and disaster.
Friday Forum is a weekly interdisciplinary colloquium series for sharing graduate research across the humanities. Join us for light refreshments and weekly presentations by your fellow graduate students. Friday Forum is supported by the Graduate Student Association, the Humanities Institute, and the following departments: HAVC, Literature, and History of Consciousness.