Events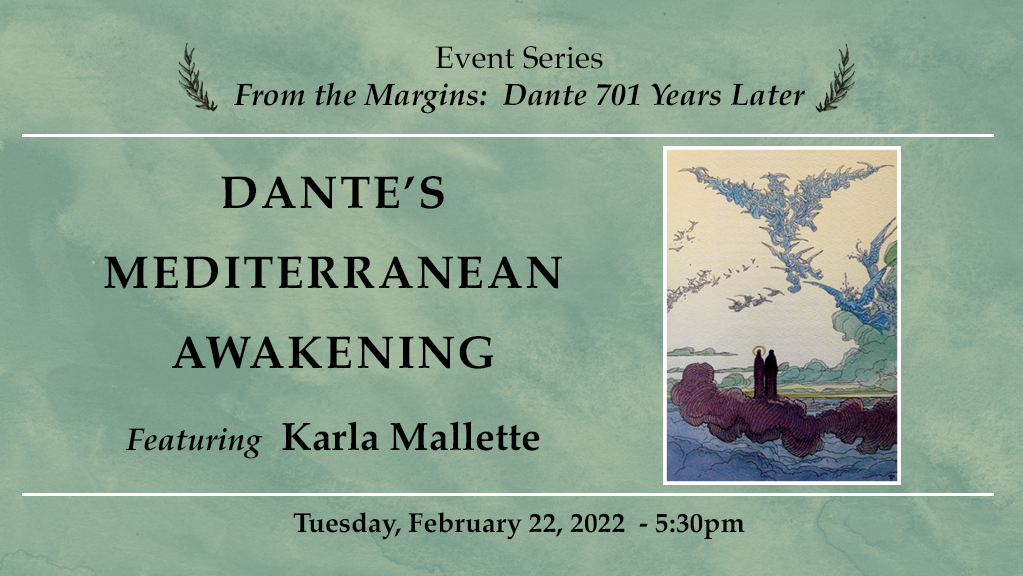 From the Margins: Dante 701 Years Later – Dante's Mediterranean Awakening
February 22, 2022 @ 5:30 pm

-

7:00 pm

| Virtual Event
Share
During Dante's lifetime, the maritime city-states of northern Italy consolidated their position at the center of Mediterranean transit and trade. Thanks to broader trends in the centuries before his birth – the Crusades, increasing trade in essential foods and luxury goods, and swift advances in naval architecture and financial supports for trade, for instance – Genoa and Venice became important hubs for trade and travel between western Europe and the greater Mediterranean world. Florence grew dramatically during the thirteenth century, but it wasn't yet the dynamic financial and artistic center that it would become after Dante's death. Dante's exile exposed him to cultural trends and technologies reaching northern Italy from the broader Mediterranean world that were still little known in Florence. The works he wrote after his exile – especially the Commedia – reveal his fascination with the technological and intellectual innovations that he learned about as he traveled through northern Italy. This talk addresses Dante's discovery of the material culture of the Mediterranean – like the shipyards in Venice, which he may or may not have visited in person; paper and watermarks; dice and dice games; and carpets from the east – and intellectual trends, like Islamic teachings and legends about the afterlife, after his exile from Florence.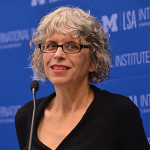 Karla Mallette is Professor of Italian in the Department of Romance Languages and Literatures and Professor of Mediterranean Studies in the Department of Middle East Studies at the University of Michigan. She is the author of The Kingdom of Sicily, 1100-1250: A Literary History (2005) and European Modernity and the Arab Mediterranean (2010); she co-edited A Sea of Languages: Rethinking the Arabic Role in Medieval Literary History (2013). Her most recent book, Lives of the Great Languages: Latin and Arabic in the Medieval Mediterranean, was published by the University of Chicago Press in 2021. She has directed the Global Islamic Studies Center and the Center for European Studies and is currently chair of the Department of Middle East Studies at the University of Michigan.
This event is presented by The Humanities Institute and sponsored by the Siegfried B. and Elisabeth Mignon Puknat Literary Studies Endowment, Literature Department, Cowell College, Italian Studies, and the Center for the Middle East and North Africa at Santa Cruz.