Events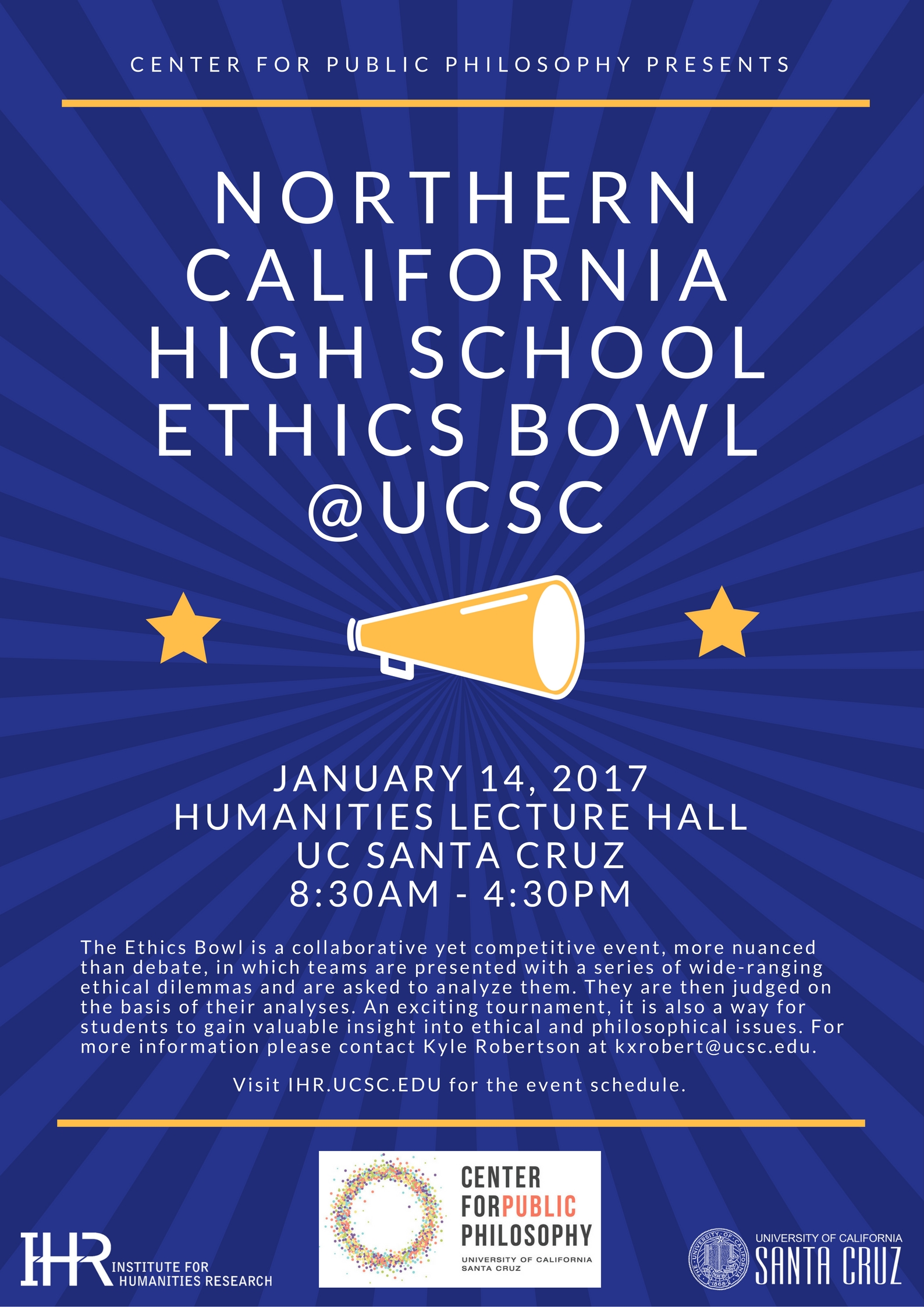 Northern California High School Ethics Bowl
January 14, 2017

| Humanities Lecture Hall, Room 206
Share
Event Photos: by Crystal Birns

If you have trouble viewing above images, you may view this album directly on Flickr.
What is an Ethics Bowl?
The Ethics Bowl is a collaborative yet competitive event, more nuanced than debate, in which teams are presented with a series of wide-ranging ethical dilemmas and are asked to analyze them; they are then judged on the basis of their analyses. An exciting tournament, it is also a way for students to gain valuable insight into ethical and philosophical issues. According to Michael Steinmann, director of the Stevens Institute High School Ethics Bowl, the events promote intellectual, personal, and social growth. They deepen students' understanding of the complexity of ethical issues; increase their sense of personal responsibility; and promote a model of rational, civil discourse so essential to functioning democracies.
During each round, a moderator poses a question to two teams composed of five students and the competition follows a predetermined format encompassing team order and time limitations. All teams receive the cases and questions in fall so that they can prepare their responses with their coaches. The panel of judges includes not only those with philosophy backgrounds but businesspeople, politicians, and members of various professions in the community to underscore the fact that ethics is not simply an academic subject. We will also invite the press to attend. Each team will have the opportunity to compete in several rounds to advance to the semifinals and then the championship round. The winners of the competition (and their schools) will receive special recognition.
The ethical dilemmas used in a high school ethics bowl range from those particularly relevant to young students (questions about cheating, plagiarism, peer pressure, use and abuse of social media, the right to privacy, relationship responsibilities) to political and social issues (free speech, gun control, eco-tourism) and bioethical issues (cloning, parental consent).
Schedule:
7:45-8:00am – Judge's Check-In (Humanities Room 210)
8:00-8:45am – Team Check-In (Humanities Lecture Hall); Judge's and Moderator's Training
8:45-8:55am – Welcome
9:00-10:00am – Round 1
10:15–11:15am – Round 2
11:30-12:30pm – Round 3
12:30-1:45pm – Lunch
1:45-2:00pm – Announce Semi-Finalists
2:00-3:00pm – Semi-Final Round
3:15-4:15pm – Final Round
Northern California High School Ethics Bowl will take place on the UCSC campus on January 14, 2017.
Please contact Kyle Robertson at kxrobert@ucsc.edu for further information.