Events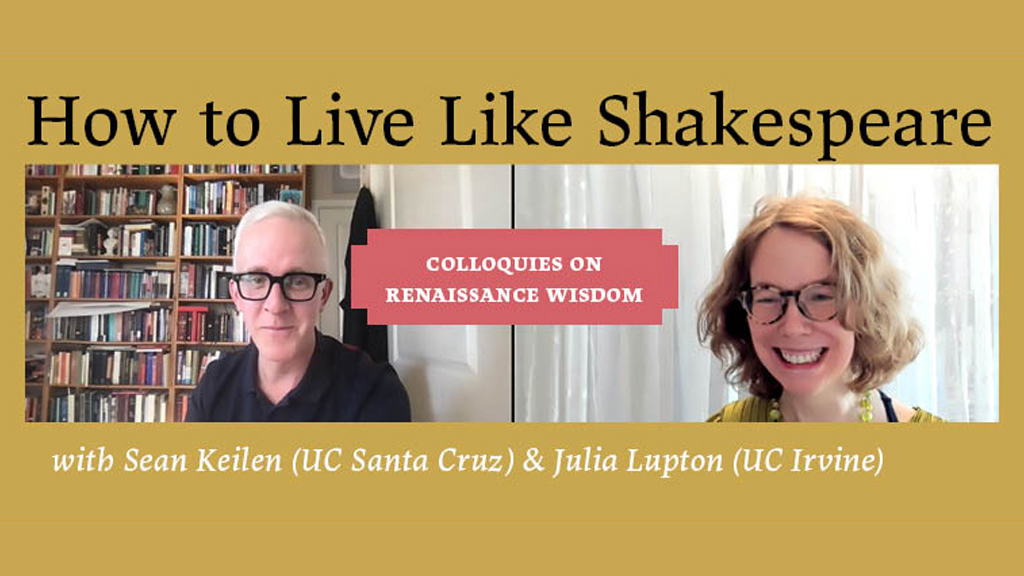 How to Live Like Shakespeare
April 26, 2021 @ 12:00 pm

-

1:00 pm

| Virtual Event
Share
This series of noontime conversations will feature key passages by Shakespeare, selected for what they reveal about life and living. What are the virtues or capacities that Shakespeare took to be essential to social, spiritual, and civic happiness? How do Shakespeare's speakers think out loud about values and ends, and how does Shakespeare think in and through his characters about matters of meaning? What images did Shakespeare offer and what words did he choose to make these themes tangible to his actors and audiences and worthy of sharing with others?

Co-hosted by Julia Lupton (UC Irvine) and Sean Keilen (UC Santa Cruz)
Mondays at noon, April 5, 12, 19, 26, May 3, 10, 17, 24
Themes addressed will include Imagination, Friendship, Fortitude, Empathy, Justice, Forgiveness, Hope, and Courage.
Julia Reinhard Lupton is professor of English at UC Irvine and the co-director of the New Swan Shakespeare Center. She is the author or co-author of five books on Shakespeare and the editor or co-editor of many volumes and journal issues. Recent works include Shakespeare Dwelling: Designs for the Theater of Life and Face to Face in Shakespearean Drama, co-edited with Matthew Smith. Professor Lupton is a Guggenheim laureate and a former Trustee of the Shakespeare Association of America. Her current projects address Shakespeare, virtue, and wisdom literature. She is an award-winning teacher and community educator.
Sean Keilen is Professor of Literature at UC Santa Cruz and the Director of UCSC Shakespeare Workshop. He is the author of Vulgar Eloquence: On the Renaissance Invention of English Literature and an editor of many volumes of criticism, most recently The Routledge Research Companion to Shakespeare and Classical Literature (with Nick Moschovakis). He is writing a book about scholars in Shakespeare's plays and what the modern humanities might learn from them. Professor Keilen is a Guggenheim laureate and an award-winning teacher and community educator. Since 2013, he has worked closely with Santa Cruz Shakespeare, a professional theater company in Northern California.
For information, contact Julia Lupton, jrlupton@uci.edu.
Co-sponsored by UCI's New Swan Shakespeare Center and THI's Shakespeare Workshop.