Events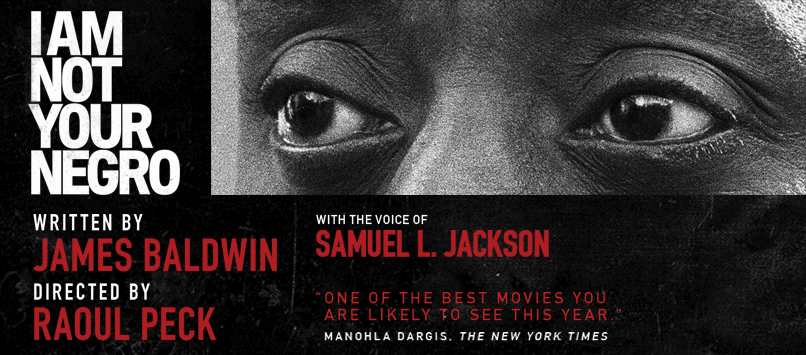 I Am Not Your Negro – Film Screening and Panel Discussion
February 21, 2017 @ 7:10 pm

-

10:00 pm

| Del Mar Theatre

$10.50
Share
I Am Not Your Negro, is an award-winning documentary on the life and writings of James Baldwin.
Opens at the Del Mar Theater in Santa Cruz on Friday February 17th.
In 1979, James Baldwin wrote a letter to his literary agent describing his next project, Remember This House, which was to be a revolutionary, personal account of three assassinated leaders who were also his close friends—Medgar Evers, Malcolm X and Martin Luther King, Jr. At the time of Baldwin's death in 1987, he left behind only thirty completed pages of his manuscript. Now, in his incendiary new documentary, master filmmaker Raoul Peck (Sometimes in April, Lumumba) envisions the book James Baldwin never finished. Using only Baldwin's words, either spoken by the man himself or read by Samuel L. Jackson, and a flood of rich archival material, Peck has crafted a radical, up-to-the-minute examination of race in America. I Am Not Your Negro is a poetic, eloquent and thought-provoking journey into black history that connects the past of the Civil Rights movement to the present of #BlackLivesMatter; it is a work that challenges the very definition of what America stands for. Academy Award nominee for Best Documentary Feature.
Panel:
Brenda J. Griffin, President, NAACP Santa Cruz
David Anthony, Professor of History, UCSC
Bettina Aptheker, Professor of Feminist Studies, UCSC
Ronaldo Wilson, Professor of Literature & Creative Writing, UCSC
Vicki Fabbri, Communication Studies, Cabrillo College
Michael Pebworth, Professor of History, Cabrillo College
Film screening begins at 7:10pm, with a panel discussion following at 9pm. Admission to the film includes the panel. Please save your ticket stubs!
Click here for ticket information
Co-Sponsored by:
NAACP Santa Cruz, Institute for Humanities Research, Feminist Studies Department at UC Santa Cruz.