Events

Ji Young Kim: La prosodia del Uptalk en el Español de Herencia
May 12, 2021 @ 4:00 pm

-

5:00 pm

| Virtual Event
Share
El objetivo de este estudio es investigar los patrones entonativos del uptalk en el español de los hablantes de herencia en Los Ángeles, cuyos padres emigraron de México. El uptalk, también llamado High Rising Terminal (HRT), se trata de la entonación ascendente en enunciados declarativos. Generalmente se considera que el uptalk es un rasgo prosódico del inglés, sobre todo el acento valley girl de California. Puesto que los hablantes de herencia son bilingües en español e inglés, se supone que el uso de uptalk es una muestra de la transferencia del inglés al español. Aunque el uptalk se ha investigado mayoritariamente en las variedades del inglés, es importante tener en cuenta el hecho de que este fenómeno prosódico también se observe en otros idiomas, incluso el español. Por ejemplo, en México, el uptalk es una de las características estereotipadas del habla fresa. Por lo tanto, antes de hablar sobre la influencia del inglés en el español de los hablantes de herencia, es primordial analizar la variación lingüística del español del lugar de origen. En este trabajo, se usó el sistema de etiquetaje Sp_ToBI (Beckman et al., 2002; Prieto y Roseano, 2010) para comparar los contornos entonativos del uptalk de los hablantes de herencia y los hablantes monolingües de español. También se analizó la realización acústica del uptalk de los dos grupos. Los datos muestran que los monolingües producen el uptalk con los contornos más dinámicos y con un ascenso final más empinado que los hablantes de herencia. De estos hallazgos se sugieren estudios futuros para explicar la divergencia prosódica del uptalk de los hablantes de herencia.
Please click here to join the Zoom event: https://ucsc.zoom.us/j/4712467066?pwd=NUkzZEhjallpQWdWcGc1Yk9HeTJudz09
PRESENTATION WILL BE IN SPANISH
Presented by UCSC Spanish Studies and the Department Of Languages and Applied Linguistics.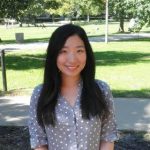 Ji Young Kim es profesora asistente de la Universidad de California en Los Ángeles. Sus áreas de especialización son la fonética y fonología del español, la adquisición de lenguas de herencia, y el bilingüismo. Su investigación se centra en la realización de los segmentos y la prosodia del español como lengua de herencia, el acento de herencia, y la variación fonética del español de EEUU. Ha publicado artículos sobre estos temas en revistas académicas y es co-editora de la edición especial de la revista Languages "Heritage Speaker Phonetics and Phonology: Testing Models and Expanding the Range of Data."