Events

Living Writers: Karen Tei Yamashita and Eric Wat
January 27, 2022 @ 5:20 pm

-

6:55 pm

| Virtual Event
Share
After a long period of sheltering in place and an even longer period of restricting our daily movements, many of us are ready for change. This winter's living writers all have stories of radical transformation to tell. TC Tolbert searches for a language to enact his transition from being Melissa to being TC; Jane Wong struggles to reconcile her American present with the transnational ghosts of her past; Yuri Herrera's heroine embarks on a journey across the Mexican American border; Karen Tei Yamashita tells tales of ever changing demographics & invisible histories; Eric Wat's protagonist remakes himself as he navigates drug abuse, sexuality, death and family dynamics; the speaker in Sandra Lim's book of poems transforms not her life but the way she sees her life. All six writers remind us of the power of literature to transform us. They remind us that when we open a book, often what we're really saying is: change me.
The Living Writer Series is sponsored by The Puknat Literary Endowment, The Porter Hitchcock Poetry Fund, The Laurie Sain Endowment, The Humanities Institute, and Bookshop Santa Cruz.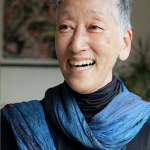 Karen Tei Yamashita is an award-winning writer who was born in Oakland, California. For many years she was Professor of Literature at University of California, Santa Cruz. Her works, several of which contain elements of magic realism, include novels I Hotel (2010), Circle K Cycles (2001), Tropic of Orange (1997), Brazil-Maru (1992), and Through the Arc of the Rain Forest (1990). Yamashita's novels emphasize the necessity of polyglot, multicultural communities in an increasingly globalized age, even as they destabilize orthodox notions of borders and national/ethnic identity. She has also written a number of plays, including Hannah Kusoh, Noh Bozos and O-Men which was produced by the Asian American theatre group, East West Players. Her most recent book is the story collection, Sansei and Sensibility (2020). Karen Tei Yamashita: The Complete Works is now available from Coffeehouse Press. In 2021, Yamashita was named the recipient of the National Book Foundation Medal for Distinguished Contribution to American Letters.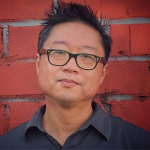 Eric Wat's first book, The Making of a Gay Asian Community (2002), has been described as a "foundational text in queer Asian American historiography." Almost twenty years later, he wrote a follow-up about AIDS activism in the Asian American community, Love Your Asian Body (2021). But his first love was fiction. In 2016, after his grandmother passed away, he quit the best job in the world to write his novel, Swim (2019). He wrote Swim for queer folks whose main concern in life isn't coming out, for people who are dealing with addiction (or know loved ones who are), and for adult children who are struggling to take care of their aging parents (and in so doing are confronted by their imperfect relationships). Wat lives and writes in Los Angeles.