Events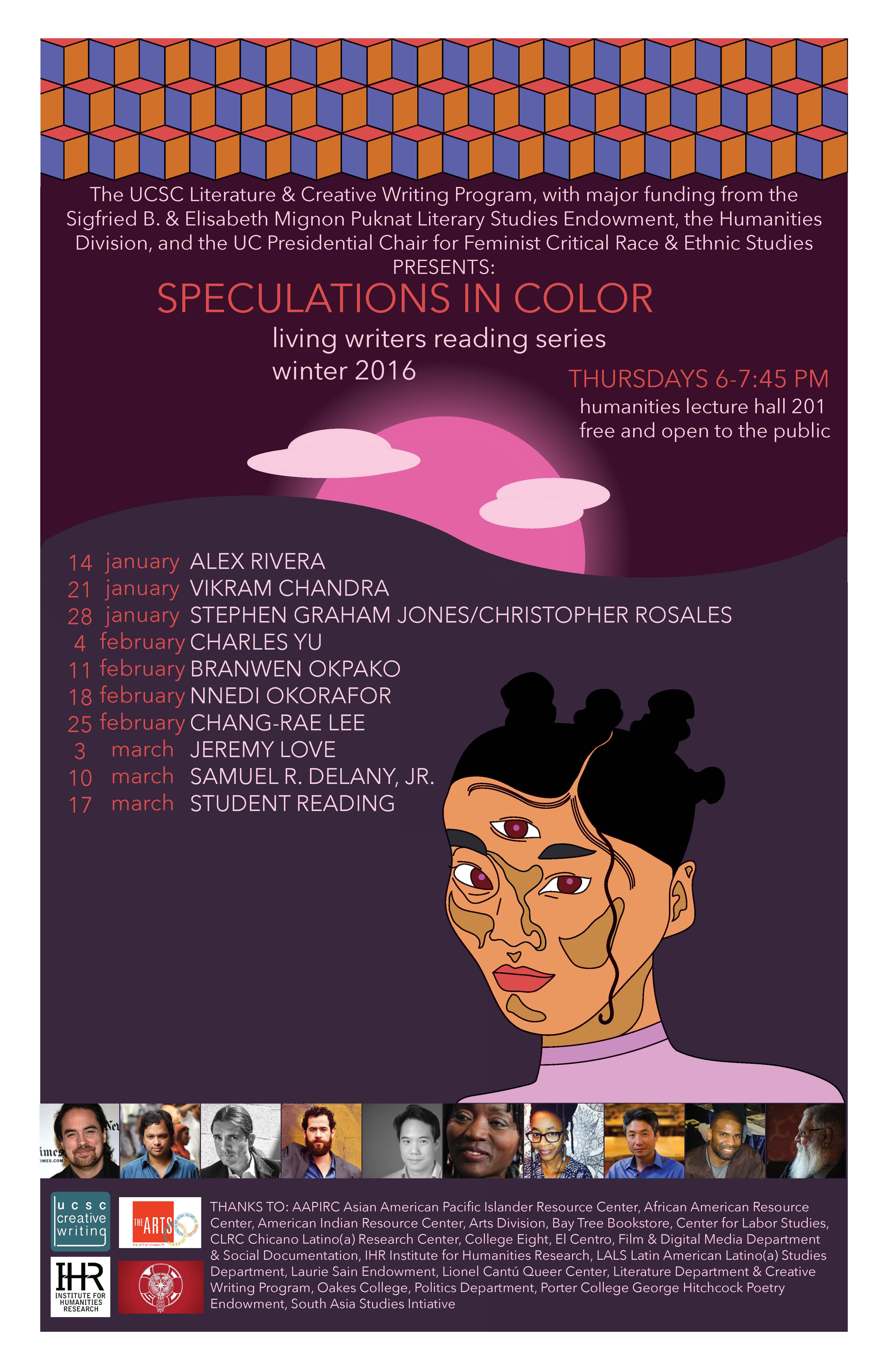 Living Writers: Charles Yu
February 4, 2016 @ 6:00 pm

-

7:45 pm

| Humanities Lecture Hall, Room 206

Free
Share
Charles Yu is an Asian American writer of three well received works of speculative fiction, How to Live Safely in a Science Fiction Universe, Third Class Superhero, and Sorry Please Thank You. Born 1976 in Los Angeles, Yu graduated from University of California at Berkeley and Columbia Law School. He lives with his wife and children in Santa Monica, California. He has been widely published in such places as Oxford American, The Gettysburg Review, Harvard Review, Mid-American Review, Mississippi Review, and Alaska Quarterly Review and has been cited for special mention in the Pushcart Prize Anthology XXVIII. He won the Sherwood Anderson Fiction Award for his story "Class Three Superhero." He was selected by the National Book Foundation as one of its 5 Under 35 program, which highlights the work of the next generation of fiction writers. It is determined by previous National Book Award winners and finalists selecting one fiction writer under the age of 35 whose work they find promising or interesting. Richard Powers, winner of the 2006 National Book Award for Fiction, selected Yu for the honor.
His novel How to Live Safely in a Science Fictional Universe was ranked the year's second best science fiction novel by the Center for the Study of Science Fiction at the University of Kansas, and a runner up for the John W Campbell Memorial Award. The novel has been optioned for a film. The novel focuses on a father-son relationship and the narrator's search for a father. It includes themes of how we live, time, memory, and creation of the self, and features a narrator who shares the author's name and who lives in a time machine with his non-existent dog. His fiction deals with loneliness, isolation, time, memory, speculative technology, and is touched with a great deal of humor.
---
Winter 2016 Living Writers Series:
Thursdays, 6:00-7:45 PM
Humanities Lecture Hall, 206
Creative Work & Critical Play features contemporary writers and artists who expose and explore the space between critical discourse and the creative imagination. Through the work of making art and the play in ideation, they mine issues of race, sexuality, gender, and class through several genres and media, to include poetry, fiction, critical prose, performance, sonic and visual art, memoir, as well as hybrid forms.
January 14: Alex Rivera
January 21: Vikram Chandra
January 28: Stephen Graham Jones & Christopher Rosales
February 4: Charles Yu
February 11: Branwen Okpako
February 18: Nnedi Okorafor
February 25: Chang-rae Lee
March 3: Jeremy Love
March 10: Samuel Delany