Events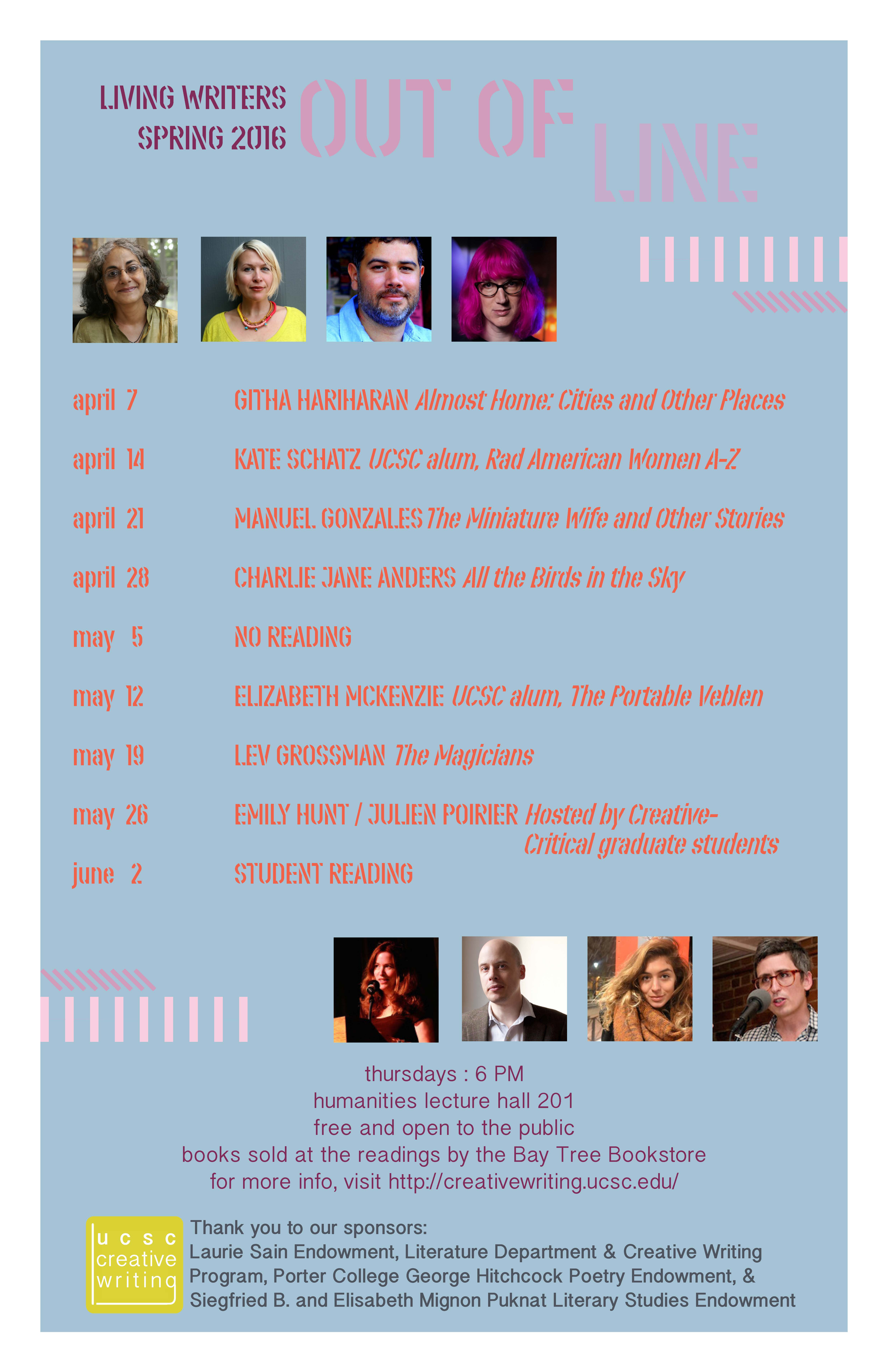 Living Writers: Charlie Jane Anders
April 28, 2016 @ 6:00 pm

-

7:45 pm

| Humanities Lecture Hall, Room 206

Free
Share
Charlie Jane Anders: I'm probably the only person to have become a fictional character in a Star Trek novel and in one of Armistead Maupin's Tales of the City books.
I'm the editor of io9.com, where I'm probably best known for my reviews of Transformers: Revenge of the Fallen and The Last Airbender. Ormy super detailed look at the making of Mork and Mindy. Or for my Game of Thrones recaps. Or for my writing advice columns. Ormy in-depth investigation of people who claim HIV doesn't cause AIDS. Or my geeky articles about topics like the search for a cure for cancer, or how Leonard Nimoy changed everything, or how the TV show Star Blazers helped me deal with being bullied. Or just generally being an obnoxious loud-mouth.
I won the Emperor Norton Award, for "extraordinary invention and creativity unhindered by the constraints of paltry reason."
I have published a ton of short fiction – way over 100 short stories at this point. I've stopped counting. My stories have appeared in Tor.com, Lightspeed Magazine,McSweeney's Internet Tendency, The Magazine of Fantasy & Science Fiction, Asimov's Science Fiction Magazine, Tin House, ZYZZYVA, Strange Horizons, Apex Magazine,Uncanny Magazine, 3 AM Magazine, Flurb.net, Monkey Bicycle, Pindeldyboz, Instant City, Broken Pencil, and in tons and tons of anthologies. One year, I was in one of the Year's Best SF anthologies and in Best Lesbian Erotica at the same time. My novelette "Six Months, Three Days" won a Hugo Award and was shortlisted for the Nebula and Theodore Sturgeon awards. My novel Choir Boy won a Lambda Literary Award and was shortlisted for the Edmund White Award.
I organizeWriters With Drinks, which is a monthly reading series here in San Francisco that mashes up a ton of different genres. Every month, I make up weird fictional bios for the readers and performers, and nobody's sued yet. Readers/performers at Writers With Drinks have included the aforementioned Armistead Maupin, plus Mary Gaitskill, Amy Tan, Rick Moody, Jonathan Lethem, Dorothy Allison, W. Kamau Bell, Luis Alberto Urrea, Ruth Ozeki, Ishmael Reed, Karen Joy Fowler, Maureen McHugh and just countless others. The SF Chronicle did a really nice article about Writers With Drinks.
Back in 2007, Annalee Newitz and I put out a book of first-person stories by female geeks called She's Such a Geek: Women Write About Science, Technology and Other Nerdy Stuff. There was a lot of resistance to doing this book, because nobody believed there was a market for writing about female geeks. Also, Annalee and I put out a print magazine calledother, which was about pop culture, politics and general weirdness, aimed at people who don't fit into other categories. To raise money for other magazine, we put on events like a Ballerina Pie Fight – which is just what it sounds like – and a sexy show in a hair salon where people took off their clothes while getting their hair cut.
---
Spring 2016 Living Writers Series: Out of Line
Why Out of Line?
"I chose the theme Out of Line because it characterizes the way many of these writers work across genre, in different genres, and generally seem to prize the element of surprise in their writing. I'm hoping it will encourage our students to think outside the box and have fun with their writing. In general, I'm confident this will be a really fun series with a lot of writers with great senses of humor as well as deep interests in the political." – Professor Micah Perks
This event is free and open to the public! Books from the authors will be on sale at the event by the Bay Tree Book Store. Get a book and get it signed by our marvelous visiting authors!
Thursdays, 6:00-7:45 PM
Humanities Lecture Hall, 206
April 7: Githa Hariharan (CANCELED)
April 14: Kate Schatz
April 21: Manuel Gonzales
April 28: Charlie Jane Anders
May 5: NO READING
May 12: Elizabeth McKenzie
May 19: Lev Grossman
May 26: Emily Hunt & Julien Poirier
June 2: Student Reading