Events

Living Writers: Claire Vaye Watkins and Cathy Thomas
November 4, 2021 @ 5:20 pm

-

6:55 pm

| Virtual Event
Share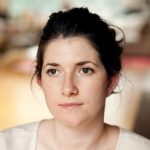 Claire Vaye Watkins is the author of two novels I Love You but I've Chosen Darkness (Riverhead Books, 2021) and Gold Fame Citrus (Riverhead Books, 2015). She is also the author of the short story collection Battleborn (Riverhead Books, 2012), winner of the Story Prize, the Rosenthal Family Foundation Award from the American Academy of Arts and Letters, and a Silver Pen Award from the Nevada Writers Hall of Fame. Battleborn was named a Best Book of 2012 by the San Francisco Chronicle, Boston Globe, Time Out New York, and Flavorwire, and a Best Short Story Collection by NPR.org. In 2012, the National Book Foundation named Claire one of the 5 Best Writers Under 35. Her stories and essays have appeared in Granta, One Story, The Paris Review, Ploughshares, Glimmer Train, Best of the West 2011, Best of the Southwest 2013, and elsewhere.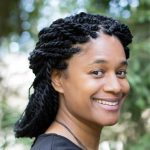 Cathy Thomas is an Assistant Professor at the University of California, Santa Barbara. She has worked for NBC, CBS, Warner Bros. and in film development for Forest Whitaker. She is a script reader for Annapurna Pictures and Skydance Media. Some of her recent research is published in a chapter of Articulating the Action Figure: Essays on Toys and Their Messages; short stories and essays in Positive Magnets Journal; and a forthcoming memory project Wax on, Wax Off. She is Managing Editor of The C.O.U.P Project, a multi-platform dialogic journal engaged in acute critiques of power, privilege, domination, and the violences they produce. She received her Ph.D. in Literature with a Creative/Critical Writing Concentration at the University of California, Santa Cruz, where she was awarded a UC President's Dissertation Year Fellowship and examined carnivalesque in Caribbean literature with her spec fiction novel Poco Mas.

The World Beyond Us: A Living Writers Series – Taking advantage of our (hopefully) last virtual Living Writers this Fall, 2021, this series will be centered on writers working and living outside the United States, writers who look beyond the U.S. in their work, and writers who work in languages other than English. Due to the prohibitive cost of travel and lodging, many of these writers would have been difficult if not impossible to bring in person. Some writers will read with their translators, extending the conversation to the art of translation as well. Two of these translators are Literature Department professors and one a Literature Department graduate student, highlighting the creative translation work being done in our own department. The U.S. publishes very little work in translation, just 3% of the books published in the U.S. are translations, compared to other countries (50% of Italy's books are translations, for example). Thus, this series will expose students (as well as faculty and community members) to exciting writers, writing and translations they very likely are not familiar with.
This series will also include one night of California speculative writers, Claire Vaye Watkins and Cathy Thomas, who will read and talk about California Futures. This California Futures evening will be sponsored by The Humanities Institute Research Cluster Speculatively Scientific Fictions of the Future.