Events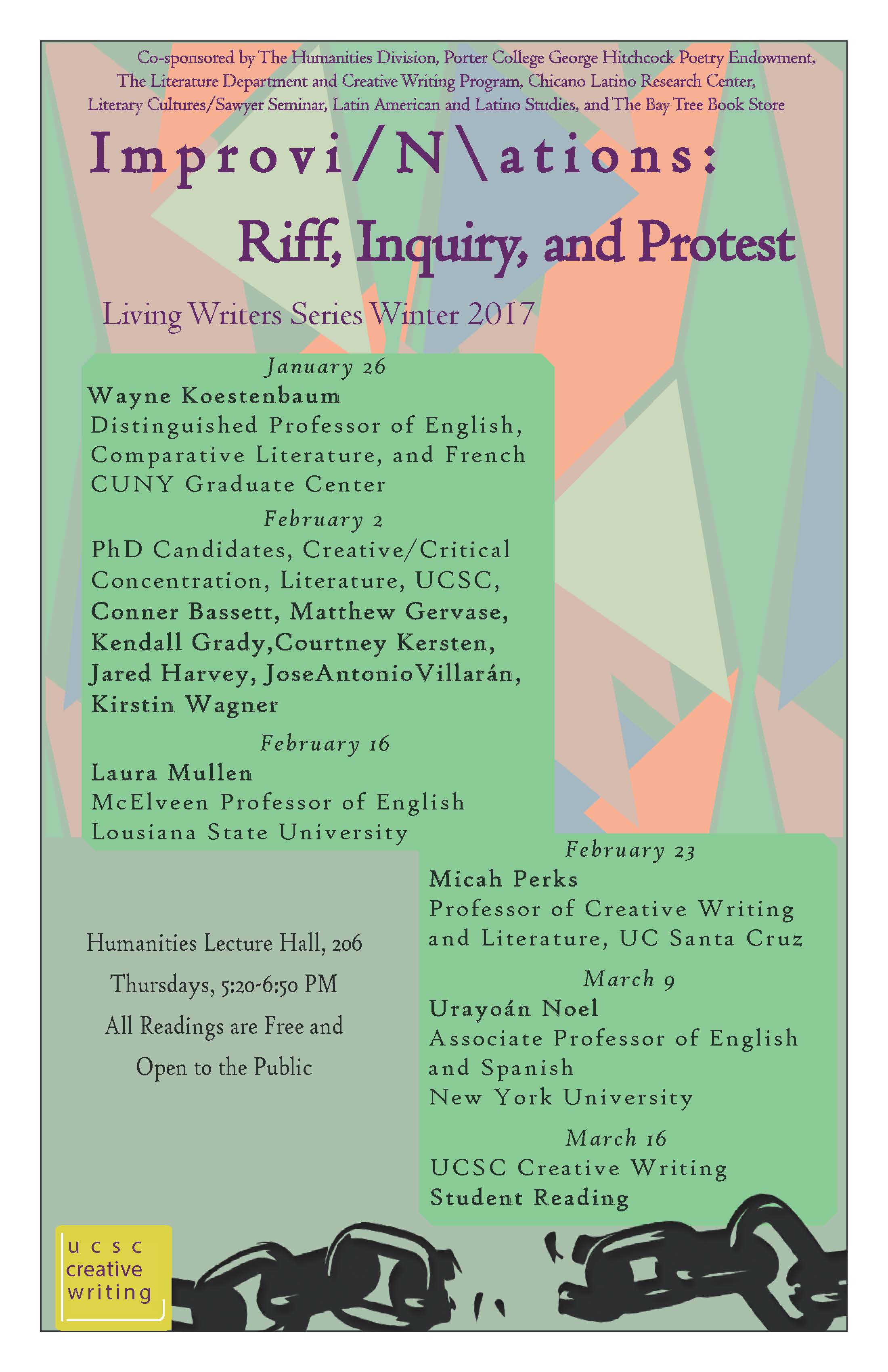 Living Writers: Laura Mullen
February 16, 2017 @ 5:20 pm

-

6:50 pm

| Humanities Lecture Hall, Room 206
Share
Laura Mullen is the author of eight books: Complicated Grief, Enduring Freedom: A Little Book of Mechanical Brides, The Surface, After I Was Dead, Subject, Dark Archive, The Tales of Horror, and Murmur. Recognitions for her poetry include Ironwood's Stanford Prize, a National Endowment for the Arts Fellowship and a Rona Jaffe Award. She has had several MacDowell Fellowships and has been a frequent visitor to the Summer Writing Program at the Jack Kerouac School of Disembodied Poetics at Naropa. Her work is included in American Hybrid and Postmodern American Poetry (Norton) as well as other anthologies; recent poems have appeared in The Nation and Poetry. An essay on using Gertrude Stein in the creative writing classroom is included in the forthcoming anthology Approaches to Teaching Stein. Her collaboration with the composer Nathan Davis, "Ask," will be performed at Princeton in 2017. She is the McElveen Professor in English at Louisiana State University.
Living Writers Series Winter 2017 
Improvi/N\ations: Riff, Inquiry, and Protest 
Improvi/N\ations: Riff, Inquiry, and Protest will feature writers and artists who work and play across various disciplines and modes: poetry, prose, visual, sound, performance, art, and theory to address questions of race, gender, sexuality, and other identities. This series will explore the intersections of self-and-nationhood as fracture, memory and possibility via individual, collective and internal forms.
Humanities Lecture Hall, 206
Thursdays, 5:20-6:50 PM
All Readings are Free and Open to the Public
January 26: Wayne Koestenbaum, Distinguished Professor of English, Comparative Literature, and French, CUNY Graduate Center
February 2: Conner Bassett, Matthew Gervase, Kendall Grady, Courtney Kersten, Jared Harvey, Jose Antonio Villarán, Kirstin Wagner, PhD Candidates, Creative/Critical Concentration, Literature, UC Santa Cruz
February 16: Laura Mullen, McElveen Professor of English, Lousiana State University
February 23: Micah Perks, Professor of Creative Writing and Literature, UC Santa Cruz
March 9: Urayoán Noel, Associate Professor of English and Spanish, New York University
March 16: UCSC Creative Writing Program, Undergraduate Student Reading
Co-sponsored by The Humanities Division, Porter College George Hitchcock Poetry Endowment, The Literature Department and Creative Writing Program, Chicano Latino Research Center, Literary Cultures/Sawyer Seminar, Latin American and Latino Studies, and The Bay Tree Book Store