Events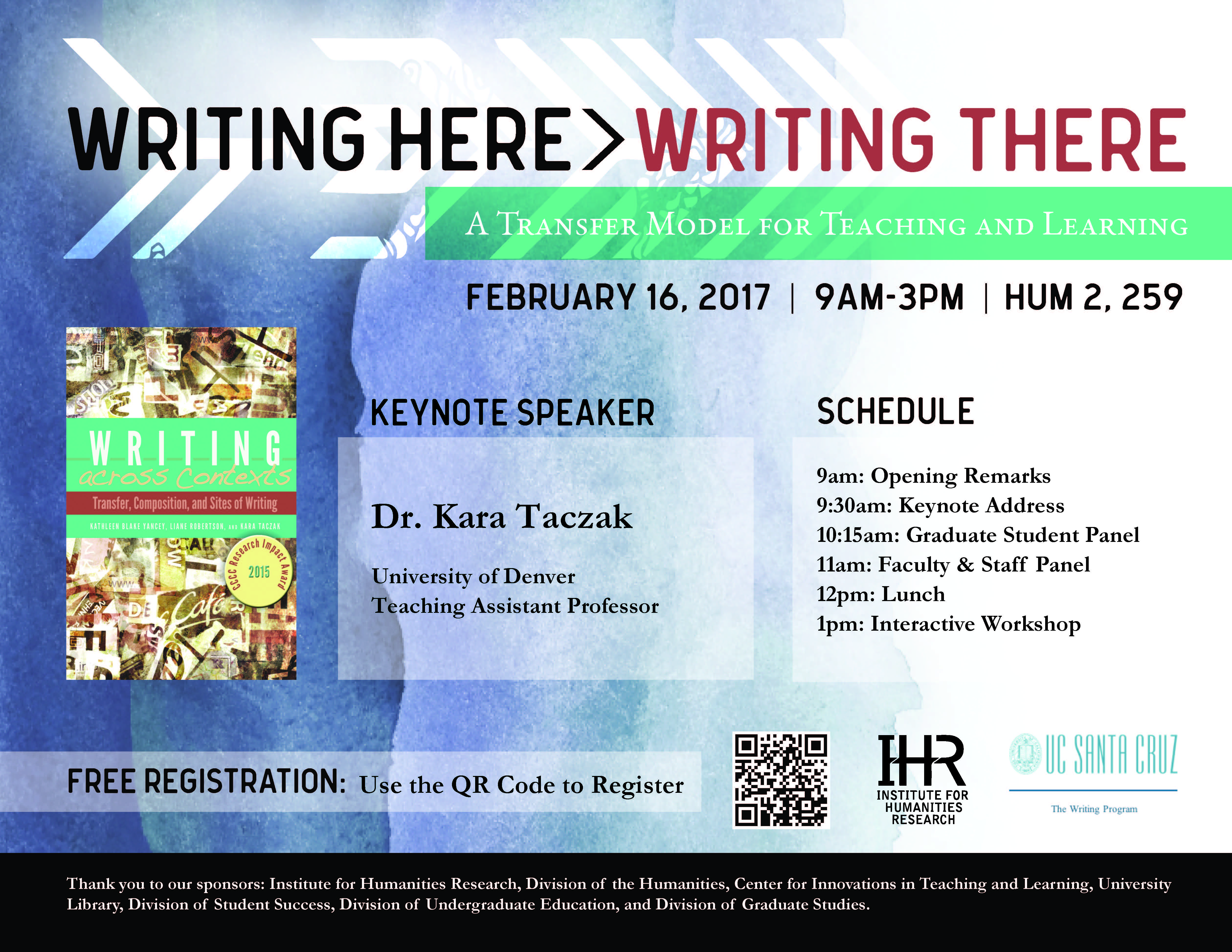 Writing Here → Writing There: A Transfer Model for Teaching and Learning
February 16, 2017 @ 9:00 am

-

3:00 pm

| Humanities 2, Room 259
Share
Event Photos:

If you have trouble viewing above images, you may view this album directly on Flickr.
This conference invites graduate students, faculty, staff, and administrators to participate in a series of roundtables and presentations that showcase our current successes in developing an innovate, locally-responsive writing curriculum. Participants will also contribute to moving our vision forward so that we set a broader, campus-wide agenda that accounts for the needs of all stakeholders–from students to WASC.
New Keynote Speaker:
Dr. Kara Taczak, Teaching Assistant Professor at the University of Denver, will deliver the keynote and a half-day workshop on her award-winning "Teaching for Transfer" curriculum. Her research centers on the transfer of knowledge and practices. Her current project, The Transfer of Transfer Project, examines the efficacy of the Teaching for Transfer curriculum in multiple courses across multiple institutional sites. This research is the second phase of the study described in her co-authored book, Writing Across Contexts, which was awarded the 2015 Conference on College Composition and Communication Research Impact award and the 2016 Council of Writing Program Administrators Book Award. Taczak's other publications have appeared in Composition Forum, Teaching English in a Two-Year College, and Across the Disciplines.
Schedule:
8:45-9:10: Coffee and Pastries
9:10-9:30: Opening Remarks
Herbie Lee, Interim Executive Vice Chancellor
Heather Shearer, Writing Program Chair
Tonya Ritola, Writing Program Assessment Coordinator
9:30-10:00: Keynote Address: Kara Taczak, "Teaching for Transfer: Shifting from How to What"
10:00-10:10: Break
10:10-11:00: Graduate Student Panel
Facilitator: Veronica Flanagan, Writing Program Faculty
Elizabeth Goldman, Psychology, "Make Your Course More than Just a Graduation Requirement: Teaching Transferable Skills in Your Classroom"
Lindsay Weinberg, History of Consciousness,"Rhetorics of Censorship: A Transferrable Interdisciplinary Pedagogy"
Heather Schlaman, Education, "Analysis of Education: Teaching Students About Writing through the Study of Schooling"
Lara Galas, Literature, "Engaged Pedagogy and Teaching for Transfer: Helping Students Re-Member Themselves Through Writing"
Kylie Kenner, Education, "Utilizing Everyday Genres to Scaffold Writing in New Disciplines"
11:00-11:10: Break
11:10-12:00: Staff and Faculty Panel
Facilitator: Tonya Ritola
Anna Sher, Institutional Research, Assessment, and Policy Studies, "Learning Outcomes Assessment of Written Communication Skills: Methods and Results"
Terry Terhaar, Writing Program, "Transfer of Knowledge and Practice Across Multiple Writing Contexts: A Key Term Perspective"
Deborah A. Murphy and Kenneth Lyons, University Library, "Laying the Groundwork for Disciplinary Communication: Library Information Literacy Tools for Writing Students"
12:00-1:00: Lunch in Humanities 1, Room 202
1:10-2:45: Interactive Workshop: Kara Taczak, "Key Terms and a Reflection Framework: How to Encourage Successful Transfer"
2:45-3:00: Closing Remarks
Tonya Ritola, Writing Program Assessment Coordinator
Sponsors:
Institute for Humanities Research, Division of the Humanities, Center for Innovations in Teaching and Learning, University Library, Division of Student Success, Division of Undergraduate Education, Division of Graduate Studies, and the Writing Program.