Events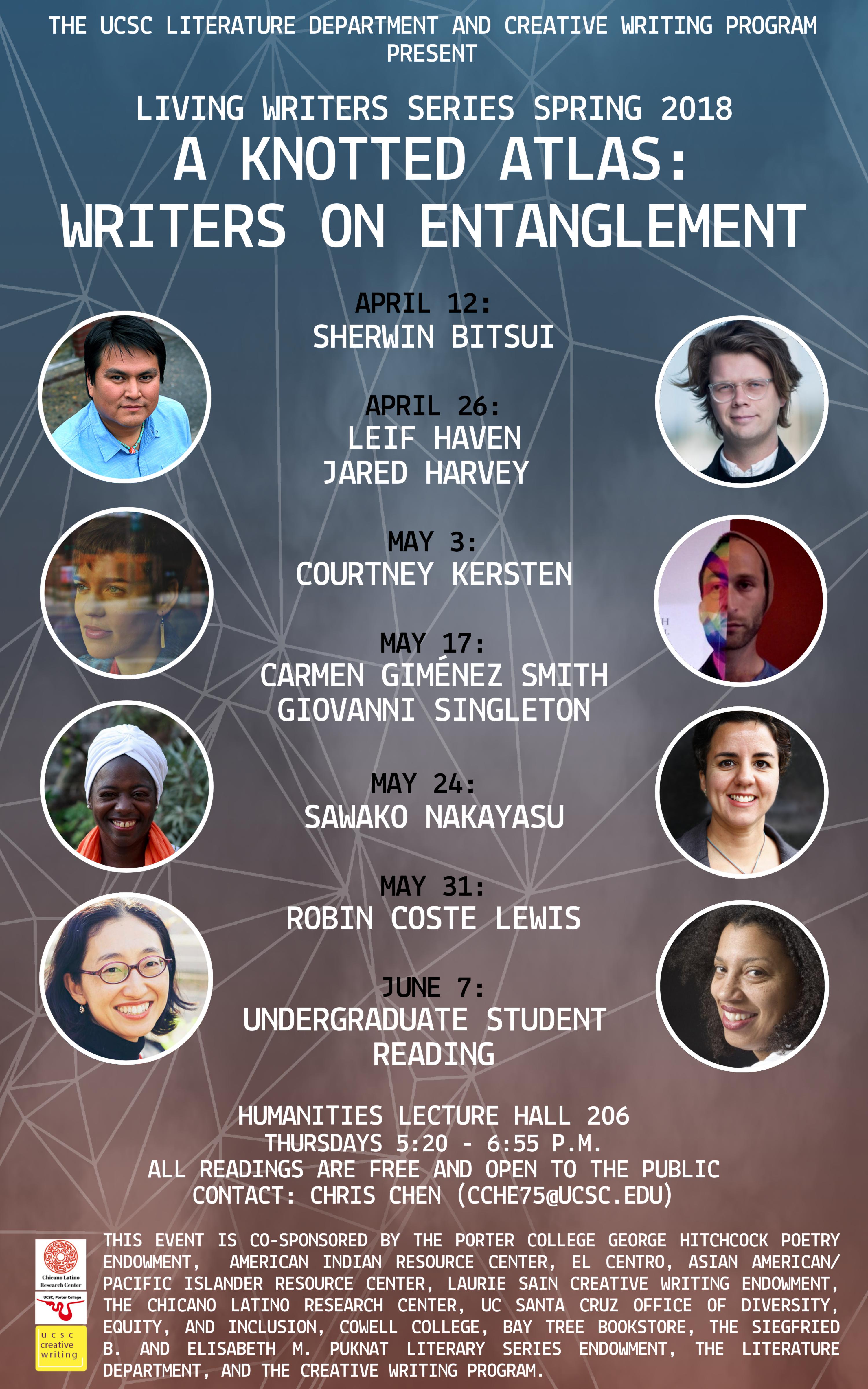 Living Writers Series: Carmen Giménez-Smith & giovanni singleton
May 17, 2018 @ 5:20 pm

-

6:50 pm

| Humanities Lecture Hall, Room 206
Share
Born in New York, poet Carmen Giménez Smith earned a BA in English from San Jose State University and an MFA in creative writing from the University of Iowa. She is the author of six collections of poetry, including Cruel Futures (City Lights, 2018); Milk and Filth (2013), a finalist for the National Book Critics Circle Award; and Goodbye, Flicker (University of Massachusetts Press, 2012), winner of the Juniper Prize for Poetry. She is the author of the memoir Bring Down the Little Birds: On Mothering, Art, Work, and Everything Else (University of Arizona Press, 2010), which received an American Book Award. She also coedited Angels of the Americlypse: New Latin@ Writing (Counterpath Press, 2014).
giovanni singleton earned a BA from American University and an MFA from the New College of California. She is the author of the poetry collections AMERICAN LETTERS: works on paper (2017) and Ascension (2011), which won a California Book Award for Poetry. The book earned praise for its evocative use of white space, silence, and omissions. Poet Lyrae Van Clief-Stefanon noted that singleton's "poems are minimalist, while engaging a concern for the historical, the personal, the spiritual, as expanses… The buildup is slow, and culminates as play, in the clear space left as we literally watch an I disappear. Thereafter, we find the blank page again. And time to make another poem."
Spring 2018 Living Writers:
A Knotted Atlas: Writers on Entanglement
This spring quarter will feature eight contemporary writers who explore the knotted spaces and generative possibilities of entangled lives. Their works illuminate the historical enmeshment of cruel futures and hidden histories, persons and things, race and freedom, kinship and loss, and the human and non-human natural world.
April 12: Sherwin Bitsui
April 26: Leif Haven, Jared Harvey
May 3: Courtney Kersten
May 17: Carmen Gimenez Smith and giovanni singleton
May 24: Sawako Nakayasu
May 31: Robin Coste Lewis
June 7: UCSC Creative Writing Program, Undergraduate Student Reading
Humanities Lecture Hall, 206
Thursdays, 5:20-6:50 PM
All Readings are Free and Open to the Public
Contact: Chris Chen (cche75@ucsc.edu)
This event is co-sponsored by the Porter College George Hitchcock Poetry Endowment, American Indian Resource Center, El Centro, Asian American/Pacific Islander Resource Center, Laurie Sain Creative Writing Endowment, the Chicano Latino Research Center, Cowell College, Bay Tree Bookstore, the Siegfried B. and Elisabeth M. Puknat Literary Series Endowment, the Literature Department, and the Creative Writing Program.