Events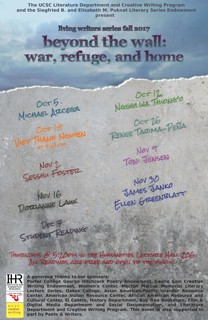 Living Writers Series: James Janko & Ellen Greenblatt
November 30, 2017 @ 5:20 pm

-

6:50 pm

| Humanities Lecture Hall, Room 206

Free
Share
James Janko refused to carry a weapon while serving in Viet Nam as a medic in an infantry battalion commanded by Colonel George Armstrong Custer III in 1970. His medals include the Bronze Star for Valor, which he returned to the U.S. government in 1986 to protest their involvement in wars in Central America. In 2008, Janko gave away other medals to Vietnamese victims of Agent Orange: Mrs. Dang Hong Nhut, who suffers from thyroid cancer and has had numerous miscarriages, and Ms. Tran Thi Hoan, who was born without legs due to her mother's exposure to Agent Orange. Janko's novel, The Clubhouse Thief, won the AWP (Association of Writers and Writing Programs) Award for the Novel and is forthcoming from New Issues Poetry and Prose (Western Michigan University) in January of 2018. An earlier novel, Buffalo Boy and Geronimo (Curbstone Press), received wide critical acclaim and two awards: The Association of Asian American Studies Prose Award and the Northern California Book Award for Fiction. Janko's short stories have appeared in The Massachusetts Review.
Ellen Greenblatt's work as an educator has often focused on teaching literature in the context of social and historical issues. She met and became friends with James Janko when he appeared several times as a guest in her course about the American War in Vietnam, a course which included the voices of American, Vietnamese, and Vietnamese-American speakers and authors. As a result of that course, Ellen became part of the Veterans Writing Group started by Maxine Hong Kingston.
Ellen's writing work includes creating educational materials for television documentaries and for teachers of literature, and she has developed a literature-based approach to teaching about conflict and its aftermaths. Ellen has worked with teachers throughout the US and internationally, and she has been an on-stage interviewer for City Arts and Lectures in San Francisco, conducting literary interviews before a live audience.