Events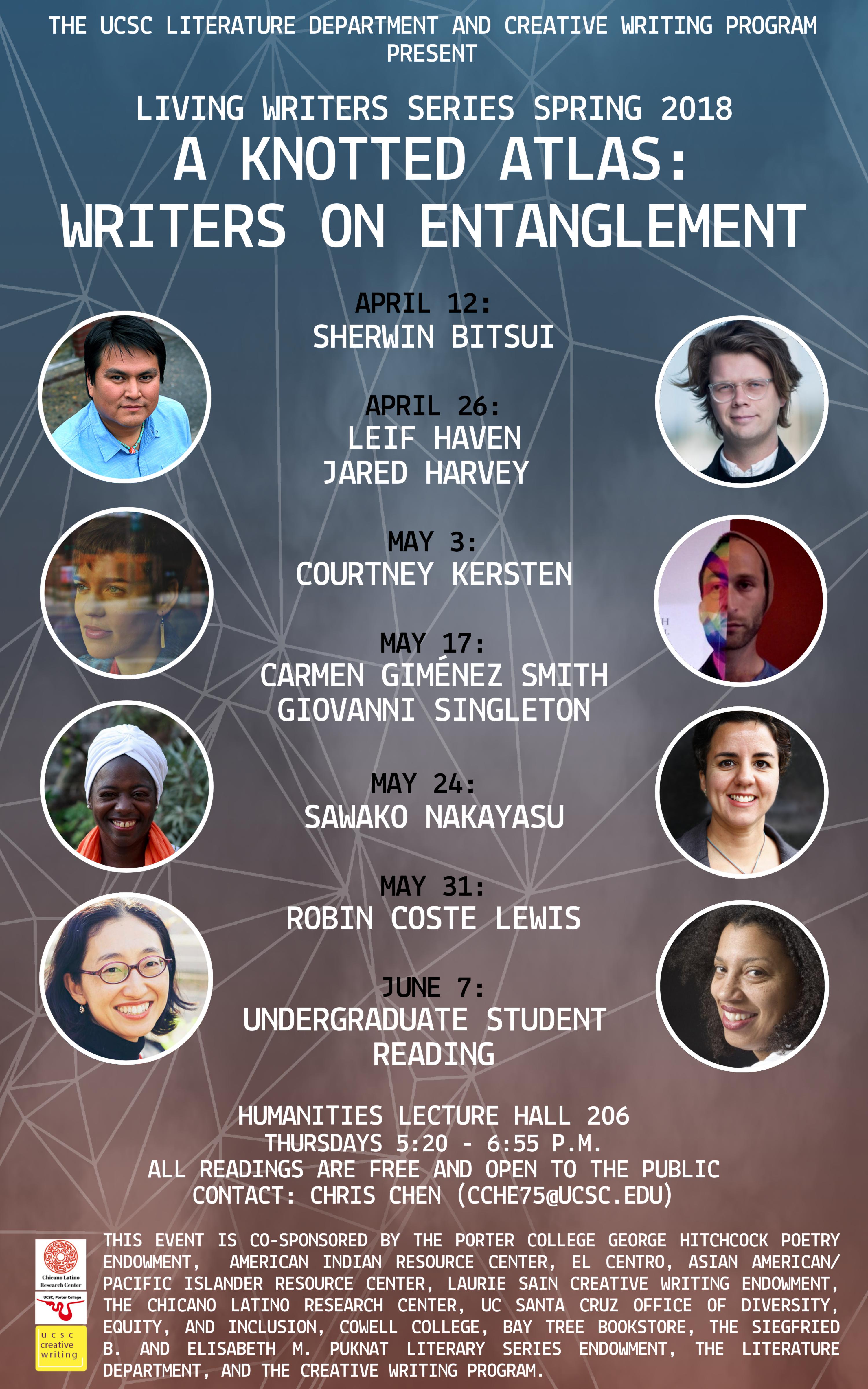 Living Writers Series: Leif Haven & Jared Harvey
April 26, 2018 @ 5:20 pm

-

6:50 pm

| Humanities Lecture Hall, Room 206
Share
Leif Haven Martinson is a writer, poet, and designer. His first book, Arcane Rituals From The Future, was selected by Claudia Rankine as the winner of the 1913 Book Prize and published by 1913 Press in 2016. He is currently the Lead Designer at Botanic Technologies, where he helps develop chatbots, voice assistants, and avatars. Previously, he developed user-centered web services for the City of Oakland and designed educational games and experiences about CRISPR, neutrinos, and gardening in space with Field Day Lab, an education innovation lab at the University of Wisconsin.
Jared Harvey (Jared Joseph) is the author of Drowsy. Drowsy Baby from Civil Coping Mechanisms and, alongside Sara Peck, the co-author of here you are via Horse Less Press. Recent work has been published in Fence, Yes, and Prelude, while maybe a million chapbooks float around. He lives in Santa Cruz.
Spring 2018 Living Writers:
A Knotted Atlas: Writers on Entanglement
This spring quarter will feature eight contemporary writers who explore the knotted spaces and generative possibilities of entangled lives. Their works illuminate the historical enmeshment of cruel futures and hidden histories, persons and things, race and freedom, kinship and loss, and the human and non-human natural world.
April 12: Sherwin Bitsui
April 26: Leif Haven, Jared Harvey
May 3: Courtney Kersten
May 17: Carmen Gimenez Smith and giovanni singleton
May 24: Sawako Nakayasu
May 31: Robin Coste Lewis
June 7: UCSC Creative Writing Program, Undergraduate Student Reading
Humanities Lecture Hall, 206
Thursdays, 5:20-6:50 PM
All Readings are Free and Open to the Public
Contact: Chris Chen (cche75@ucsc.edu)
This event is co-sponsored by the Porter College George Hitchcock Poetry Endowment, American Indian Resource Center, El Centro, Asian American/Pacific Islander Resource Center, Laurie Sain Creative Writing Endowment, the Chicano Latino Research Center, Cowell College, Bay Tree Bookstore, the Siegfried B. and Elisabeth M. Puknat Literary Series Endowment, the Literature Department, and the Creative Writing Program.