Events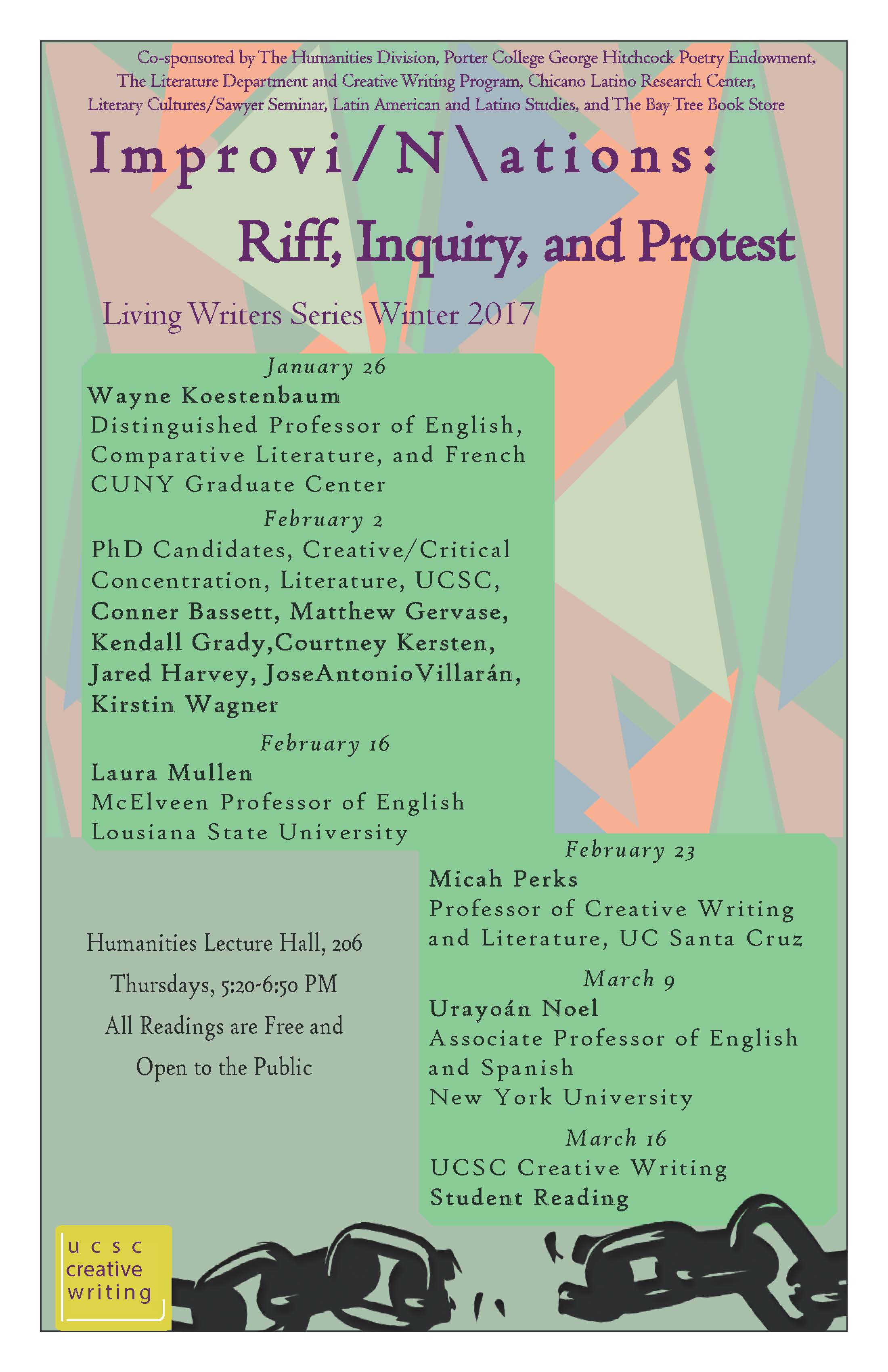 Living Writers: Urayoán Noel
March 9, 2017 @ 5:20 pm

-

6:50 pm

| Humanities Lecture Hall, Room 206
Share
Urayoán Noel is a self-described "stateless poet" whose critical and creative work foregrounds the messy condition of Puerto Rican belonging and non-belonging to the US nation-state. His poetic performances, texts, and "video poems" flagrantly comingle English with Spanish, mixing learned literary allusions with found words generated from cell phones or political demonstrations.   Born and raised in San Juan, Puerto Rico, Noel lives in the Bronx and is an associate professor of English and Spanish at NYU. Noel is the author of Buzzing Hemisphere/Rumor Hemisférico (Arizona, 2015), a Library Journal Top Fall Indie Poetry selection; Hi-Density Politics (BlazeVox, 2010), a National Book Critics Circle Small Press Highlights selection; Kool Logic/La Lógica Kool (Bilingual Review, 2005), an El Nuevo Día Book of the Year; and several books mostly in Spanish, most recently the performance text EnUncIAdOr (Educación Emergente, 2014). Other works include the DVD Kool Logic Sessions (Bilingual Review, 2005), a collaboration with composer Monxo López; the artist's book/performance/website The Edgemere Letters (2011), a collaboration with artist Martha Clippinger; and the critical study In Visible Movement: Nuyorican Poetry from the Sixties to Slam (Iowa, 2014), winner of the LASA Latina/o Studies Book Award and recipient of an honorable mention in the MLA Prize in Latina/o and Chicana/o Literary and Cultural Studies. A contributing editor of NACLA Report on the Americas and Obsidian: Literature & Arts in the African Diaspora, Noel has received fellowships from the Ford Foundation, the Howard Foundation, the Bronx Council on the Arts, and CantoMundo, and is currently completing a bilingual edition of the poems of Pablo de Rokha.
Living Writers Series Winter 2017 
Improvi/N\ations: Riff, Inquiry, and Protest 
Improvi/N\ations: Riff, Inquiry, and Protest will feature writers and artists who work and play across various disciplines and modes: poetry, prose, visual, sound, performance, art, and theory to address questions of race, gender, sexuality, and other identities. This series will explore the intersections of self-and-nationhood as fracture, memory and possibility via individual, collective and internal forms.
Humanities Lecture Hall, 206
Thursdays, 5:20-6:50 PM
All Readings are Free and Open to the Public
January 26: Wayne Koestenbaum, Distinguished Professor of English, Comparative Literature, and French, CUNY Graduate Center
February 2: Conner Bassett, Matthew Gervase, Kendall Grady, Courtney Kersten, Jared Harvey, Jose Antonio Villarán, Kirstin Wagner, PhD Candidates, Creative/Critical Concentration, Literature, UC Santa Cruz
February 16: Laura Mullen, McElveen Professor of English, Lousiana State University
February 23: Micah Perks, Professor of Creative Writing and Literature, UC Santa Cruz
March 9: Urayoán Noel, Associate Professor of English and Spanish, New York University
March 16: UCSC Creative Writing Program, Undergraduate Student Reading LWS_Winter17_Proof2-2
Co-sponsored by The Humanities Division, Porter College George Hitchcock Poetry Endowment, The Literature Department and Creative Writing Program, Chicano Latino Research Center, Literary Cultures/Sawyer Seminar, Latin American and Latino Studies, and The Bay Tree Book Store