Events

Madhuri Shekar's Queen + Panel
September 29, 2018 @ 2:00 pm

-

5:00 pm

| De Anza College, Cupertino
Share
With prestigious accolade only days away, the numbers start adding up to an ethical dilemma for UC Santa Cruz graduate researchers, Ariel Spiegel [Stacy Fairley] and Sanam Rao [Nandini Ravindran], and their supervisor, Dr. Philip Hayes [Michael Boehm] in Madhuri Shekar's Queen.  Is financier, Arvind Patel [Snehal Pachigar], correct that their whole hypothesis is motivated by left-wing bias? 
The drama directed by EnActe Arts' Artistic Director and Founder, Vinita Sud Belani, and launches EnActe Art's 2018-19 season dedicated to the telling of women's stories in response to author Kamila Shamsie's challenge to publishing houses for 2018 to be a year of publishing women.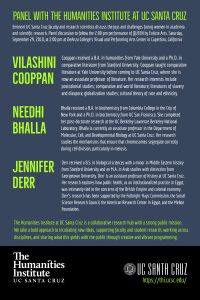 Following the 2 pm performance on September 29, a panel of UCSC faculty will address the joys and challenges facing women in academia and scientific research. Featuring: Vilashini Coopan (Literature), Needhi Bhalla (Molecular, Cell, and Developmental Biology), and Jennifer Derr (History).
Tickets Required
UCSC Students, Faculty and Staff, use code UCSCQUEEN for free tickets.
General Seating $25.00
Student/Senior $10.00
Tickets available at https://www.tikkl.com/enacte/c/queen