Events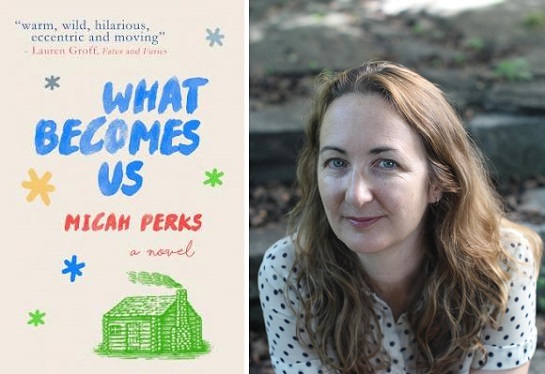 Micah Perks: "What Becomes Us"
October 4, 2016 @ 7:00 pm

-

9:00 pm

| Bookshop Santa Cruz
Share
Join us as we celebrate the launch of this wonderfully consuming new novel from local author, professor, and co-director of UCSC's creative writing program Micah Perks. Following a near-fatal accident, Evie, a mild-mannered, pregnant school teacher, abandons her controlling husband and flees California for the wilds of western New York. She rents a farm house on a dead end road in a close-knit community that is divided by local colonial history, a story that goes deep to the roots of the American conscience—and when she begins teaching at the local high school, Evie herself becomes obsessed with The Captivity and Restoration of Mary Rowlandson, the first book written by a woman in the Americas that details Rowlandson's captivity during King Philip's War in the seventeenth century. As Mary Rowlandson's insatiable hunger begins to fill Evie's dreams, Evie wonders if she may actually be haunted. At the same time, Evie's connections to her new community begin to simmer, and as she grows more pregnant, her desires and hunger grow out of control, threatening to destroy her new world. Ten years in the making, What Becomes Us will hold you to the last page with its unforgettable cast and story.
"Micah Perks' book has everything a reader could hope for — her language is lively, her characters appealing. Set in a storied landscape, with themes of independence and community. Romance! History! Food! Plus a tale to tell and some surprising people to tell it. There is real magic here. Micah magic! Completely original, completely delightful." –Karen Joy Fowler, author of We Are All Completely Beside Ourselves
"I've been obsessed with Mary Rowlandson for 20 years, and was delighted to find that Micah Perks writes about her with fireworks. This is a warm, wild, hilarious, eccentric and moving book." –Lauren Groff, author of Fates and Furies and Arcadia
Micah Perks grew up in a log cabin on a commune in the Adirondack wilderness. She is the author of a novel, We Are Gathered Here, a memoir, Pagan Time, and a long personal essay, Alone In The Woods: Cheryl Strayed, My Daughter and Me. Her short stories and essays have won five Pushcart Prize nominations and appeared in Epoch, Zyzzyva, Tin House, The Toast, OZY and The Rumpus, amongst many journals and anthologies. Excerpts of What Becomes Us won a National Endowment for the Arts grant and The New Guard Machigonne 2014 Fiction Prize. She received her BA and MFA from Cornell University and now lives with her family in Santa Cruz where she co-directs the creative writing program at UCSC. More info and work at micahperks.com.
Sponsored by BookShop Santa Cruz and Institute of Humanities Research