Events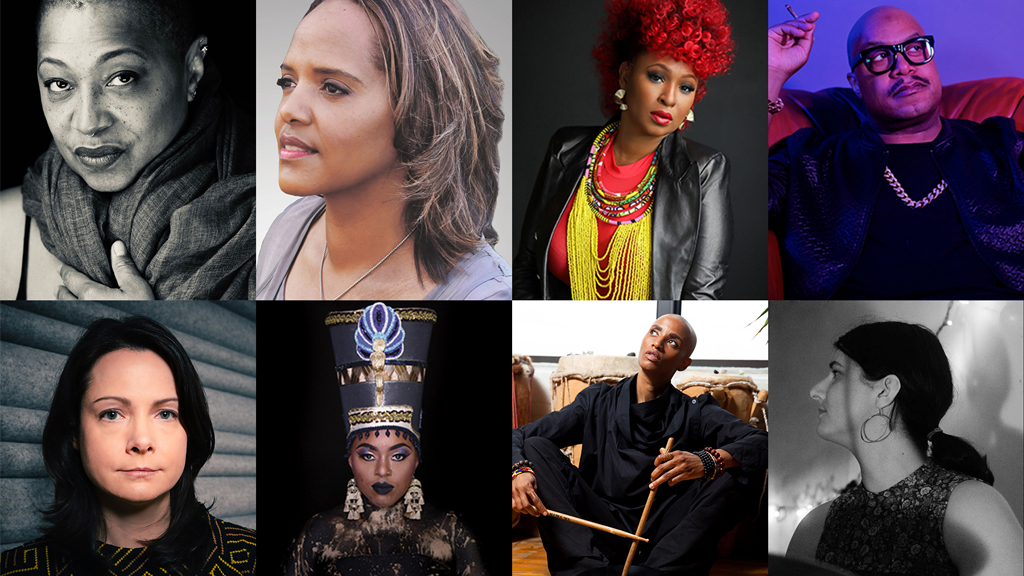 Music for Abolition: Artist Panel w/ Curator Terri Lyne Carrington and Guests
May 18, 2021 @ 4:00 pm

-

5:30 pm

| Virtual Event
Share
Music for Abolition, directed and curated by Terri Lyne Carrington, is a project bringing together musicians across a variety of genres to create a soundtrack—and provide a heartbeat—to our shared struggle for abolition. Expressing grief, rage, exhaustion, and resolution in the face of the U.S. history of racism and oppression, the music resonates with calls of freedom.
Join us May 18 for a conversation about the role of sound and music in the struggle for prison abolition with the participating musicians, including Lisa Fischer, Kris Davis, Val Jeanty, Lily Finnegan, Maimouna Youssef aka "Mumu Fresh", Queen Cora Coleman, Nicholas Payton, Jason Moran, Malcolm Jamal-Warner, Cécile McLorin Salvant, Nicole Mitchell, Sarah Elizabeth Charles, Dianne Reeves, Camila Cortina Bello, Elena Pinderhughes, Orrin Evans, Eric Revis, Terri Lyne Carrington and Social Science.

Music for Abolition videos can be found here.
Visualizing Abolition is a series of online events organized by Dr. Rachel Nelson, Director, Institute of the Arts and Sciences and Professor Gina Dent, Feminist Studies. The events feature artists, activists, and scholars united by their commitment to the vital struggle for prison abolition. Originally, Visualizing Abolition was being planned as an in-person symposium. Due to the ongoing pandemic, the panels, artist talks, film screenings, and other events will instead take place online. The events accompany Barring Freedom, an exhibition of contemporary art on view at San José Museum of Art October 30, 2020- June, 2021. To accompany the exhibition, Solitary Garden, a public art project about mass incarceration and solitary confinement is on view at UC Santa Cruz.
Three-time GRAMMY® award-winning drummer, producer, educator and activist, Terri Lyne Carrington started her professional career as a "kid wonder" while studying under a full scholarship at Berklee College of Music in Boston. In the mid '80's she worked as an in-demand drummer in New York before gaining national recognition on late night TV as the house drummer for both the Arsenio Hall Show and Quincy Jones' VIBE TV show.
In 1989, Ms. Carrington released a GRAMMY®-nominated debut CD on Verve Forecast, Real Life Story, and toured extensively with Wayne Shorter and Herbie Hancock, among others. In 2011 she released the GRAMMY®Award-winning album, The Mosaic Project, featuring a cast of all-star women instrumentalists and vocalists, and in 2013 she released Money Jungle: Provocative in Blue, which also earned a GRAMMY®Award, establishing her as the first woman ever to win in the Best Jazz Instrumental Album category.
To date Ms. Carrington has performed on over 100 recordings and has worked extensively with luminary artists such as Al Jarreau, Stan Getz, Woody Shaw, Clark Terry, Cassandra Wilson, Dianne Reeves, James Moody, Yellowjackets, Esperanza Spalding, and many more. Additionally, Ms. Carrington is an honorary doctorate recipient from Berklee, and currently serves as Founder and Artistic Director for the Berklee Institute of Jazz and Gender Justice.
In 2019 Ms. Carrington was granted the Doris Duke Artist Award, a prestigious acknowledgement in recognition of her past and ongoing contributions to jazz music. Her current band project, Terri Lyne Carrington and Social Science (a collaboration with Aaron Parks and Matthew Stevens), released their debut album, Waiting Game, in November, 2019 on Motema Music.