Events

Robert Nichols: Dilemmas of Dispossession in the Black Radical Tradition
March 4, 2019 @ 5:00 pm

-

7:00 pm

| Humanities 1, Room 210
Share
If you have trouble viewing above images, you may view this album directly on Flickr.
Numerous political and intellectual traditions have sought to leverage the language of self-ownership as a tool of radical critique, including Marxism, feminism, and Critical Race Theory. But do we 'own' ourselves in any meaningful or politically productive sense? This lecture considers the dilemmas involved in this question with particular reference to the Black Radical Tradition, situating it within the broader framework of 'dispossession'.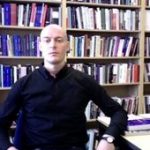 Robert Nichols is a McKnight Land-Grant Professor and Associate Professor in the Department of Political Science at the University of Minnesota (Twin Cities). His areas of research specialization include contemporary political theory (especially Critical Theory, Marx and Marxism, Foucault); the history of political thought (especially pertaining to imperialism and colonialism in the 19th century); and the contemporary politics of settler colonialism and indigeneity in the Anglo-American world.