Film Screening: "Ghosts of Amistad: In the Footsteps of the Rebels" (Non-citizenship series)
October 27, 2016 @ 7:00 pm - 8:30 pm
|
Del Mar Theatre
|
Free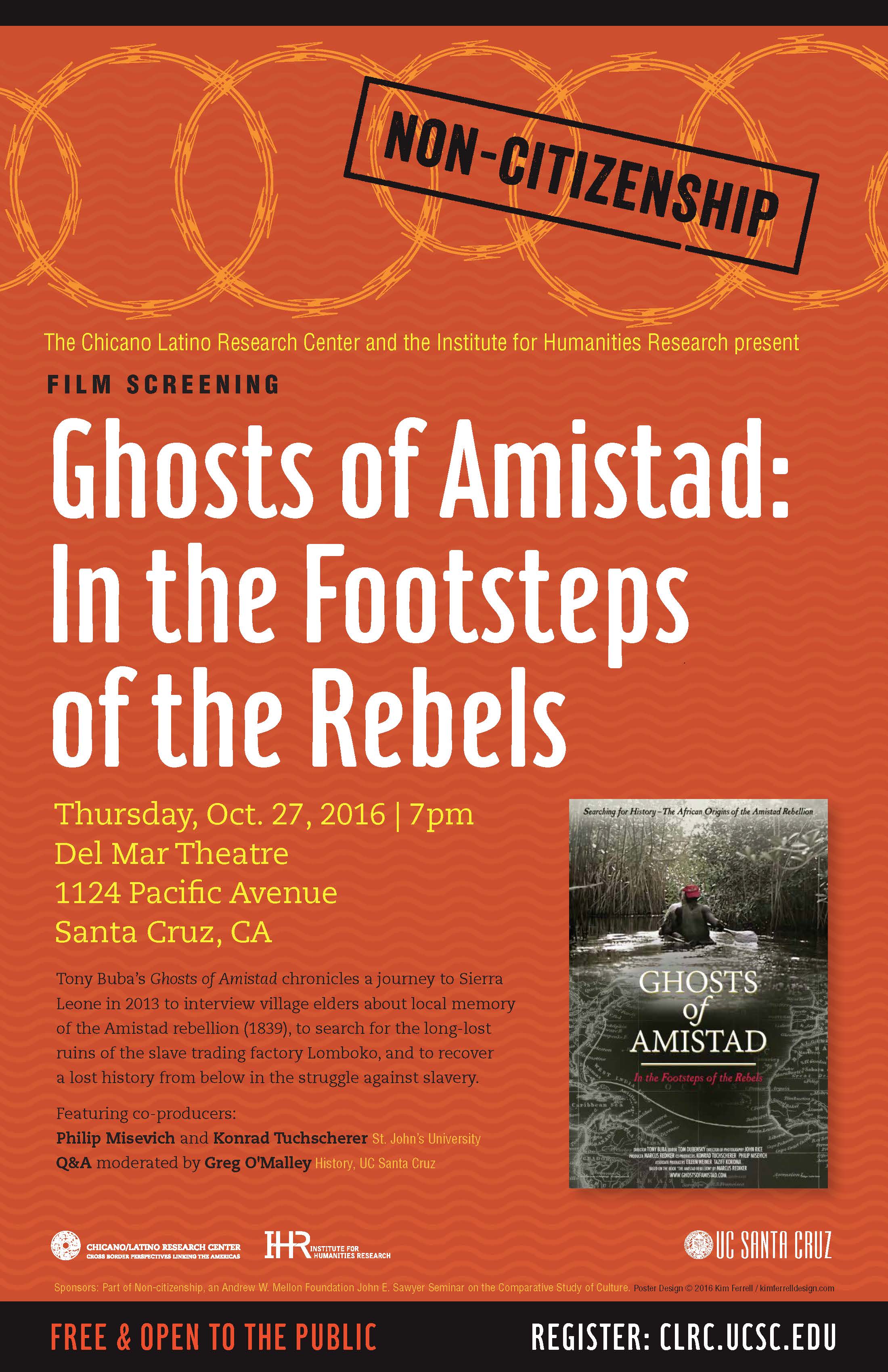 The Chicano Latino Research Center and Institute for Humanities Research present an event in the series on Non-citizenship
Join us for this free film screening of "Ghosts of Amistad: In the Footsteps of the Rebels" including a discussion with film producers Philip Misevich and Konrad Tuchscherer at the Del Mar Theatre. Q&A discussion moderated by Greg O'Malley, will follow.
EVENT PHOTOS: by Allison Garcia

About the Film
Ghost of Amistad: In the Footsteps of the Rebels by Tony Buba is based on Marcus Rediker's The Amistad Rebellion: An Atlantic Odyssey of Slavery and Freedom (Viking-Penguin, 2012). It chronicles a trip to Sierra Leone in 2013 to visit the home villages of the people who seized the slave schooner Amistad in 1839, to interview elders about local memory of the case, and to search for the long-lost ruins of Lomboko, the slave trading factory where their cruel transatlantic voyage began. The film uses the knowledge of villagers, fishermen, and truck drivers to recover a lost history from below in the struggle against slavery.
"This film is an ambitious and imaginative attempt to explore the impact of the Amistad Mutiny and the repatriation of the brave Africans to their homes in Sierra Leone. It is of great interest to any student of slavery and the slave trade." – Henry Louis Gates, Jr., Harvard University
Location:
Del Mar Theatre, 1124 Pacific Avenue, Santa Cruz, CA
Event details:
Film at 7:00pm
Q&A Discussion at 8:00pm
Admission:
Free and open to the public, but attendees are kindly asked to register in advance.
REGISTER HERE


Guest Speakers
Philip Misevich is Assistant Professor of History at St. John's University. He specializes in the study of the slave trade and the development of the Atlantic World. His research focuses on the coerced migration of Africans throughout the nineteenth-century Atlantic world. A practioner and developer of digital humanities scholarship, he is co-principal investigator of the African Origins database project and actively works with a team of scholars on Voyages: The Trans-Atlantic Slave Trade Database, a project that details the movement of 35,000 slave vessels.
Greg O'Malley is Associate Professor of History at UC Santa Cruz. His first book, the award-winning Final Passages: The Intercolonial Slave Trade of British America, 1619-1807 (University of North Carolina Press, 2014), explores a neglected aspect of the forced migration of African laborers to the Americas. He is co-principal investigator of the NEH-funded "Final Passages Intra-American Slave Trade Database," which documents more than 7,600 individual shipments of enslaved people between American colonies in the seventeenth and eighteenth centuries. He is also conducting research for a new book, The Escapes of David George: One Man's Struggle with Slavery and Freedom in the Revolutionary Era.
Konrad Tuchscherer, Associate Professor of History and Director of Africana Studies at St. John's University, is a specialist in African history and languages. His interests include nineteenth and twentieth century West Africa, colonialism in Africa, and Gullah history in South Carolina and Georgia. His research experience in Africa includes Egypt, Nigeria, Cameroon, Sierra Leone, Liberia, and The Gambia. He also serves as co-director of the Bamum Scripts and Archives Project at the Bamum Palace in Cameroon.
UCSC Roundtable Discussion
Professors Misevich, Tuchscherer, and O'Malley will also take part in "Research in the Humanities and Social Sciences beyond Academia," a roundtable on ways in which scholars in the humanities and humanistic social sciences share our research with audiences beyond academia on Thursday, October 27, 2016, 12:00-2:00pm, in Humanities 1, Room 210.  Due to limited space, this roundtable is open to UC Santa Cruz faculty, students, and staff.  Faculty, students, and staff should pre-register here. 
About Non-citizenship
Non-citizenship is part of the Andrew W. Mellon Foundation John E. Sawyer Seminar on the Comparative Study of Culture. Linking citizenship, migration, border, labor, and carceral studies, and juxtaposing spatial and social mobility and immobility, this year-long series of events explores what it means to be a citizen and non-citizen in a world made by migrants, refugees, guest workers, permanent residents, asylum seekers, slaves, prisoners, detainees, the stateless, and denizens (residents who do not hold the same rights as citizens). Non-citizenship is organized around three themes: "Forced Migration" (fall 2016), "Labor Mobility and Precarity" (winter 2017), and "Fluidity of Status: Migrants, Citizens, Denizens" (spring 2017). Click here to learn more.