Events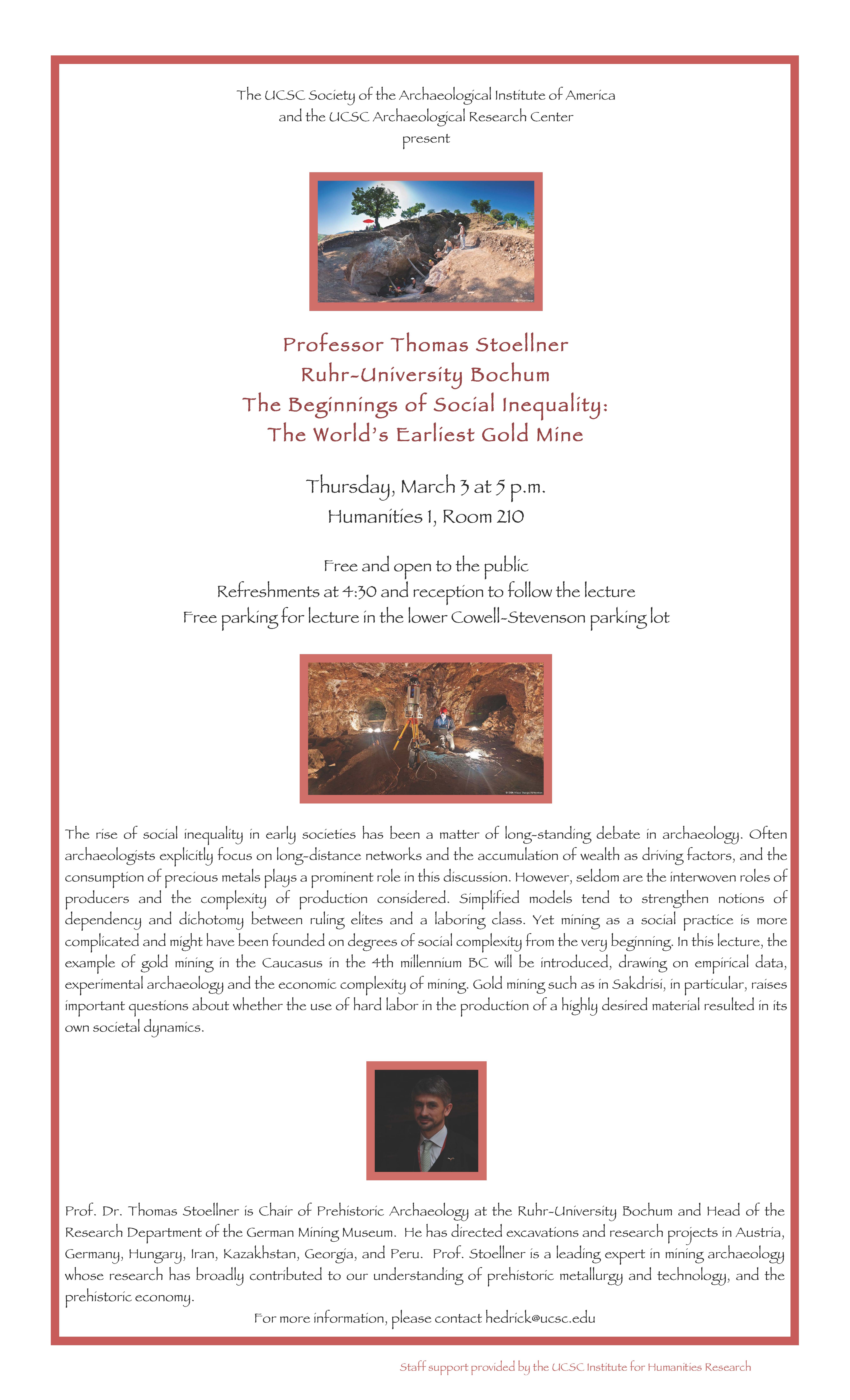 Professor Thomas Stoellner Ruhr-University Bochum The Beginnings of Social Inequality: The World's Earliest Gold Mine
March 3, 2016 @ 4:30 pm

-

6:00 pm

| Stevenson Fireside Lounge
Share
The rise of social inequality in early societies has been a matter of long-standing debate in archaeology. Often archaeologists explicitly focus on long-distance networks and the accumulation of wealth as driving factors, and the consumption of precious metals plays a prominent role in this discussion. However, seldom are the interwoven roles of producers and the complexity of production considered. Simplified models tend to strengthen notions of dependency and dichotomy between ruling elites and a laboring class. Yet mining as a social practice is more complicated and might have been founded on degrees of social complexity from the very beginning. In this lecture, the example of gold mining in the Caucasus in the 4th millennium BC will be introduced, drawing on empirical data, experimental archaeology and the economic complexity of mining. Gold mining such as in Sakdrisi, in particular, raises important questions about whether the use of hard labor in the production of a highly desired material resulted in its own societal dynamics.
Prof. Dr. Thomas Stoellner is Chair of Prehistoric Archaeology at the Ruhr-University Bochum and Head of the Research Department of the German Mining Museum. He has directed excavations and research projects in Austria, Germany, Hungary, Iran, Kazakhstan, Georgia, and Peru. Prof. Stoellner is a leading expert in mining archaeology whose research has broadly contributed to our understanding of prehistoric metallurgy and technology, and the prehistoric economy.
For more information, please contact hedrick@ucsc.edu
Event Photos:

If you have trouble viewing above images, you may view this album directly on Flickr.