Events

Ronaldo V. Wilson and Gina Athena Ulysse – choose to begin/from the ground up/literally:
June 1, 2022 @ 12:15 pm

-

1:30 pm

| Virtual and In Person
Share
"choose to begin/ from the ground up, literally:" is a conversation whose title is borrowed from Ulysse's mixed-media assemblage, "Woodswork/Rasanblaj," digital photos—tree roots, exposed by sun, open field, capturing frey of feeling, living and striated bark— and poetry, where—"No One Could/Save me but you." This presentation operates between urgencies, where Ronaldo V. Wilson will reflect on and with Gina Athena Ulysse's meditations, work that leads and pulls from the earth into what Ulyssee describes as the "ancestral imperative,"—here: material forms, sonic lineages, and images begin.

Gina Athena Ulysse is based in Santa Cruz, California where she is professor of Feminist Studies at UCSC. A photographer, poet, chanteuse, and a cultural anthropologist who is always writing something, she has presented her works in numerous colleges, and universities nationally and internationally. She has also performed in artistic venues including: The Bowery, Brecht Forum, The British Museum, Brooklyn Museum, Court Theatre, Gorki Theatre, House of World Cultures in Berlin, LaMaMa, Lyric Stage Theatre, Marcus Garvey Liberty Hall, MoMA Salon, and the Museum of Contemporary Art in Sydney, Australia among others. In 2020, she was invited to the Biennale of Sydney.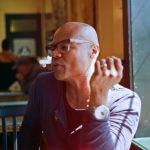 Ronaldo V. Wilson, PhD, is the author of: Narrative of the Life of the Brown Boy and the White Man (University of Pittsburgh Press, 2008), winner of the Cave Canem Prize; Poems of the Black Object (Futurepoem Books, 2009), winner of the Thom Gunn Award for Gay Poetry and the Asian American Literary Award in Poetry; Farther Traveler: Poetry, Prose, Other (Counterpath Press, 2014), finalist for a Thom Gunn Award for Gay Poetry; and Lucy 72 (1913 Press, 2018). His latest books are Carmelina: Figures (Wendy's Subway, 2021) and Virgil Kills: Stories (Nightboat Books, 2022). Co-founder of the Black Took Collective, Wilson is also an interdisciplinary artist. A recent, MacDowell, and Robert Rauschenberg Foundation Fellow, Wilson is Professor of Creative Writing and Literature at UC Santa Cruz, serving on the core faculty of the Creative Critical PhD Program; principal faculty member of CRES (Critical Race and Ethnic Studies); and affiliate faculty member of DANM (Digital Arts and New Media).
The Center for Cultural Studies hosts a weekly Wednesday colloquium featuring work by faculty and visitors. We gather at 12:00 PM, with presentations beginning at 12:15 PM.
For Spring 2022, the colloquium will take a hybrid format, with the option of in-person or virtual attendance. Attendees have the option to attend in person in Humanities 210 or to watch the presentation on zoom. To attend remotely via zoom, please RSVP in advance, and you will receive a zoom link on the morning of the colloquium. In most cases, speakers will appear remotely so that they will not have to present wearing a mask. To RSVP for the full Spring colloquium series, please use this form. If you have any questions about the colloquium, please contact Piper Milton (cult@ucsc.edu).
Staff assistance is provided by The Humanities Institute.