Events

Sensoria of al-Andalus & the Western Mediterranean
April 1, 2022

-

April 2, 2022

| Virtual and In Person
Share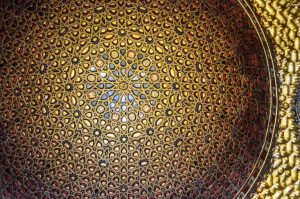 The Spain North-Africa Project is pleased to announce "Sensoria of al-Andalus & the Western Mediterranean," a multidisciplinary workshop and conference to be held at the University of California, Santa Cruz. This two-day conference will explore the medieval, early modern, and modern legacy of al-Andalus and its afterlives across the world through historical, cultural, sociological, and aesthetic approaches towards human sensoria.
Themes include auditory, visual, gustatory, olfactory, tactile, and proprioceptive perception in soundscapes, music, language, foodways, smellscapes, visual culture, and architecture. The goal of this conference is to deepen our understanding of the cultural history of these complex and multifarious cultural formations and to draw connections across time, place, and sensory channels by sharing and discussing the work of historians, art historians, anthropologists, scholars of literature, ethnomusicologists, and others.
The in-person event will occur in Room 210, Humanities 1. Join Zoom link here for virtual attendance.
Click here to download the Sensoria of al-Andalus & the Western Mediterranean Digital Program
This event is supported by UCHRI, The Humanities Institute, The Center for the Middle East and North Africa (CMENA), the Center for Jewish Studies, and the UC San Diego Humanities Division.