Events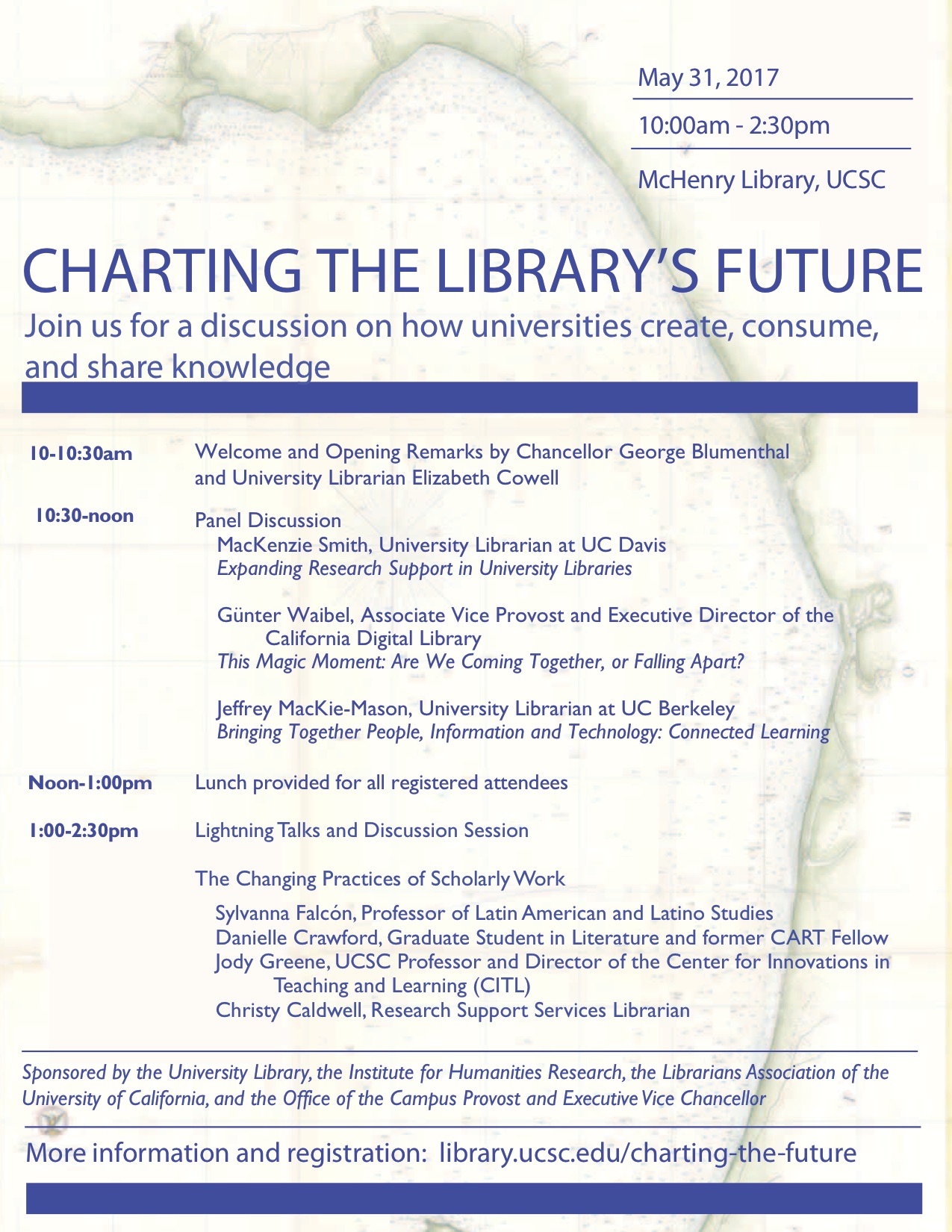 Symposium: Charting the Library's Future
May 31, 2017 @ 10:00 am

-

2:30 pm

| McHenry Library UCSC, Room 4286

Free
Share
Program:
10:00-10:30am
Welcome and Opening Remarks by Chancellor George Blumenthal and University Librarian Elizabeth Cowell
10:30-12:00pm
Panel Discussion
MacKenzie Smith, University Librarian at UC Davis
Expanding Research Support in University Libraries
Academic libraries' research support is inherently interdisciplinary (or omnidisciplinary) so they are uniquely positioned to expand those services to include common modern research tools and methods, such as spatial and data science, informatics and analytics, writing and programming. Providing central, democratically accessible facilities, instruction, and expert support for these essential modern research skills is a natural role for libraries while increasing their value to the universities they serve.
Günter Waibel, Associate Vice Provost and Executive Director of the California Digital Library
This Magic Moment: Are We Coming Together, or Falling Apart?
Abstract: What kind of a library does a globally connected faculty working on the grand challenges of our time need? The recent election has sparked a public debate about factual information, the scientific method and intellectual freedom; it has also deepened the academy's resolve to uphold those core values. At the same time, our blue planet faces grand challenges that become tractable only through collective and collaborative action. Both faculty and librarians are striving to respond by working across traditional organizational and/or geopolitical boundaries. The UC system, and the UC libraries within it, are a microcosm of a community finding a collective response, and a case-study in an experiment to go further together. (Examples illustrating these dynamics might came from the national response to safeguarding federal research data, and the UC libraries strategy to realize our goal of a fully open access future.)
Jeffrey MacKie-Mason, University Librarian at UC Berkeley
Bringing Together People, Information and Technology: Connected Learning
Astract: University libraries always have been providers of public goods and gateways to discovery. They amassed collections of millions of books and scholarly articles to share with all faculty and students, who could not afford to do so individually. New learners coming through the doors had transcendent — often ecstatic — discovery experiences that fueled individual growth, and social and scientific progress. We should continue to provide public goods to excite the passions and open the eyes, but the information environment has changed drastically and so must the learning environments and experiences. We must create connected learning spaces as open-to-all gateways before students reach specialized labs and facilities limited to their choice of major. These spaces must connect people, information and technology to support collaborative and active learning. The public goods we provide should include not just books and articles (and videos and maps and…) but also new information technologies most students can't afford for themselves (e.g., virtual reality gear, data visualization systems, programmable 3-D scanners, etc.). And we need to provide experts to help them find those head-exploding discoveries that open their eyes to the Age of Information.
12:00-1:00pm:
Lunch provided for all registered attendees
1:00-2:30pm:
Lightning Talks and Discussion sessions
The Changing Practices of Scholarly Work
Sylvanna Falcón, Professor of Latin American and Latino Studies
Danielle Crawford, Graduate Student in Literature and former CART Fellow
Jody Greene, Professor of Literature, Feminist Studies, and History of Consciousness, and director of the Center for Innovations in Teaching and Learning (CITL)
Christy Caldwell, Research Support Services Librarian