Events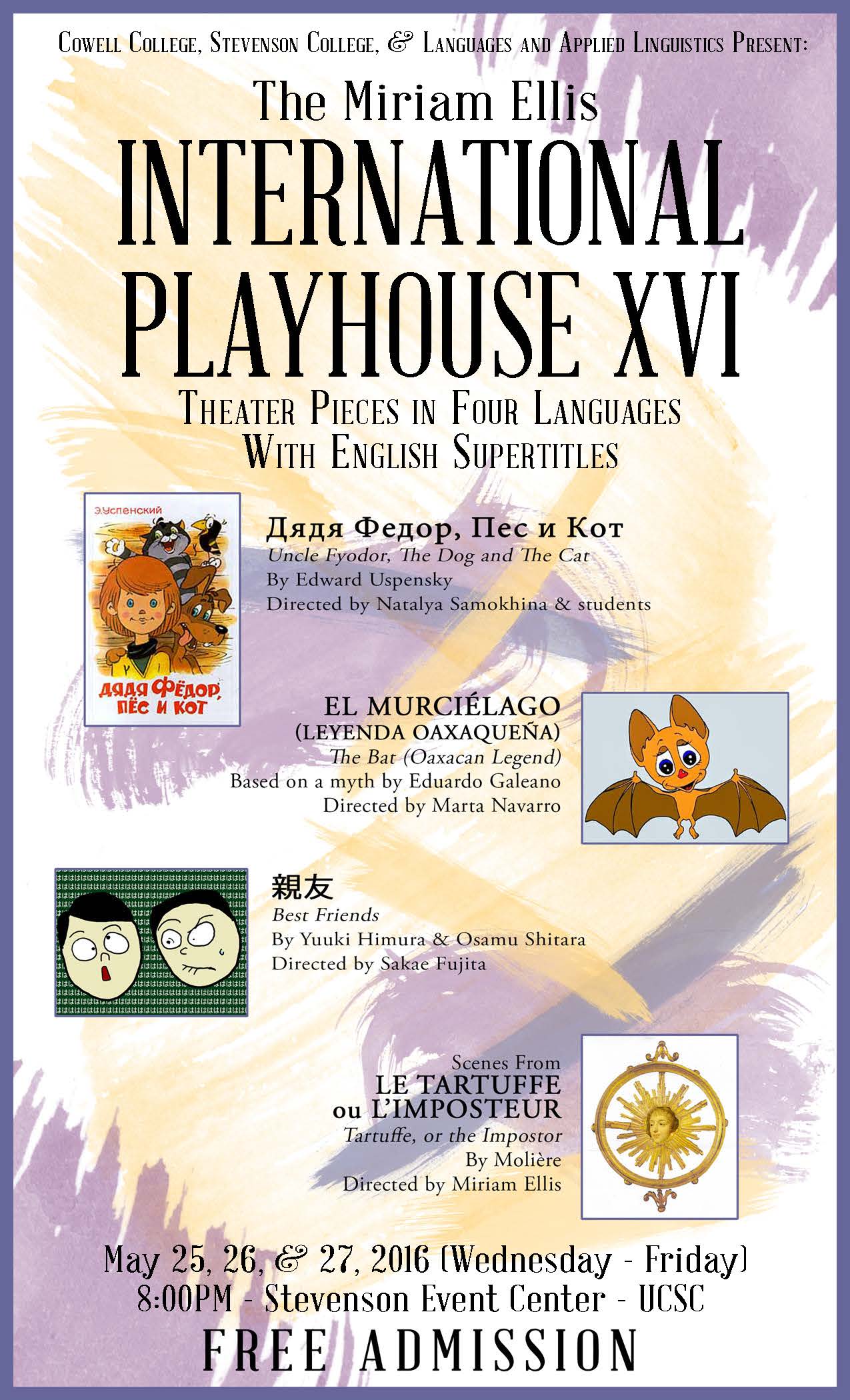 The Miriam Ellis International Playhouse (MEIP) XVI
May 25, 2016 @ 8:00 pm

-

May 27, 2016 @ 8:00 pm

| Stevenson Event Center
Share
The Department of Languages and Applied Linguistics, Cowell College, and Stevenson College, will present The Miriam Ellis International Playhouse (MEIP), an annual multilingual program of fully-staged short theater pieces, for its 16th season. Three public performances will be held on May 25, 26, and 27 (Wed. – Fri.) at 8:00 PM at the Stevenson Event Center, UCSC, and will feature works in French, Japanese, Russian, and Spanish, with English super-titles projected above the stage. The program will be directed by Language lecturers and performed by Language students. There is no admission charge, with nearby parking at $4.00.
This year's works include: (in French) Scenes from TARTUFFE, by Molière, directed by Miriam Ellis; (in Japanese) BEST FRIENDS, by Yuuki Himura & Osamu Shitara, directed by Sakae Fujita; (in Russian) UNCLE FYODOR, THE DOG AND THE CAT, by Edward Uspensky, directed by Natalya Samokhina and her students; (in Spanish) THE BAT, based on a myth by Eduardo Galeano, directed by Marta Navarro. The pieces range in style from folklore to classical and modern-day theater, with emphasis on their comic elements.
Over the years, the IP presentations have represented an important annual event for UCSC and have attracted a loyal following. In addition to those on campus, many community members, as well as faculty and students from high schools and Cabrillo College, attend regularly. The English titles make the material easily accessible to audiences, who are afforded a rare multicultural experience by the diversity of the programs.
For further information, please contact lmhunter@ucsc.edu or ellisan@ucsc.edu.