Events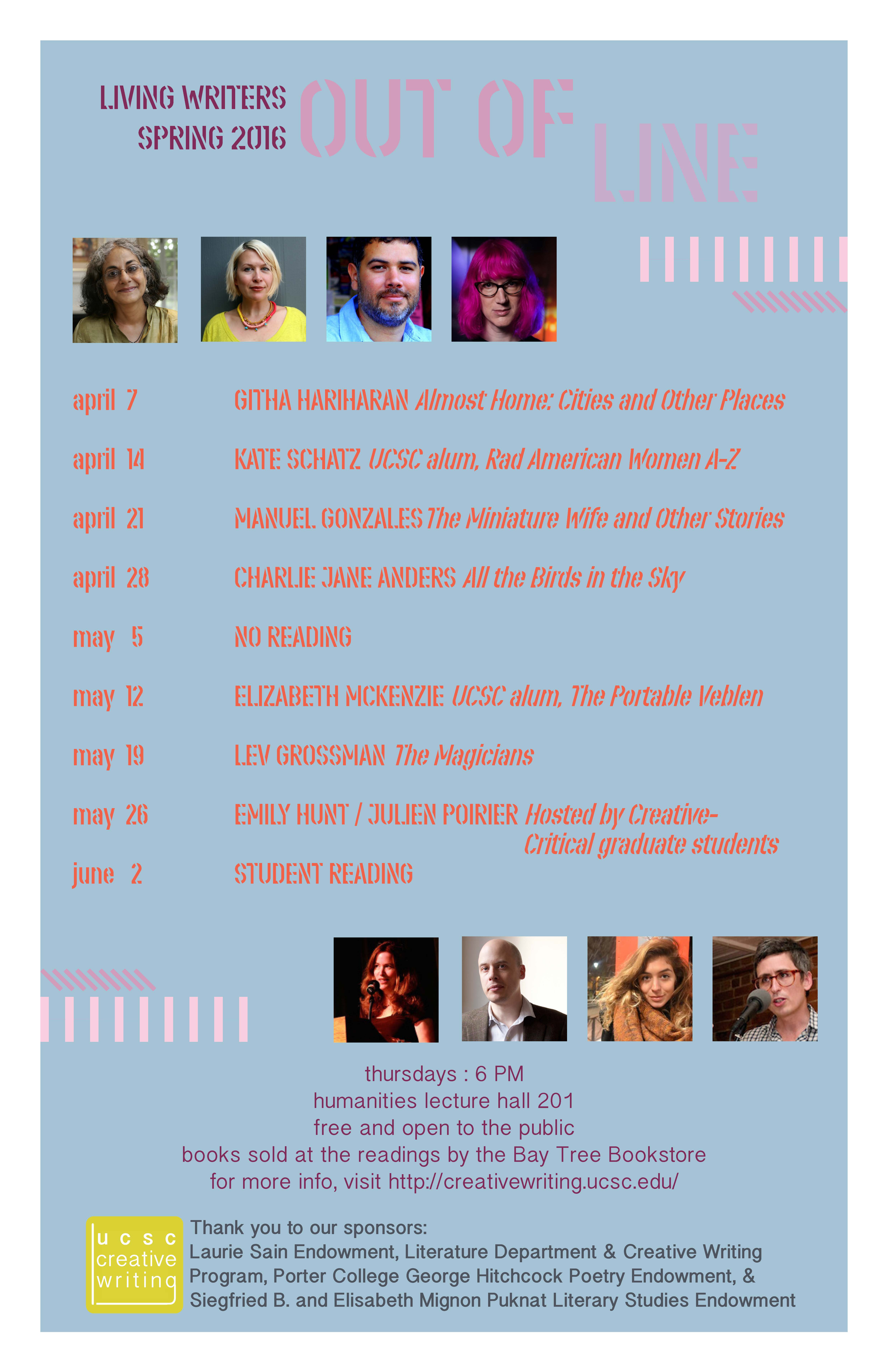 Living Writers: Emily Hunt & Julien Poirier
May 26, 2016 @ 6:00 pm

-

7:45 pm

| Humanities Lecture Hall, Room 206

Free
Share
Emily Hunt is the author of the poetry collection Dark Green (The Song Cave, 2015). She holds an MFA from the University of Massachusetts Amherst, and her poems have appeared in the Iowa Review, the PEN Poetry Series, The Academy of American Poets Poem-a-Day Feature, TYPO, The Volta, Diagram, and elsewhere. In 2013, Brave Men Press published This Always Happens, a book of her drawings, and she has provided cover art for several poetry collections. She lives in Oakland, CA.
Poet Julien Poirier grew up in the San Francisco Bay area and was educated at Columbia University. He has described his poems as a system or a conversation already in progress, aligning observed and spoken ephemera with sound echoes, tracing the movement of a restless mind across themes of politics, poetics, and daily life. In an article on reading Poirier for EOAGH: A Journal of the Arts, poet Filip Marinovich stated, "Poirier is a Genius in the classical sense: a resident spirit of Poetry, arcangeling words through the top of one's lifted head. …" In a 2013 interview with Noel Black for BOMB Magazine, Poirier offered the following: "It's exciting to be writing poems now … because if you can plunge into the simultaneity of all of these events that warped you in some way, drove you crazy or forced you to find some narrow streak of optimism in the evident relentless disaster, then you might, as a poet, be able to get deeper and deeper into an understanding of what's happening. You might be able to understand the way things work together and make a poem map, 'a map to the map' as my friend Tony said, before you forget. And it's incredibly exciting because there are about a million ways to go about doing this."
Poirier is the author of the full-length poetry collection El Golpe Chileño (2010); several chapbooks, including Flying Over the Fence with Amadou Diallo (2000),Short Stack (2005), and Stained Glass Windows of California (2012); and the formally innovative newspaper novel Living! Go and Dream (2005).
A founding member of Ugly Duckling Presse Collective, Poirier edited the New York Nights newspaper from 2001 to 2006. He has taught poetry in New York City public schools and at San Quentin State Prison. He lives in Berkeley with his wife and two daughters.
---
Spring 2016 Living Writers Series: Out of Line
Why Out of Line?
"I chose the theme Out of Line because it characterizes the way many of these writers work across genre, in different genres, and generally seem to prize the element of surprise in their writing. I'm hoping it will encourage our students to think outside the box and have fun with their writing. In general, I'm confident this will be a really fun series with a lot of writers with great senses of humor as well as deep interests in the political." – Professor Micah Perks
This event is free and open to the public! Books from the authors will be on sale at the event by the Bay Tree Book Store. Get a book and get it signed by our marvelous visiting authors!
Thursdays, 6:00-7:45 PM
Humanities Lecture Hall, 206
April 7: Githa Hariharan (CANCELED)
April 14: Kate Schatz
April 21: Manuel Gonzales
April 28: Charlie Jane Anders
May 5: NO READING
May 12: Elizabeth McKenzie
May 19: Lev Grossman
May 26: Emily Hunt & Julien Poirier
June 2: Student Reading