Events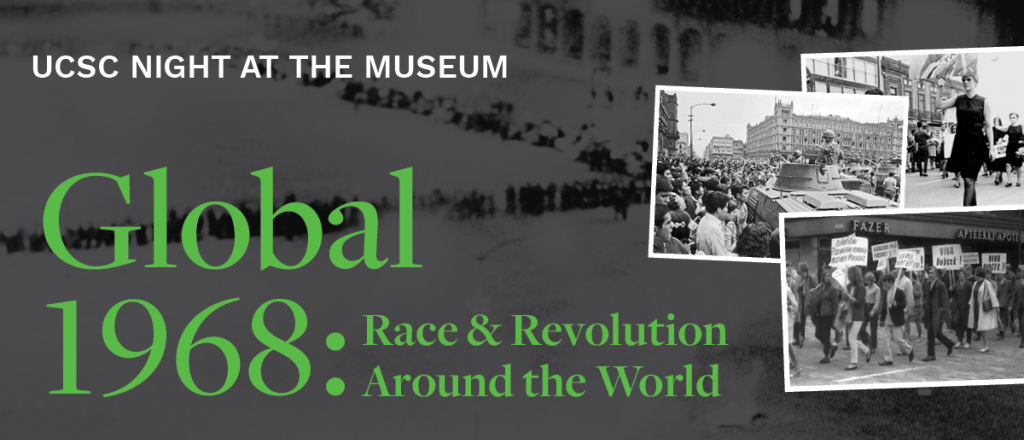 UCSC Night at the Museum: "Global 1968 – Race and Revolution around the World"
May 16, 2018 @ 6:00 pm

-

8:00 pm

| Museum of Art & History
Share
6:00pm – doors open  |  6:30pm – program begins
Fifty years ago, countries and cities around the globe erupted with protests and revolutionary movements demanding change and seeking to create a better future. Featuring four renowned historians, "Global 1968" spotlights marginalized groups and lesser-known events and places in the global upheavals of 1968—from Mexico to China, Oakland to West Africa—while considering what lessons can be drawn for politics and protest today.
Registration Required – Registration has closed
Event Photos:

If you have trouble viewing above images, you may view this album directly on Flickr.
Speakers:
Jean Allman (Washington University in St. Louis)
Jaime Pensado (University of Notre Dame)
Donna Murch (Rutgers University)
Emily Honig (UC Santa Cruz)
Moderated by: Marc Matera (UC Santa Cruz)
Photography Exhibit:
Included in the evening's event will be a pop-up exhibit of images from a 1968 photography project launched by artist Ruth-Marion Baruch to document the people and the work of California's Black Panther Party. The now-iconic photographs she and her husband Pirkle Jones took of the Panthers were both celebrated and criticized for their sympathetic portrayal of a maligned community. Black Panthers, 1968 is one of many projects revealing Baruch's and Jones's commitment to art and social change that are preserved in their archive at UC Santa Cruz's Special Collections & Archives.
Registration Required. Each attendee must submit a registration form. Seating is first come, first serve. Overflow space will be available. If you have disability-related needs, please contact The Humanities Institute at thi@ucsc.edu or call 831-459-1274. Please note that if you do not receive an email confirmation with your form responses, you have not successfully registered for the event.
Co-sponsored by: The Center for World History and the History Department. Part of The Humanities Institute's Freedom and Race Series, funded by the Andrew W. Mellon Foundation.