Events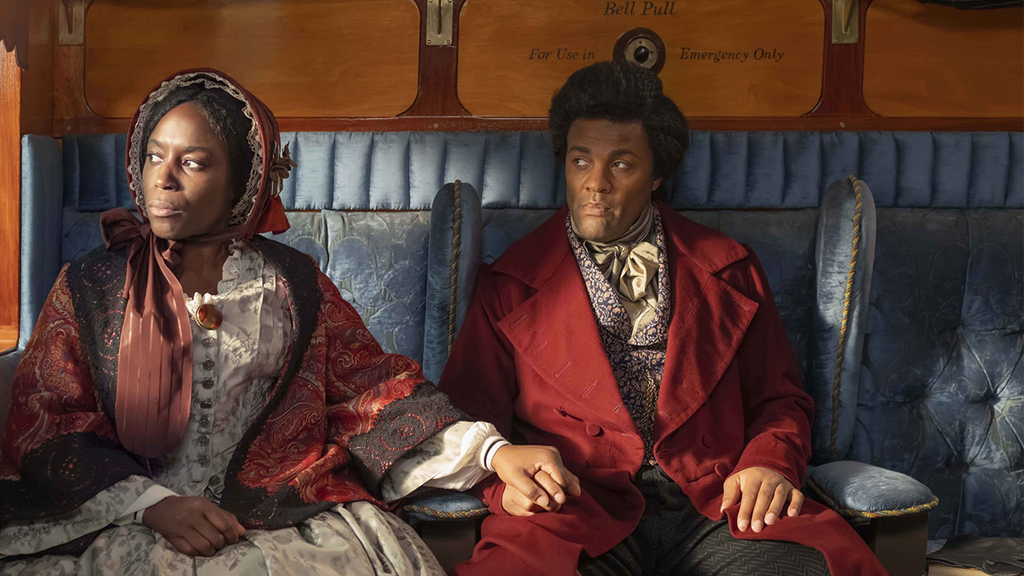 Visualizing Abolition: Film Screening "Lessons of the Hour"
November 30, 2020

| Virtual Event
Share
In collaboration with McEvoy Foundation for the Arts, we are pleased to present a limited online screening of Isaac Julien Lessons of the Hour as a part of the Visualizing Abolition series. The ten-screen immersive film installation exploring the life of Frederick Douglass is on view at McEvoy Arts Oct 14, 2020–Mar 13, 2021.

A link to the screening will be sent out November 30 at 4 pm to everyone who is registered for the event with Isaac Julien and Robin Kelley. To register for the event (and receive the link), please click the button above.
Lessons of the Hour, a ten-screen film installation by British filmmaker and installation artist Isaac Julien, is on view at the McEvoy Foundation of the Arts October 2020-March 2021. A limited online version of the immersive exploration of the life of the visionary African American writer, abolitionist, statesman, and freed slave Frederick Douglass will be available for a limited online viewing. Incorporating excerpts from Douglass' speeches and dramatizations of his private and public milieus, the film offers a contemplative, poetic journey into Douglass' zeitgeist and a forceful suggestion that the lessons of the abolitionist's hour have yet to be learned.
This event is part of The Humanities Institute's yearlong series on Memory.
For the 2020/21 academic year, UC Santa Cruz Institute of the Arts and Sciences, in collaboration with Professor Dent, feminist studies, has organized a year-long series of online events featuring artists, activists, scholars, and others united by their commitment to the vital struggle for prison abolition.
The events of Visualizing Abolition accompany Barring Freedom, a bi-coastal exhibition of art featuring Sonya Clark, American Artist, Dread Scott, Deana Lawson, Chandra McCormick and Keith Calhoun, Sharon Daniel, Sanford Biggers, and other artists whose practices creatively confront the failure of many to see the racist biases within the criminal justice system or to comprehend the economic and social problems that the system serves to obscure. Barring Freedom will be on view at San José Museum of Art late October 2020-March 21, 2021.
Visualizing Abolition is organized by UC Santa Cruz Institute of the Arts and Sciences in collaboration with San José Museum of Art and Mary Porter Sesnon Art Gallery. The series has been generously funded by the Nion McEvoy Family Trust, Ford Foundation, Future Justice Fund, Wanda Kownacki, Peter Coha, James L. Gunderson, Rowland and Pat Rebele, Porter College, UCSC Foundation, and annual donors to the Institute of the Arts and Sciences.
Partners include: Howard University School of Law, McEvoy Foundation for the Arts, Jessica Silverman Gallery, Indexical, The Humanities Institute, University Library, University Relations, Institute for Social Transformation, Eloise Pickard Smith Gallery, Porter College, the Center for Cultural Studies, the Center for Creative Ecologies, and Media and Society, Kresge College.