Events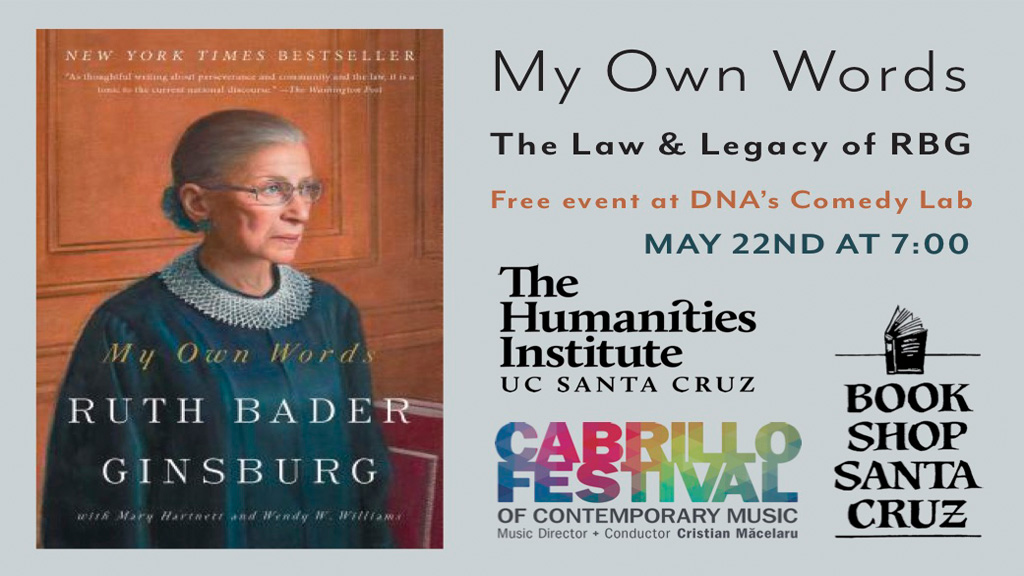 My Own Words: The Law & Legacy of RBG
May 22, 2019 @ 7:00 pm

-

9:00 pm

| DNA Comedy Lab
Share
In anticipation of Cabrillo Festival of Contemporary Music's upcoming premiere of a major new work inspired by the life of Supreme Court Justice Ruth Bader Ginsburg- When There Are Nine by composer Kristin Kuster The Humanities Institute at UC Santa Cruz, Cabrillo Festival, and Bookshop Santa Cruz have come together to present a panel discussion and Community Read kickoff event.
UC Santa Cruz Distinguished Professor and feminist activist Bettina Aptheker will moderate a conversation with Judge Syda Cogliati, Attorney Anna M. Penrose-Levig, and Attorney Jessica Delgado about the significant cases and opinions Justice Ginsburg has championed over the course of her career and the impact she has had on women's equality, civil liberties, and racial justice under the law.
Read the Santa Cruz Good Times Coverage if this event here.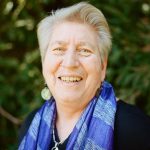 Bettina Aptheker: A scholar of history with a national reputation for her talents as an instructor, Bettina Aptheker taught one of the country's largest and most influential introductory feminist studies courses for nearly three decades at UC Santa Cruz. Starting out in 1980 as the sole lecturer in the Women's Studies Department, she became the department's first ladder-rank faculty member in 1987, and was honored with the Alumni Association's Distinguished Teaching Award in 2001. Aptheker's 2006 book, Intimate Politics: How I Grew Up Red, Fought for Free Speech and Became A Feminist Rebel, tells the fascinating story of her life. Described by the Chronicle of Higher Education as a "stunning memoir," it traces her role in major historical and political events ranging from her co-leadership of the Free Speech Movement in Berkeley, the movement against the war in Vietnam, and the trial of Angela Davis, to the building of the Women's Studies Department at UC Santa Cruz.
Judge Syda Cogliati graduated from UC Santa Cruz and UC Hastings College of the Law and has been a member of the State Bar of California since 1994. She served as a senior appellate research attorney at the Sixth District Court of Appeal before being elected to the Santa Cruz Superior Court bench in 2018.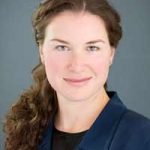 Anna M. Penrose-Levig is an associate attorney at the law firm of Penrose Chun & Gorman LLP in Santa Cruz. Ms. Penrose-Levig has been practicing law since 2003, is admitted to practice in California and Nevada, and is currently serving on the Board of the Women Lawyers of Santa Cruz County.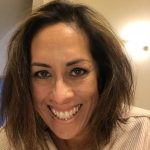 Jessica Delgado graduated from UCSC (Merrill, Politics) and Berkeley Law. She is a career public defender currently assigned to the Homicide Division at the Santa Clara County Alternate Defender where she specializes in capital litigation.
Read more about the panelists: https://www.bookshopsantacruz.com/RBG
This event is sponsored by Bookshop Santa Cruz, The Humanities Institute at UC Santa Cruz, and the Cabrillo Festival. With co-sponsorships from The Peggy and Jack Baskin Foundation for Feminist Studies, Women Lawyers of Santa Cruz County, and UC Presidential Chair Craig Haney.