Exploring the impact and ethics of the Frankenstein phenomena
The Humanities Institute is pleased to bring FrankenCon 2019, a three-day conference of scientists, theorists, and artists exploring the legacy of Mary Shelly's Frankenstein to UC Santa Cruz on November 21 – 23. Scott Rappaport previews the conference and the UC Santa Cruz Theater Arts production The Frankenstein Project, which will take place during the conference, for UCSC News.
---

The Frankenstein Project, a modern adaptation of Mary Shelley's classic Frankenstein story, opens at UC Santa Cruz on November 15 for a two weekend run at the Theater Arts Center's Mainstage.
Set against the backdrop of the latest developments in science and medicine, the feminist and biotechnology-fueled play raises chilling issues of nature vs. nurture and our ethical responsibilities for what we invent and create.
The play is written and directed by UCSC theater arts lecturer Kirsten Brandt, a theatrical director, playwright and producer, with a passion for stirring the imagination of audiences through visceral storytelling that inspires dialogue and ethical engagement.
Her production takes a fresh look at questions of art, religion, and science at a time when the prospect of creating a Frankenstein monster is not just a random imaginary thought or fantasy, but rather something much closer to reality.
In conjunction with The Frankenstein Project, UCSC's Humanities Institute and Arts Division will also present FrankenCon—a three-day conference of scientists, theorists, authors, and artists who will all explore the Frankenstein legend—on November 21-23.
FrankenCon kicks off on Thursday, November 21 with back-to-back film screenings of Frankensteinand Bride of Frankenstein in downtown Santa Cruz, at DNA's Comedy Lab and Experimental Theatre.
The films will be followed by a talk and Q&A with Good Times editor Steve Palopoli, UCSC Theater Arts professor and conference organizer Michael Chemers, UCSC literature professor Renee Fox, and UCSC computational media professor Tad Leckman.
Highlights of the weekend include a "Science and Ethics" roundtable discussion on Saturday afternoon, moderated by Chemers and featuring UCSC faculty–including former chancellor and astronomy professor George Blumenthal, Genomics Institute director David Haussler, and sociology professor Jenny Reardon.
They will discuss such topics as "What is 'mad science' and how do we guard against it? and "What has Frankenstein taught scientists and cultural critics about the dangers of science without conscience?"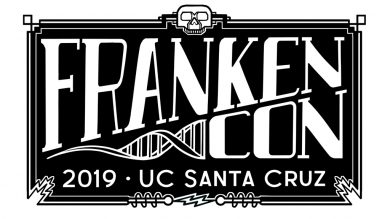 FrankenCon will also host three special guests in conversation during the conference, each followed by audience Q&As.
New York Times bestselling author Kiersten White will talk about the development of her novel, The Dark Descent of Elizabeth Frankenstein. White is also the author of the And I Darken trilogy, the Paranormalcy trilogy, Beanstalker and Other Hilarious Scarytales, Slayer, and several other novels.
Playwright and TV writer Jennifer Haley will discuss the ways she combines technology and horror in her writing (The Nether, Hemlock Grove, Mindhunter). Haley's work examines ethics in virtual reality and the impact of technology on our human relationships, identity, and desire.
And The Frankenstein Project playwright and director Kirsten Brandt will join the above guests for a conversation about their connection to Mary Shelley's Frankenstein and the challenges and delights of reinterpreting its themes for modern audiences.
UCSC arts and humanities faculty will additionally participate in a roundtable discussion about the impact of Frankenstein on the last two centuries of literature, theater, film, and games.
FrankenCon draws to a close with a desert reception for guests and attendees featuring "FrankenCupcakes" at 5 p.m. on Saturday, at UCSC's Digital Arts Research Center (Room 308).
For more information and a complete schedule of events, visit the FrankenCon web site.
---
The Humanities Institute co-sponsors FrankenCon at UC Santa Cruz on November 21 – 23.
This article was originally published at UCSC News.