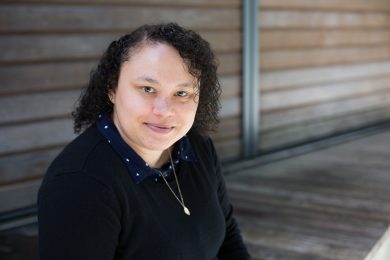 Amani Liggett is a seventh-year PhD Student in the Literature Department. Liggett is busy writing her dissertation, tentatively titled "Dreams and Sleep in Shakespeare's First Tetralogy History Plays," but has made public humanities and local theater a central part of her education. While pushing forward with her graduate studies, Liggett has been actively involved with the regional theater organization Santa Cruz Shakespeare (SCS). Liggett is currently working with Santa Cruz Shakespeare as a C.L. Barber Fellow, a position she also held in the Summer 2020. Liggett was also a Summer Public Fellow with Santa Cruz Shakespeare in 2017.   
At the end of July, we got in touch with Liggett to hear more about her summer work assisting Santa Cruz Shakespeare with its many exciting productions and programs. From August 5-6, Santa Cruz Shakespeare, with Liggett's help, will present Weekend With Shakespeare, two days of lectures, discussions, and demonstrations about the 2022 Season's main stage productions, Twelfth Night and The Tempest.
---
Hi Amani! Thank you for agreeing to answer some questions about your ongoing scholarship and your work with Santa Cruz Shakespeare. This summer, you have been working with SC Shakespeare as a C.L. Barber Fellow. What exciting work have you been doing so far this summer? What productions are you helping put on, and when will those debut?
Hello! I worked on the production team for Twelfth Night as the play's dramaturg during Santa Cruz Shakespeare's summer season festival. SCS's Twelfth Night opened at The Grove on July 16th and will be playing Thursdays through Sundays until August 28th. As the production's dramaturg, my job was to facilitate an understanding of Shakespeare's text in rehearsal—to help make clear where the text is coming from by describing cultural, historical, and linguistic issues so that the director and cast could make key decisions with as much accurate information as possible. Twelfth Night is a delightful play, but it is strange and often challenging to read and speak; along with interpreting the song lyrics, I assisted in explaining Shakespeare's lyric verse and prose, and describing why he sometimes switches between the two styles mid-scene. Part of my role was to help demystify this changing language for everyone, while also encouraging textual interpretations that differed from traditional scholarship. 
You've had a long-running relationship with Santa Cruz Shakespeare! You were a Summer Public Fellow there in 2017, and you have been a C.L. Barber Fellow previously in the summer of 2020.  Can you give us a review of the various projects you've worked on with Santa Cruz Shakespeare over these periods?
I was the C. L. Barber Fellow in the summer of 2020 where I was the dramaturg for Richard III and assisted on the Henry VI trilogy. Before that role, I was previously the Summer Public Fellow in 2017. For the summer of 2017, I worked alongside Santa Cruz Shakespeare staff in preparing and presenting the Weekend with Shakespeare conference and Educator's Day. This Public Fellowship involved completing a substantial resource guide to accompany the 2017 season's plays, Measure for Measure and The Two Gentlemen of Verona. I worked to create this guide with SCS interns, administrators, and the dramaturgs; we were able to provide the conference attendees with a document that carefully considered each play's themes, production histories, images of performances, and teaching resources. When I was awarded the C. L. Barber Fellowship in the spring of 2020 the project was held online due to the COVID-19 pandemic. So, my debut dramaturgy role with SCS ended up being for a one-of-a-kind Zoom performance of Richard III as part of a series called Undiscovered Shakespeare. This created more dramaturgy opportunities for me, and I worked on two more of Undiscovered Shakespeare's online performances, Troilus and Cressida (Summer, 2021) and King John (Winter, 2022).
What first drew you to working with Santa Cruz Shakespeare?
I first knew I wanted to work with a local Shakespeare company when I initially applied to UC Santa Cruz, and that I would be able to use my knowledge to assist a production while also developing my research skills in Shakespearean performance history. What really lured me in was conversations with people about my interests throughout my graduate school time who would reply, "Shakespeare is not for me," or who believed that if they had not read Shakespeare's plays in high school then they could not enjoy reading or watching them now. I feel strongly that Shakespeare's works are for everyone, whatever their background may be. Not only was I drawn to working with a lively scholarly and dramatic community, but I felt that through my obsession with Shakespeare and early modern England I could help build understanding and confidence in others who want to engage with the text. 
While working with Santa Cruz Shakespeare, you've also been progressing on your PhD in Literature. How do you think your community theater experience has enriched your academic research and teaching, and vice versa?
When I first began collaborating with Santa Cruz Shakespeare in the summer of 2017, I found that my academic journey and scholarly research often coincided quite well with the company's goals in performance and learning. After I gained that experience, I transferred my knowledge to the classroom setting and it has made me a better teacher, listener, and learner. Discussing and demystifying the practice of literature—and especially Shakespeare's texts—a workplace where I feel most at home. My involvement with the recent Undiscovered Shakespeare projects for the past three years (Richard III, Troilus and Cressida, and King John) has allowed me the space to grow into a stronger researcher and instructor. Through my dramaturgy work in the summer of 2020 with Richard III, I was able to identify that I wanted my dissertation to be about dreams and sleep in Shakespeare's history plays. 
I'm sure it's nearly impossible to pick, but what would you say has been a high point in your experience working on various projects with Santa Cruz Shakespeare, and what has been the most challenging aspect of this work? 
Not to sound repetitive, but I would have to say my high point with Santa Cruz Shakespeare is Twelfth Night! I think that being back in person after doing reduced capacity shows and Zoom performances felt so exciting and new, almost like discovering Shakespeare in the theater all over again. But a full company also meant that finding solutions to textual issues that everyone feels satisfied with was more difficult, and there were certainly some challenging situations in which I sought advice from the SCS veterans.
In your opinion, why is community theater and public-facing engagement with Shakespeare's work so important? 
I think it is crucial to provide opportunities like the C. L. Barber Fellowship that both support graduate students while also allowing them to give back to the Santa Cruz community through theater and scholarship. I was an effective dramaturg because I have a passion for the texts, and the language, history, and culture contained in them. The contentious issues faced by the characters in Shakespeare's plays are still relevant today, and I loved assisting the cast in understanding the stakes of the unfolding drama. When the whole cast and production team understands what is happening with the language, then you can see the payoff when the audience's comprehension and enjoyment skyrocket. It is important to do Shakespeare in our community so that modern audiences can see this relevance and mark the parallels for themselves. If an audience member walks away thinking about Feste's unique brand of philosophy, or they want to get involved in a local theater production, then I think we have all been successful in our aim to educate and inspire. 
My career goal is to teach literature responsibly, lovingly, and curiously.
How do you think public humanities will continue to shape your career both in graduate school and beyond?
My career goal is to teach literature responsibly, lovingly, and curiously. The public humanities provide a position for the specialized understanding of literature, such as studying the text and performance of Shakespeare. One of my duties as a dramaturg for Twelfth Night was to produce an actor's information packet before rehearsals begin. This packet usually includes dates of the earliest performances of the play, a full list of characters and their relationships, and relevant production history. The dramaturgy packet for Twelfth Night this year also included a note to highlight the music and singing as its own form of dialogue. Being the dramaturg entailed tasks such as looking up the origin to "The Twelve Days of Christmas" tune or explaining that a particular song is likely Shakespeare's adaptation of a traditional English folk song, not necessarily his original invention. This type of dramaturgy research breaks me out of the everyday research I do as a PhD student, which can be hyper-focused on a single speech or quote for weeks at a time. It is helpful to take a step back and think how to answer the big question, how do I describe this play to other people? Dramaturgical work sharpens my thinking and improves my vocabulary. The work enlarges my frame of reference regarding performance, music, costume, etc.; it makes me more prepared to help students who may need additional explanations to guide them as they confront Shakespeare's works.