UC Santa Cruz stated that 2018 was a year to "celebrate the Humanities" at UC Santa Cruz, and events by The Humanities Institute were "some of the most button-pushing" of the year.
"A Year of Growth, Change, and Forging Ahead at UC Santa Cruz" details the achievements of THI programming and Humanities alumni, which included a "detailed special report on finding truth in today's partisan world, and talented Banana Slug authors using their voices, and their literary talents, to make the world a better place. Alumna author Kate Schatz casts a spotlight on "rad girls" under age 20 with her new book, the latest her series of "rad" bestsellers. Alumna Reyna Grande penned a New York Times op-ed on immigration." The Humanities Institute co-presented Grande's A Dream Called Home book launch in October 2018. The article continues: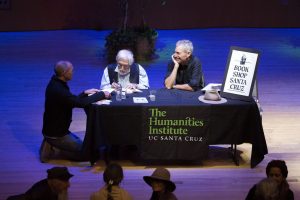 Also this year, the legendary poet Gary Snyder drew a capacity crowd when he read on campus for the annual Morton Marcus Memorial Poetry Reading. Often described as the "poet laureate of deep ecology," Snyder has become a spokesman for the preservation of the natural world and the cultures that seek to protect it. In fact, the Humanities had a hand in some of the most button-pushing lectures and readings this year.
Computer scientist, composer, visual artist, and acclaimed author Jaron Lanier delivered the 2018 Peggy
Downes Baskin Ethics Lecture this fall on campus, "How the Internet Failed and How to Recreate It." Lanier's most recent book, Ten Arguments for Deleting Your Social Media Accounts Right Now, outlines how the benefits of social media can't possibly offset the devastating losses to our personal freedom, dignity, happiness, and well-being. But Lanier also optimistically envisions a new humanistic type of social networking that can lead to a better way to live and connect to the world.
… visitors to the UC Santa Cruz Night at the Museum came away with an immersive sense of 1968 protest movements and their global impacts.
Read the full story: A Year of Growth, Change, and Forging Ahead at UC Santa Cruz, by Dan White.
Photo credits: Crystal Birns