Hello and welcome to the 2022 Deep Read!
This is the first of four emails exploring Yaa Gyasi's novel Transcendent Kingdom. We aim to enhance your reading experience by sharing perspectives and lines of inquiry raised by faculty here at UC Santa Cruz and by your community of fellow Deep Readers in Santa Cruz and across the globe. Today, we explore some approaches to deep reading, think about the novel in the context of its many inherent tensions, and propose some exploratory questions.
Let's dig in…

Primer
For those of you who are new to the Deep Read, here's a quick rundown of what to expect over the next month.
Weekly Emails: Each weekly installment will draw heavily from the input and observations of our UC Santa Cruz faculty, and it will pose a set of questions and offer a critical approach for you to consider as you read.
Community Conversations: Each week, we'll link to a web version of our email content with an active comment section. We invite you to share your reflections, ideas, reactions, and experiences with the Deep Read community and begin conversations with other Deep Readers.
Faculty Salon: Join us on May 4th from 6:00-7:30pm at the Cowell Hay Barn (and via livestream for those outside of the area) where we'll discuss Transcendent Kingdom with our faculty partners: Chancellor Larive, Vilashini Cooppan, and Gina Athena Ulysse. Join your fellow Deep Readers for an evening of in-depth discussion about the novel. RSVP
Yaa Gyasi in Conversation: We close the book on the 2022 Deep Read exploration of Transcendent Kingdom on May 15th at 4:00pm when we'll convene for a live event at the Quarry Amphitheater featuring novelist Yaa Gyasi in conversation with Karen Tei Yamashita, award-winning UC Santa Cruz Professor Emerita of Literature. RSVP
Reading Deeply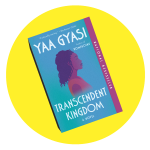 By now you should have your copy of Transcendent Kingdom. As you start reading, consider your reading process and think about ways you might deepen and become more conscious of your reading experience. We asked our participating scholars for their approaches to reading deeply—here's what they had to say:
Gina Athena Ulysse, Professor of Feminist Studies
I like slowing things down, so I read and re-read passages. I let them speak to me to see where they take me. I love to read excerpts out loud. I need to hear how they sound. That's the performer in me. And sometimes, an unfamiliar word here or there jumps out—or a concept or quote. Then, I will go on Google when I don't know something, and I look it up. I appreciate having access to information as I keep learning.
Sean Keilen, Professor of Literature & Deep Read Founding Co-Director
There are so many texts of one kind or another that clamor for our attention now. Many of those texts demand that we make quick judgments about complex topics and commit ourselves immediately to unambiguous courses of action. I see deep reading as a kind of spiritual exercise that enables us to become a different kind of person entirely: someone who listens carefully, relishes ambiguity, postpones judgment, and responds to other minds with curiosity and sympathy in the hope of understanding them.
Vilashini Cooppan, Professor of Literature and Critical Race and Ethnic Studies
Reading deeply for me is becoming alert to patterns—this could be the repetition of particular words and phrases, or certain kinds of symbols and metaphors. I'll mark up my book when I'm reading, searching for those patterns. I love it when there are a few blank pages at the back of the book: I can scribble notes there and my own copy becomes an archive of my close reading. I'm drawn especially to reading narratives this way that tell very intimate stories, but in the scale of that intimacy, world scale historical events are happening.

Tracing the Tensions
Born in Ghana and raised in various states in the U.S.—Ohio, Tennessee, Illinois, and Alabama, Yaa Gyasi is a writer whose work, as some critics argue, bridges the African American and the African Diasporic literary traditions. For Gyasi, her experience is intimately tied to her writing. In a 2020 interview with the Paris Review, she says:
I was a voracious reader even at a very young age. I loved books, but I wasn't really encountering a lot of literature that spoke to my particular experiences. I started writing at a young age, too. As I grew older, I think I started to really firmly believe in that Toni Morrison quote, "If there's a book that you want to read, but it hasn't been written yet, then you must write it." And I think I've taken that to heart. I hope that I'm always writing for the parallel version of myself who's not a writer but is still searching for moments of recognition, moments of intensity, moments of pleasure and representation and all those things, and that she can find it in my work and feel seen.
In contrast to her need to write experiences she can't find in books, she feels that reading gave her a stability her upbringing lacked. "My family moved around a lot when I was a child," said Gyasi in a 2020 NPR Interview. "One constant was the fact that I could go to the library with my library card and check out books. And in these books I could start to kind of encounter people, understand people and have that stability that I was seeking throughout all of these moves. So I was a person who just found herself in literature quite young."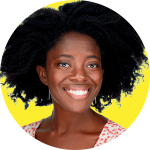 Gyasi's experience as a reader and writer "shows a tension
in the relationship between literature and individual subjectivity, as Gyasi both finds subjective stability in reading books and begins to write because many books did not reflect her own experience. With Transcendent Kingdom and her other writing, Gyasi explores such subjective tensions in striking ways. In the process, she mashes up definitive African American literary themes, such as trauma and the historical legacies of Atlantic slavery, with issues central to African Diasporic Literature, such as cosmopolitan mobility and the difficulty African immigrants face navigating middle-class aspirations. As we'll see, Transcendent Kingdom is a novel rife with tensions, from the complex relationship between religion and science to the conflicting desire to at once remain connected to one's home and to transcend it.
Go deep: As you begin reading, what are some tensions that become clear early on in the novel? What are the various worlds, along with religion and science, that the narrator, Gifty, is navigating? Why might these tensions and patterns be important to the larger story? Also, what might you stand to gain from a novel that, according to Gyasi, is for "the parallel version of herself"? What could you gain from a novel that relates a unique and perhaps divergent experience from your own? What are some other books that have done this well? Why are new perspectives important? Finally, how are you reading this novel deeply?
Join the community conversation: We encourage you to think through these questions as you read and share your thoughts in the comments below 👇
Community Conversation
Share your thoughts, reactions, and ideas with the Deep Read Community. Please note, comments are moderated and won't populate immediately. Send any questions to deepread@ucsc.edu.