"I would like the audience to go away feeling energized to fight racism," says Jennifer González about The Humanities Institute's Questions That Matter event coming up Tuesday, January 30.
A professor of history of art and visual culture, González plans to inflect the discussion with her areas of expertise: representation and racialized bodies.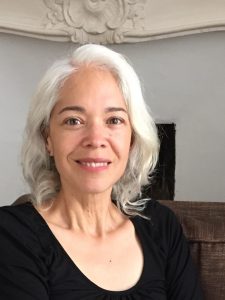 González notes that American culture is driven by symbolism and imagery, which extends to our conversations about race. "I'm interested in the way images become lightning rods for popular debate. Kneeling for the national anthem is seen by some as a progressive statement of solidarity and by others as an unpatriotic or disrespectful act," she says.
Questions about race and freedom couldn't be more relevant, but it's not solely because of Donald Trump, says González. In fact, she asserts that he's a symptom, not a cause, of escalating racism.
"It's not that now that Donald Trump is in office, we're in a situation where racism has reared its ugly head. Racism has been growing for several decades, after having been in decline after the civil rights movement," she says.
Racial inequality has persisted, in large part, because white people benefit from the limitations placed on other races, she argues. For example, the disproportionate incarceration of non-white people might reduce competition for jobs, but this misguided way of thinking is self-defeating. Imprisonment ultimately costs taxpayers (including racists) far more than subsidized housing, quality education, or community-based rehabilitation.
In addition to incarceration, smearing higher education and its ability to foment critical thinking is another time-tested tool of repression. González notes that Germany, Russia, China, and Cambodia at particularly devastating points in their histories all stigmatized artists and intellectuals to stifle the population's freedom. She's troubled by the far-right pundits who delegitimize universities today. "I think we all need to be alert, on both the political left and the right, to any fascistic tendencies of government and their repression of basic freedoms," she says.
Join Tyler Stovall, Jennifer González, and Nathaniel Deutsch for Questions That Matter: Freedom and Race on January 30 at the Kuumbwa Jazz Center. Doors open at 6pm for wine and hors d'oeuvres.