Welcome to the 2023 Deep Read!
This is the first of four weekly installments exploring Elizabeth Kolbert's Under a White Sky. Our goal is to enhance your reading experience by sharing perspectives, observations, and questions raised by faculty here at UC Santa Cruz and by your community of fellow Deep Readers in Santa Cruz and around the world. Today, we meet our faculty lineup, consider some approaches to deep reading, and propose some exploratory questions.

Primer
For those of you who are new to the Deep Read, here's a quick rundown of what to expect over the next month.

Weekly Emails: Each weekly installment will draw heavily from the input and observations of our UC Santa Cruz faculty, and it will pose a set of questions and offer a critical approach for you to consider as you read.

Community Conversations: Each week, we'll link to a web version of our email content with an active comment section. We invite you to share your reflections, ideas, reactions, and experiences with the Deep Read community and begin conversations with other Deep Readers.

Faculty Salon: On May 4, you'll be able to join the conversation—in person or online—at a salon-style event where our participating professors (see below) will lead a discussion of the book with UCSC students and the broader Deep Read community. Learn more.

Elizabeth Kolbert in Conversation with Ezra Klein: Join us for the culminating event of the 2023 Deep Read—a live discussion on May 21 at the Quarry Amphitheater with Pulitzer Prize-winning science journalist Elizabeth Kolbert and NY Times columnist and podcast host Ezra Klein (Stevenson). Learn more.

Community Salon: In early June, we'll be hosting a salon at the Seymour Marine Discovery Center—co-sponsored by The Humanities Institute and Lookout Santa Cruz—focused on actions we all can take in the face of climate change. Ecology Action, Elkhorn Slough Foundation, and Regeneración Pajaro Valley will lead the discussion in person and over Zoom. Stay tuned for details.

Faculty Lineup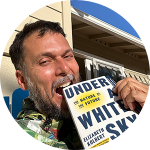 Jorge Menna Barreto is an environmental artist and educator in UCSC's Arts Division whose practice and research has been dedicated to site-specific art for over 20 years. His perspective will challenge some of the core assumptions of Kolbert's book, such as the false sense of "us all equally belonging" to a species that should be held responsible for the environmental crisis.

Mike Beck is a Marine Sciences professor and the Director of the Center for Coastal Climate Resilience. Beck's research experience intersects with many of the coastal stories in Kolbert's book. He will be connecting what we read to research happening right here on the coast of Santa Cruz.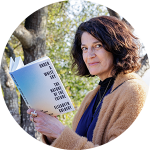 Jody Biehl teaches news literacy, journalism, and media ethics at UCSC. She's an award-winning journalist who has worked at The New York Daily News, The Santa Rosa Press Democrat, The San Francisco Chronicle, and Der Spiegel. She'll be connecting her insights and experience as a journalist to Kolbert's book and craft.

Sikina Jinnah is a professor of Environmental Studies whose research focuses on global environmental governance. Her focus is climate change, solar geoengineering, and the nexus between international trade and environmental politics. Spoiler alert, she is an expert in the policies that might one day create the white sky of the book's title.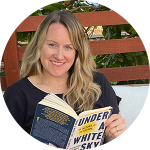 Laura Martin is the Deep Read Program Manager and teaches the undergraduate Deep Read course at Porter College. She is a literary scholar, writer, and teacher, and she holds a PhD in Literature from UC Santa Cruz. She's been a key part of the Deep Read since its launch and her training and interests keep the Humanities central to every book we read deeply together.
Reading Under a White Sky
By now, you should have your copy of Under a White Sky in hand. We'll be reading at a pace of 50 pages a week to complete the book by week 4, just ahead of Kolbert's visit to campus. We hope you'll approach the book in the spirit of the Deep Read program. Take your time, think critically, underline, jot notes in the margins, and share your questions and ideas with us in the community comments and at the Faculty Salon. In a change from earlier Deep Reads, we're working with a nonfiction text this year. We're reading the world through the text, interpreting it, and bringing in new contexts.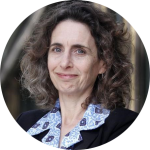 Elizabeth Kolbert (left) is a climate journalist who has been a staff writer at The New Yorker since 1999. Influenced by New Journalism of the 1960s and 70s, she takes an "embedded" approach to her beat, not just, for instance, writing about carbon capturing in Under a White Sky but taking us to Iceland to walk alongside the scientists who are capturing carbon from the atmosphere and turning it into rock.

Along with being intensely absorbed in her subject, Kolbert is also interested in the role of narrative and human consciousness in the climate crisis. As she discusses in a recent New Yorker article, even if climate change "exceeds narrative," we must still try to tell the story. And how and why we tell the story matters. That we can be conscious of our storytelling and our role in climate change is a source of hope for her, even in the face of what can sometimes seem like impending catastrophe.

Cognitive scientist Maryanne Wolf places a similar weight on the value of storytelling and narrative. She is an expert in deep reading, especially how deep reading is potentially under threat in our digital age, and her recent podcast conversation with Ezra Klein inspired us to invite him to join us in our culminating event with Elizabeth Kolbert on May 21. Wolf writes in the Guardian:
The possibility that critical analysis, empathy and other deep reading processes could become the unintended "collateral damage" of our digital culture is not a simple binary issue about print vs. digital reading. It is about how we all have begun to read on any medium and how that changes not only what we read, but also the purposes for why we read. Nor is it only about the young. The subtle atrophy of critical analysis and empathy affects us all. It affects our ability to navigate a constant bombardment of information. It incentivizes a retreat to the most familiar silos of unchecked information, which require and receive no analysis, leaving us susceptible to false information and demagoguery.
Today, in a digital era embroiled in a human-caused climate crisis, what Kolbert calls "the sixth extinction," the stakes couldn't be higher for the need to read deeply. This is especially true when considering Under a White Sky, which demonstrates the ways society has blundered into potential environmental catastrophe, and how scientists, governments, and businesses continue to create new problems with every new solution. We aim to make the stakes of Under a White Sky clear and offer ways of reading it beyond the page by adding context from our faculty experts, connecting Kolbert's reporting to work happening here on campus, and sharing actions you can take to change the story here in California and beyond.
Go deep: So let's get the conversation started! How do you read deeply? What might you do differently as you read this book with deep reading in mind? How do you think this book is asking you to read it? What do you think this book is asking you to do or think? What intrigues you about the selection? What are some concerns you might share with the book and its approach to the climate crisis?
Join the community conversation: We encourage you to think through these questions as you read and share your thoughts in the comments below 👇
Community Conversation
Share your thoughts, reactions, and ideas with the Deep Read Community. Please note, comments are moderated and won't populate immediately. Send any questions to deepread@ucsc.edu.