Two concurrent programs provide funding and mentorship for graduate students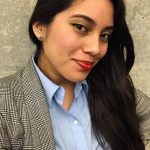 "At the University of California Press, I am gaining firsthand experience in the book acquisitions process. This position is helping me advance my career in publishing and shape my dissertation project."
—Gabriela Ramirez-Chavez

Often Humanities scholars struggle to find ways to translate their scholarly research into direct, public action that engages the communities they study. The Humanities Institute, with support from the Andrew W. Mellon Foundation, sponsors two opportunities for graduate students to imagine the greatest public impact for their research and Humanities training. Two concurrent programs provide funding and mentorship for graduate students to either work beyond the academy or and translate issues of contemporary social concern for the undergraduate classroom.
Year Long Public Fellowship

The Year Long Public Fellows expands the THI Public Summer Fellows program which provides fellowship support to graduate students who work on publicly engaged summer projects. The Year Long Fellowship expands this opportunity and allows graduate students to gain a deeper understanding of how their skills and expertise as historians, philosophers or literary and critical scholars translate to work in museums, non-profit organizations, and cultural institutions. The new fellowship opportunity gives students nine months of support so that they can dive into a position. In addition to bridging the gap between Humanities scholarship and the community, they cant is a chance for them to learn, gain professional skills, and explore what's possible as they pursue meaningful careers. More, it's a chance to develop much needed experience and a network of professional contacts that can expand their potential after graduation.
"Through this Fellowship I have connected with our local community by serving as a professional public humanist for the Santa Cruz Museum of Art and History. Beginning to work to help local communities develop their own historical narratives has been an enriching and moving experience."
—Wyatt Young
"Our graduate students are eager to explore how their work can have meaning outside the university," says Irena Polic, Managing Director of The Humanities Institute. "This expanded fellowship also deepens THI relationships with our community as graduate students bring their expertise to Santa Cruz and the Bay Area."
Our inaugural cohort includes four graduate students: Trey Highton (Literature), Melody Nixon (History of Consciousness), Gabriela Ramirez-Chavez (Literature), and Wyatt Young (History). Highton is working with Save our Waves, a non-profit organization focused on protecting coastal resources. As a public fellow, Highton will create a digital archive of culturally and historically significant oral stories from fellow surfers. Nixon works with Swell Creative Group and The Humanities Institute to create and envision strategic communication that connects our work with Santa Cruz and a broader community.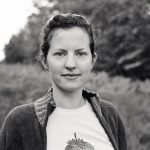 "I'm really enjoying translating scholarly work on campus for a general readership. Santa Cruz has an active public keen to discuss and engage with the Humanities, and the faculty and students at UCSC have so much to share and offer through their research—and to learn from the Santa Cruz community, too."
—Melody Nixon
Ramirez-Chavez, a recipient of a 2018 Summer Public Fellowship as well, continues her work with the UC Press to learn the business of University Presses and highlight create opportunity for underrepresented voices underrepresented in publishing to be published. Young focuses on Public History in his work with the Santa Cruz Museum of Art and History. He is working as part of the exhibits and collections team, learning the practice of making finding aids and collaborating with local history sites to create public exhibits.
The students and the organizations they work with reflect the diversity of UCSC Humanities research and the deep commitment of our students to connect their scholarly pursuits with the public. In particular, this first cohort of fellows is focused on translating the work of history, literature, culture, and scholarship to a broad public audience, enacting the spirit of the program to increase opportunity for public engagement in the work of the Humanities.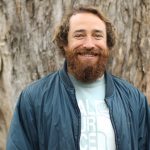 "The THI Public Fellowship is supporting my work with the Save The Waves Film Festival—the perfect vehicle for me to keep a pulse on surfer-led conservation efforts and a growing field of scholarship."
—Trey Highton

Public Humanities Graduate Student Instructors
The Humanities Institute also works to bring the questions of public scholarship to undergraduate learning at UCSC. By sponsoring undergraduate courses taught in the residential colleges, THI has expanded its signature Questions that Matter series and created a vehicle opportunity for the entire campus community to engage in issues of contemporary relevance.
We are proud to announce that Adrian Drummond-Cole (History of Consciousness), Fabiola Hanna (Film and Digital Media), Lani Hanna (Feminist Studies), and Abram Stern (Film and Digital Media) have been selected to lead undergraduate courses focused on the 2018-2019 THI programming theme, Data and Democracy. The GSIs are currently collaborating to develop a cross-disciplinary, humanities grounded syllabus that will be taught in Spring 2019 at Crown, Porter, Rachel Carson, and Stevenson Colleges. In conversation with three faculty mentors, the four GSIs will refine a set of readings and assignments that help undergraduate students understand both the impact of technology on our democratic institutions and the infrastructure of government that defines and limits the power of data collection, storage, and sharing.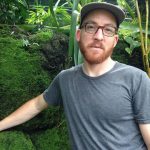 "It has been exciting to collaborate with brilliant graduate students on an experimental course that will investigate the convergence between art, information and communication technologies, and political struggle."
—Adrian Drummond-Cole
The Expanding Humanities Impact and Publics project of THI is supported by the Andrew W. Mellon Foundation and will create ongoing public programming and new opportunities for graduate students through 2022.