The Humanities Institute is proud to co-sponsor the Living Writers Series at UC Santa Cruz, a program of weekly events that showcase contemporary writers from around the U.S. The season kicks off on October 3, 2019, with R. Zamora Linmark, the author of "The Importance of Being Wilde at Heart."
---
Autobiography, Fairy Tales, The Future is the name of this fall's installment of the Living Writers Series at UC Santa Cruz.
Curated by Micah Perks, professor of literature and co-director of the UCSC Creative Writing Program, the series runs through December 5 on Thursday nights at the Humanities Lecture Hall.
"The writers that are coming this fall represent the most exciting vital experiments, at least in prose, right now–literary experiments that are mashups of autobiography, fairy tales, and speculative fiction," said Perks.
"Some examples are Peg Alford Pursell's flash fabulist autofiction, A Girl Goes Into The Forest; or Sophia Shalmiyev's Mother Winter, a folk and fairy tale inspired memoir; or R. Zamora Linmark's speculative autofiction."
"I'm so looking forward to poet Marcelo Hernandez Castillo, and to his memoir coming out next year, which explores the ideas of separation from deportation, trauma, and mobility between borders," she added.
"And I'm particularly excited about our reading, "After Ursula," which will feature four brilliant writers, Molly Gloss, Nisi Shawl, Karen Joy Fowler and Kim Stanley Robinson, all mentored by Ursula Le Guin, who will read and talk about the state of speculative fiction after the loss of their beloved teacher and friend."
The series kicks off on October 3 with R. Zamora Linmark, the author of The Importance of Being Wilde at Heart, his first novel for young adults. He has also published two novels, Rolling the R's, which he adapted for the stage, and Leche, as well as four poetry collections, most recently, Pop Vérité.
Poet, essayist, translator, and immigration advocate Marcelo Hernandez Castillo will read on October 10. He is the author of Cenzontle, selected by Brenda Shaughnessy as the winner of the 2017 A. Poulin Jr. prize and winner of the 2018 Northern California Book Award. Castillo's first chapbook, Dulce, also won the Drinking Gourd Poetry Prize. His memoir, Children of the Land is forthcoming from Harper Collins in 2020.
Gary Soto will be the featured poet at the 10th annual Morton Marcus Poetry Reading on November 7, at the Music Center Recital Hall. He has published more than 40 books for children, young adults and adults, including Too Many Tamales, Chato's Kitchen, Baseball in April, Buried Onions and The Elements of San Joaquin. He is also the author of In and Out of Shadows, a musical about undocumented youth and, most recently, The Afterlife, a one-act play about teen murder and teen suicide. Soto's poem "Oranges" is the most anthologized poem in contemporary literature. His books have sold four million copies nationally and have been translated into French, Japanese, Italian, Korean, and Spanish.
On November 14, four renowned writers– Karen Joy Fowler, Molly Gloss, Nisi Shawl and Kim Stanley Robinson—will participate in a conversation centered around sci/fi speculative fiction author Ursula LeGuin, who recently died in 2018.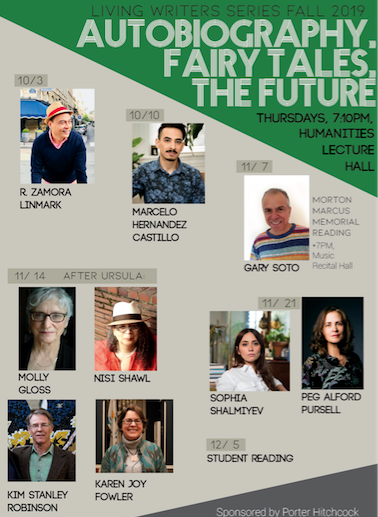 American science fiction writer Kim Stanley Robinson is the author of more than 20 books, including Red Moon, New York 2140, Aurora, Shaman, Green Earth, and 2312. He was sent to the Antarctic by the U.S. National Science Foundation's Antarctic Artists and Writers' Program in 1995, and in 2008 he was named a "Hero of the Environment" by Time magazine. Robinson works with the Sierra Nevada Research Institute, the Clarion Writers' Workshop, and UC San Diego's Arthur C. Clarke Center for Human Imagination. His books have been translated into 25 languages, and won numerous awards in five countries, including the Hugo, Nebula, Locus, and World Fantasy awards.
Santa Cruz author Karen Joy Fowler is the author of six novels, including Sarah Canary and The Jane Austen Book Club, and three short story collections, including What I Didn't See. Her most recent novel We Are All Completely Beside Ourselves, was published by Putnam in May 2013 and won the Pen Faulkner award that year.
Molly Gloss is the author of several novels, including The Jump-Off Creek, The Dazzle of Day, Wild Life, The Hearts of Horses and Falling From Horses, as well as the story collection Unforeseen. She writes both realistic fiction and science fiction, and her novels have received, among other honors, a PEN West Fiction Prize, an Oregon Book Award, two Pacific Northwest Booksellers Awards, the James Tiptree, Jr. Award, and a Whiting Writers Award.
Nisi Shawl wrote the 2016 Nebula finalist, Everfair, and the 2008 Tiptree Award-winning collection Filter House. In 2005, she also co-wrote Writing the Other: A Practical Approach, a standard text on inclusive representation in the imaginative genres. Her stories have appeared in such publications as Strange Horizonsand Asimov's Science Fiction magazine. She edited the anthology, New Suns: Original Speculative Fiction by People of Color; and co-edited Stories for Chip: A Tribute to Samuel R. Delany and Strange Matings: Science Fiction, Feminism, African American Voices, and Octavia E. Butler.
And on November 21, the series will present a double bill featuring Sophia Shalmiyev and Peg Alford Pursell.
Portland writer Shalmiyev is an immigrant from the Soviet Union and the author of Mother Winter, which Kirkus Reviews has described as "a rich tapestry of autobiography and meditations on feminism, motherhood, art, and culture…as intellectually satisfying as it is artistically profound." Shalmiyev earned an M.F.A. from Portland State University and a second master's degree in creative arts therapy from the School of Visual Arts. Her latest work can be found at Lit Hub and Guernica.
Pursell is the author of A Girl Goes Into The Forest and of Show Her A Flower, A Bird, A Shadow, the 2017 Indies Book of the Year for Literary Fiction. Her work has been published in a variety of journals and anthologies, including Permafrost, Joyland, and the Los Angeles Review. Most recently, her microfiction, flash fiction, and hybrid prose have been nominated for Best Small Microfictions and Pushcart Prizes. Purcell is the founder and director of WTAW Press, a nonprofit publisher of literary books, and of Why There Are Words, the national literary reading series.
All readings will take place on Thursdays at 7 p.m. in the Humanities Lecture Hall on the UC Santa Cruz campus (except the November 7 Morton Marcus Poetry Reading, which will be at UCSC's Music Center Recital Hall). Admission is free and open to the public.
This article originally appeared in UCSC News.
___________________________________________________________________________________
The Living Writers Series is sponsored by The Humanities Institute, The Laurie Sain Endowment, Bad Animal Bookstore, The Literature Department, and The Porter Hitchcock Poetry Fund.