New THI Research Cluster and Forthcoming Book Explore Drug Histories and Futures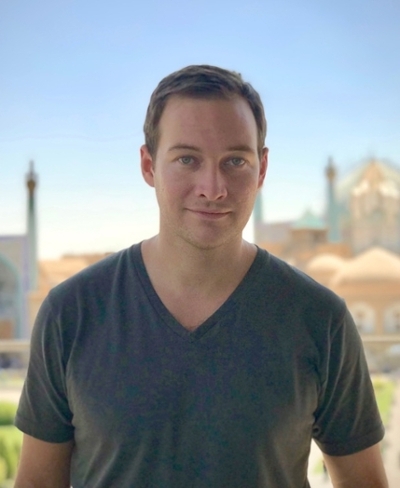 Benjamin Breen is the Principle Investigator of the 2019-2020 THI research cluster Drug Histories and Futures. A past THI Digital Research Faculty Fellow (2018-2019), Breen also launches his first book this month: The Age of Intoxication: Origins of the Global Drug Trade.
THI spoke with Breen about his debut monograph, his research as a THI Fellow, and the cluster's plans for the year ahead—a series of talks that are sure to appeal to the UC Santa Cruz community. According to Breen, the multi-department Humanities cluster aims to provide more context on current debates around cannabis, Juul and other vaping products, "the push to decriminalize psychedelics in Santa Cruz and beyond," and "the rise in opiate usage in recent decades."
Read our interview below, then see our preview excerpt from Breen's The Age of Intoxication (2019).
---
You're the principle investigator of THI's Drug Histories and Futures research cluster, which explores the social and historical impacts of psychoactive drugs. What can you tell us about the research cluster so far? What are your aims for the cluster, and what do you and your fellow affiliated faculty Amanda Smith and Matt O'Hara hope will come out of your work together?
The research cluster is an attempt to make connections between faculty and students working in different departments — anthropology, history, sociology, literature — who share a common interest in the social roles and histories of both medicinal and recreational drugs. Drugs and their histories have been at the forefront of public debate over the past few years, especially with the legalization of cannabis in California, but academic scholarship has been slow to catch up, in my opinion. I'd love to provide a little more context on current news items like debates around Juul and other vaping products, the push to decriminalize psychedelics in Santa Cruz and beyond, and the rise in opiate usage in recent decades.
Can you tell us about the events the cluster is holding this year?
This quarter, on October 3rd, we hosted Paul Gootenberg from Stony Brook University for a talk on "Latin America's Contribution to World Drug Culture." Looking forward, we have upcoming talks planned by Bia Labate, an anthropologist, scholar and activist on psychedelic topics who is involved with the Chacruna Institute. In spring, there'll be a work in progress talk by Alexis Turner, a PhD candidate at Harvard working on the history and politics of LSD. And in fall of 2020, we will host Sarah Milov, an assistant professor of history at University of Virginia and the author of The Cigarette: A Political History (Harvard, 2019).
Your own research was supported by a THI grant last year—we were thrilled to support you as our 2018-2019 Digital Research Faculty Fellow. Your project then was "The Early Modern Drug Database: A Pilot Project." What came out of that period of research for you?
As a Digital Research Fellow I spent time exploring a potential digital project that would include a public database of the names, prices, and growing areas of drugs that were widely traded in the early modern period, roughly 1500 to 1800. I concluded that there wasn't sufficiently reliable data for the price and growing area aspect of that idea to work, but I'm still interested in making a "concordance" of the names of early modern drugs in different languages and time periods, allowing researchers to better identify the confusing lists of medicines included in premodern pharmacy and healing.
Your book The Age of Intoxication: Origins of the Global Drug Trade will be released by the University of Pennsylvania Press on December 20th. Congratulations! We're thrilled to see this culmination of research and writing join the library of UC Santa Cruz Humanities faculty. What should readers expect from this work, and to whom on our campus do you think it will appeal?
In The Age of Intoxication, I offer a window into a time when drugs were not yet separated into categories—illicit and licit, recreational and medicinal, modern and traditional—and there was no barrier between the drug dealer and the pharmacist. I look at the way beliefs about "drugs" circulated in the seventeenth and eighteenth centuries, like the notion that eating the flesh of an Egyptian mummy would prevent the plague, or that distilled poppies reduce melancholy, or that a Turkish drink called coffee increases alertness, or even that tobacco cures cancer. That was an era when the term "drug" encompassed everything from herbs and spices—like nutmeg, cinnamon, and chamomile—to such deadly poisons as lead, mercury, and arsenic. This book rethinks a history of drugs and the early drug trade that has too often been framed as opposites—between medicinal and recreational, legal and illegal, good and evil. In order to guide drug policy toward a fairer and more informed course, we first need to understand who and what set the global drug trade in motion.
In terms of appeal, I really hope the book is read by students who are interested in understanding how drug policy became so complicated—and in particular, why it was that certain drugs were ever criminalized in the first place. Understanding how and why this happened has real consequences, not least because hundreds of thousands, if not millions, of people are currently jailed for possession of substances which used to be not only legal, but socially acceptable and widespread (like Coca Cola, back when it still contained cocaine).
As for events, I'm giving a talk, "The Age of Intoxication: Psychoactive Drugs in World History," at the Phoebe A. Hearst Museum of Anthropology at UC Berkeley on December 5th at 6pm. I also plan to hold an event with McHenry Library in February; stay tuned for details!
---
Read an excerpt of Breen's The Age of Intoxication: Origins of the Global Drug Trade here.