The 2021 Deep Read Program explored Tommy Orange's novel There There. The novel depicts a variety of urban Native American characters living in Oakland, CA. Thousands of Deep readers read together in February, shared comments on our website, participated in three salons, and joined us last week for a culminating conversation with Tommy Orange. Students, alumni, staff, and engaged community members across the globe dug deeply into the novel.

Catch up on the weekly email

email explorations

,

salons

,

class

, and our lengthly list of

further reading

.
Email Explorations
We sent 4 weekly emails that dove into different aspects of the book, guided by UC Santa Cruz professors in the Humanities and Social Sciences. Catch up here:
Salons
We hosted three insightful and illuminating salons exploring the book from different perspectives. We've embedded videos from the salons here:
The Class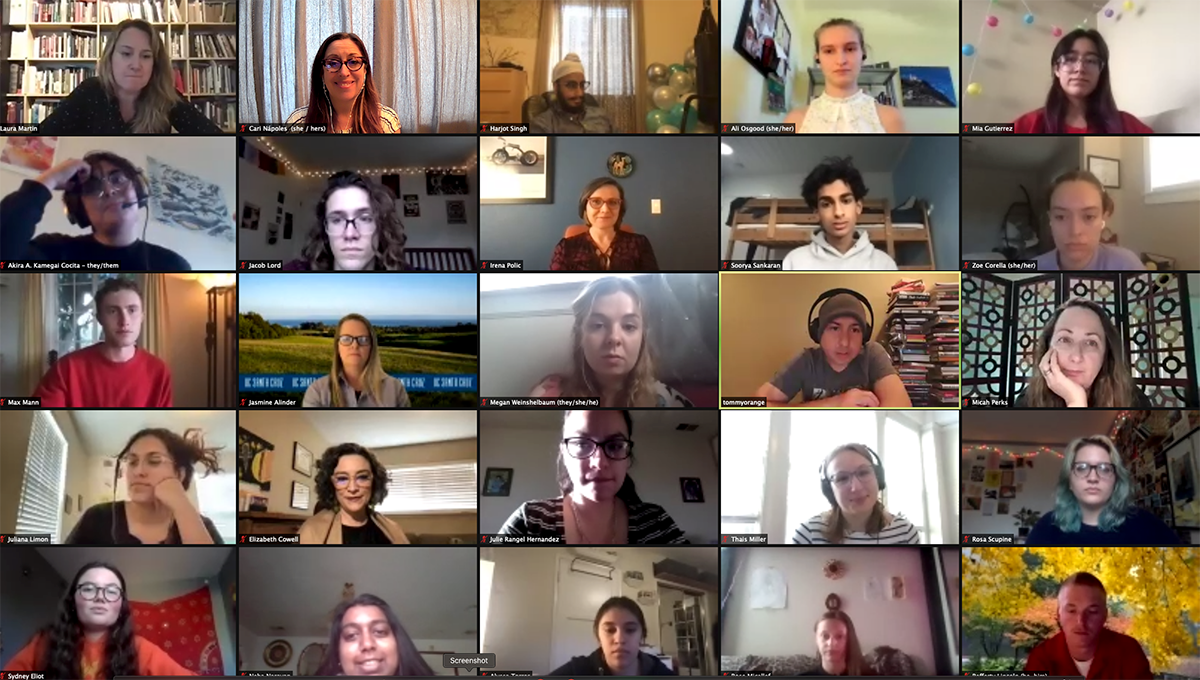 In Winter quarter 2021, Porter College offered a course in conjunction with the College Scholars Program featuring Tommy Orange's novel, "Tommy Orange, There There, and the New Native Renaissance." In the course, students explored how the power of collective storytelling and community activism is depicted in the struggle against the marginalization of Native life, the exploitation of Native lands, the continued erasure of Native experience from the historical record, and the legacies of genocide and occupation. Many insights from the class were shared with the broader Deep Read community.
Further Reading
Tommy Orange's Recommendations:
Hanif Abdurraqib, Go Ahead in the Rain: Notes to A Tribe Called Quest
Billy-Ray Belcourt, This Wound Is a World
Roberto Bolaño, Cowboy Graves
Leonora Carrington, The Hearing Trumpet
Natalie Diaz, When My Brother Was an Aztec, Postcolonial Love Poem
Jennifer Egan, A Visit from the Goon Squad
Louise Erdrich, Love Medicine Series, The Round House
Santee Frazier, Dark Thirty, Aurum: Poems
Brandon Hobson, Where the Dead Sit Talking
Marlon James, A Brief History of Seven Killings
Robert Jones, Jr., The Prophets
Stephen Graham Jones, My Heart Is a Chainsaw
Clarice Lispector (Tommy's favorite sentence writer):The Complete Stories, Near to the Wild Heart, The Passion According to G.H.
Terese Marie Mailhot, Heart Berries
Henrietta Mann, Cheyenne-Araphao Education, 1871-1982
Colum McCann, Let the Great World Spin
Matthew Salesses, Craft in the Real World: Rethinking Fiction Writing and Workshopping
John Kennedy Toole, Confederacy of Dunces
David Heska Wanbli Weiden, Winter Counts: A Novel
James Welch, Winter in the Blood
Faculty and Tribal Band Recommendations
Amah Mutsun Tribal Band: Protect Juristac Campaign (See the Campaign's Facebook Page and Instagram)
Jo-Ann Archibald, Indigenous Storywork: Educating the Heart, Mind, Body, and Spirit
Walter Benjamin, "The Storyteller," from Illuminations
Glen Sean Coulthard, Red Skin, White Masks: Rejecting the Colonial Politics of Recognition
Nick Estes, Our History is the Future: Standing Rock Versus the Dakota Access Pipeline, and the Long Tradition of Indigenous Resistance
Joy Harjo, The Last Song
Leanne Howe, Savage Conversations
Michelle M. Jacob, Yakama Rising: Indigenous Cultural Revitalization, Activism, and Healing
Susan Applegate Krouse and Heather Howard, Keeping the Campfires Going: Native
Women's Activism in Urban Communities
Susan Lobo, Urban Voices: The Bay Area American Indian Community
Deborah A. Miranda, Bad Indians
N. Scott Momaday, House Made of Dawn
Kliph Nesteroff, We Had a Little Real Estate Problem: The Unheralded Story of Native Americans and Comedy
Renya Ramirez, Native Hubs: Culture, Community, and Belonging in Silicon Valley and Beyond
Greg Sarris, Grand Avenue, Mabel McKay: Weaving the Dream, Watermelon Nights: A Novel
Leslie Marmon Silko, Ceremony, Almanac of the Dead, Gardens in the Dunes