Events

Jessica Marglin – The Shamama Case: Contesting Citizenship across the Modern Mediterranean
March 13 @ 12:00 pm

| Humanities 1, Room 210
Share
In the winter of 1873, Nissim Shamama, a wealthy Jew from Tunisia, died suddenly in his palazzo in Livorno, Italy. His passing initiated a fierce lawsuit over his large estate. Before Shamama's riches could be disbursed among his aspiring heirs, Italian courts had to decide which law to apply to his estate—a matter that depended on his nationality. Was he an Italian citizen? A subject of the Bey of Tunis? Had he become stateless? Or was his Jewishness also his nationality? Tracing a decade-long legal battle involving Jews, Muslims, and Christians from both sides of the Mediterranean, The Shamama Case offers a riveting history of citizenship across regional, cultural, and political borders.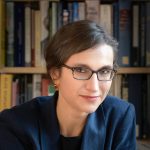 Jessica Marglin is Associate Professor of Religion, Law, and History, and the Ruth Ziegler Early Career Chair in Jewish Studies at the University of Southern California. She earned her PhD from Princeton and her BA and MA from Harvard. Her research focuses on the history of Jews and Muslims in North Africa and the Mediterranean, with a particular emphasis on law. She is the author of Across Legal Lines: Jews and Muslims in Modern Morocco (Yale University Press, 2016) and the co-editor, with Matthias Lehmann, of Jews and the Mediterranean (Indiana University Press, 2020). Her book The Shamama Case: Contesting Citizenship across the Modern Mediterranean is forthcoming with Princeton University Press.
This event will be held on November 14th from 12:00pm-1:30pm and is presented by the Center for Jewish Studies and co-sponsored by the Center for Middle East and North Africa.