Events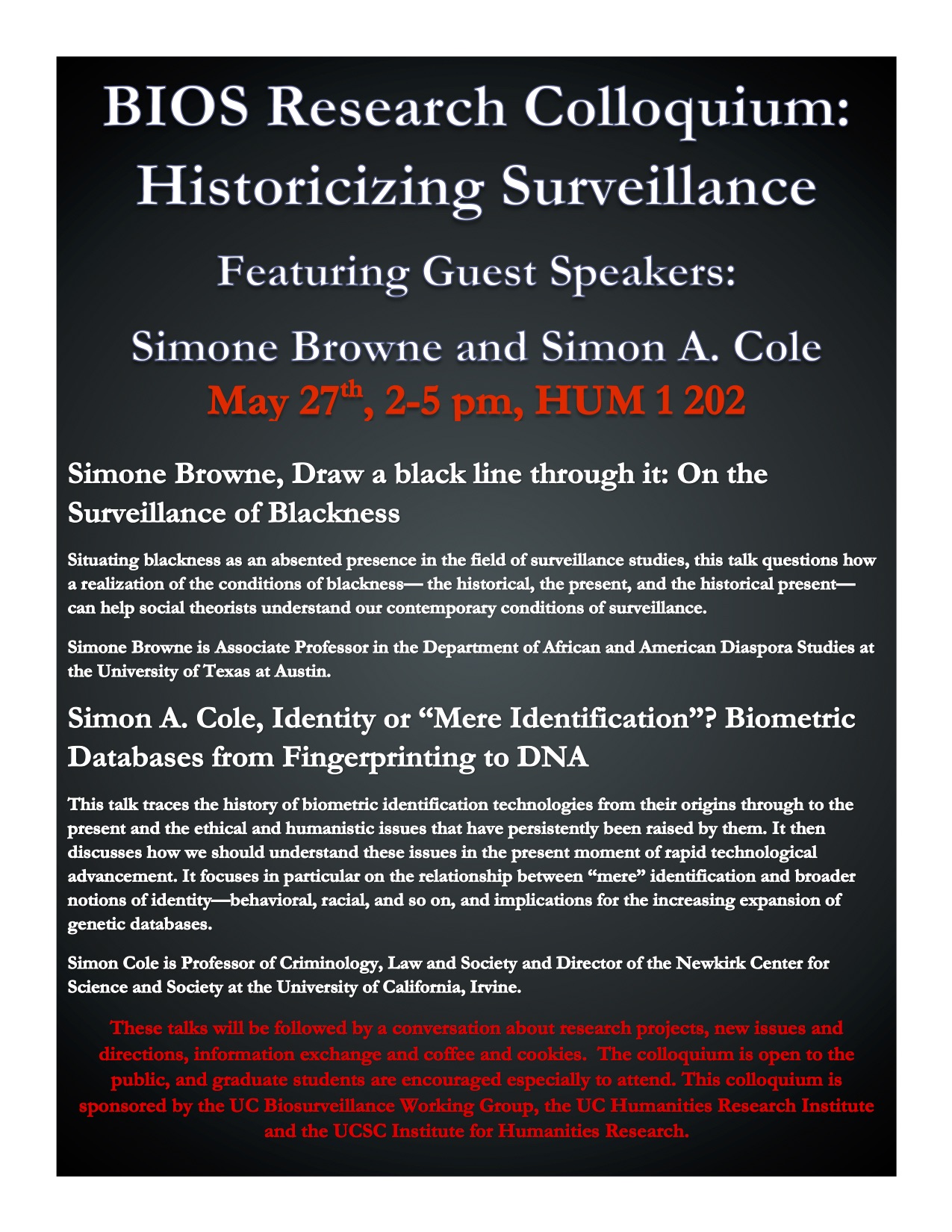 BIOS Research Colloquium: Historicizing Surveillance
May 27, 2016 @ 2:00 pm

-

5:00 pm

| Humanities 1, Room 202

Free
Share
BIOS Research Colloquium: Historicizing Surveillance
Featuring Guest Speakers:
Simone Browne and Simon A. Cole
Friday May 27th, 2-5 pm, Humanities 1 Room 202
---
Simone Browne, Draw a black line through it: On the Surveillance of Blackness
Situating blackness as an absented presence in the field of surveillance studies, this talk questions how a realization of the conditions of blackness— the historical, the present, and the historical present can help social theorists understand our contemporary conditions of surveillance.
Simone Browne is Associate Professor in the Department of African and American Diaspora Studies at the University of Texas at Austin.
Simon A. Cole, Identity or "Mere Identification"? Biometric Databases from Fingerprinting to DNA.
This talk traces the history of biometric identification technologies from their origins through to the present and the ethical and humanistic issues that have persistently been raised by them. It then discusses how we should understand these issues in the present moment of rapid technological advancement. It focuses in particular on the relationship between "mere" identification and broader notions of identity—behavioral, racial, and so on, and implications for the increasing expansion of genetic databases.
Simon Cole is Professor of Criminology, Law and Society and Director of the Newkirk Center for Science and Society at the University of California, Irvine.
These talks will be followed by a conversation about research projects, new issues and directions, information exchange and coffee and cookies. The colloquium is open to the public, and graduate students are encouraged especially to attend. This colloquium is sponsored by the UC Biosurveillance Working Group, the UC Humanities Research Institute and the UCSC Institute for Humanities Research.