Events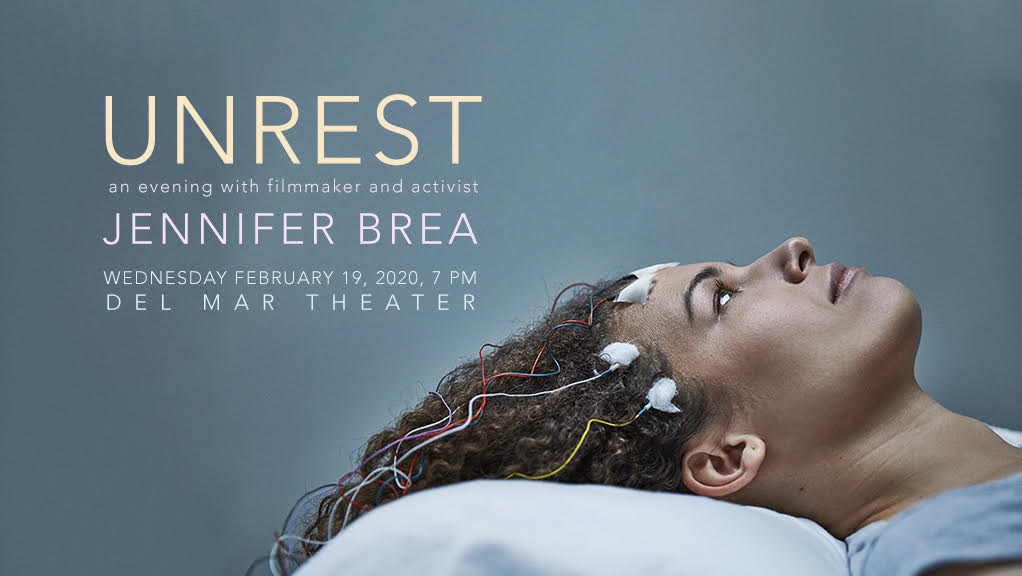 UPDATE: "Unrest" Film Screening
February 19, 2020 @ 7:00 pm

-

9:00 pm

| Del Mar Theatre
Share
2/19/2020: Please note that due to unfortunate health issues, Jennifer Brea will no longer be in attendance at the event. The screening is still taking place and Professor Moodie will still be in attendance for the introduction. 
Jennifer Brea's Sundance award-winning documentary, Unrest, is a personal journey from patient to advocate to storyteller. Jennifer is twenty-eight years-old, working on her PhD at Harvard, and months away from marrying the love of her life when a mysterious fever leaves her bedridden. When doctors tell her it's "all in her head," she picks up her camera as an act of defiance and brings us into a hidden world of millions that medicine abandoned.
In this story of love and loss, newlyweds Jennifer and Omar search for answers as they face unexpected obstacles with great heart. Often confined by her illness to the private space of her bed, Jennifer connects with others around the globe. Like a modern-day Odysseus, she travels by Skype into a forgotten community, crafting intimate portraits of four other families suffering similarly. Jennifer Brea's wonderfully honest and humane portrayal asks us to rethink the stigma around an illness that affects millions. Unrest is a vulnerable and eloquent personal documentary that is sure to hit closer to home than many could imagine.
Free and open to the public – RSVP appreciated. Seating is first come, first served.
Doors open at 6:30, film begins at 7:00pm

---
---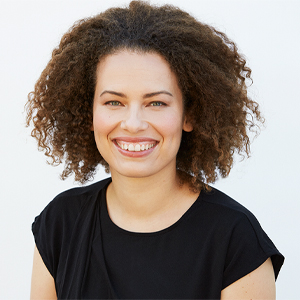 Jennifer Brea is an independent documentary filmmaker based in Los Angeles. She has an AB from Princeton University and was a PhD student at Harvard until sudden illness left her bedridden. In the aftermath, she rediscovered her first love, film. Her Sundance award-winning feature documentary, Unrest, has screened in over 30 countries and had its US national broadcast on PBS's Independent Lens. She is also co-creator of Unrest VR, winner of the Sheffield Doc/Fest Alternate Realities Award. An activist for people with disabilities and chronic illness, she co-founded a global advocacy network, #MEAction and is a TED Talker.
Unrest, her film debut, was awarded a Special Jury Prize at the Paley Center for Media's DocPitch competition and is supported by the Harnisch Foundation, Chicken & Egg Pictures, BRITDOC's Good Pitch, the Tribeca Film Institute, the Fledgling Fund and the Sundance Institute. You can read more about her at jenbrea.com or @jenbrea on twitter
Megan Moodie, Associate Professor of Anthropology at the University of California,Santa Cruz, is a cultural anthropologist, writer, performer, and film critic who works at the intersection of arts, humanities, and social sciences. Trained as a specialist in feminist political and legal anthropology, her early work explored the intersection of gender and indigeneity in South Asia. More recently, she has been investigating how anthropologists can use embodied and arts-based ethnographic methods, such as performance and film, to illuminate non-normative experiences of the body, such as chronic pain and illness, in the service of greater disability and medical justice. Megan regularly communicates with broad audiences in and beyond anthropology; her writing on topics such as disability, genetic illness, motherhood, film, art, and daily strategies for survival has appeared in MUTHA Magazine, Film Quarterly, SAPIENS, and the Los Angeles Review of Books, among others, and her 2018 essay "Birthright" (Chicago Quarterly Review (26)) was named a "Notable Essay of the Year" by Best American Essays 2019.

Presented by the Humanities Institute's Body, (Anti)Narrative, and Corporeal Creative Practices Research Cluster
---
Directions and Parking:
The Del Mar Theater is located at 1124 Pacific Ave #4415, Santa Cruz, CA 95060. Click here for directions and parking at the Del Mar Theater.
If you have disability-related needs, please contact the The Humanities Institute at thi@ucsc.edu or call 831-459-1274 by February 14, 2020. Information about the Del Mar's accessibility equipment can be found here.