Events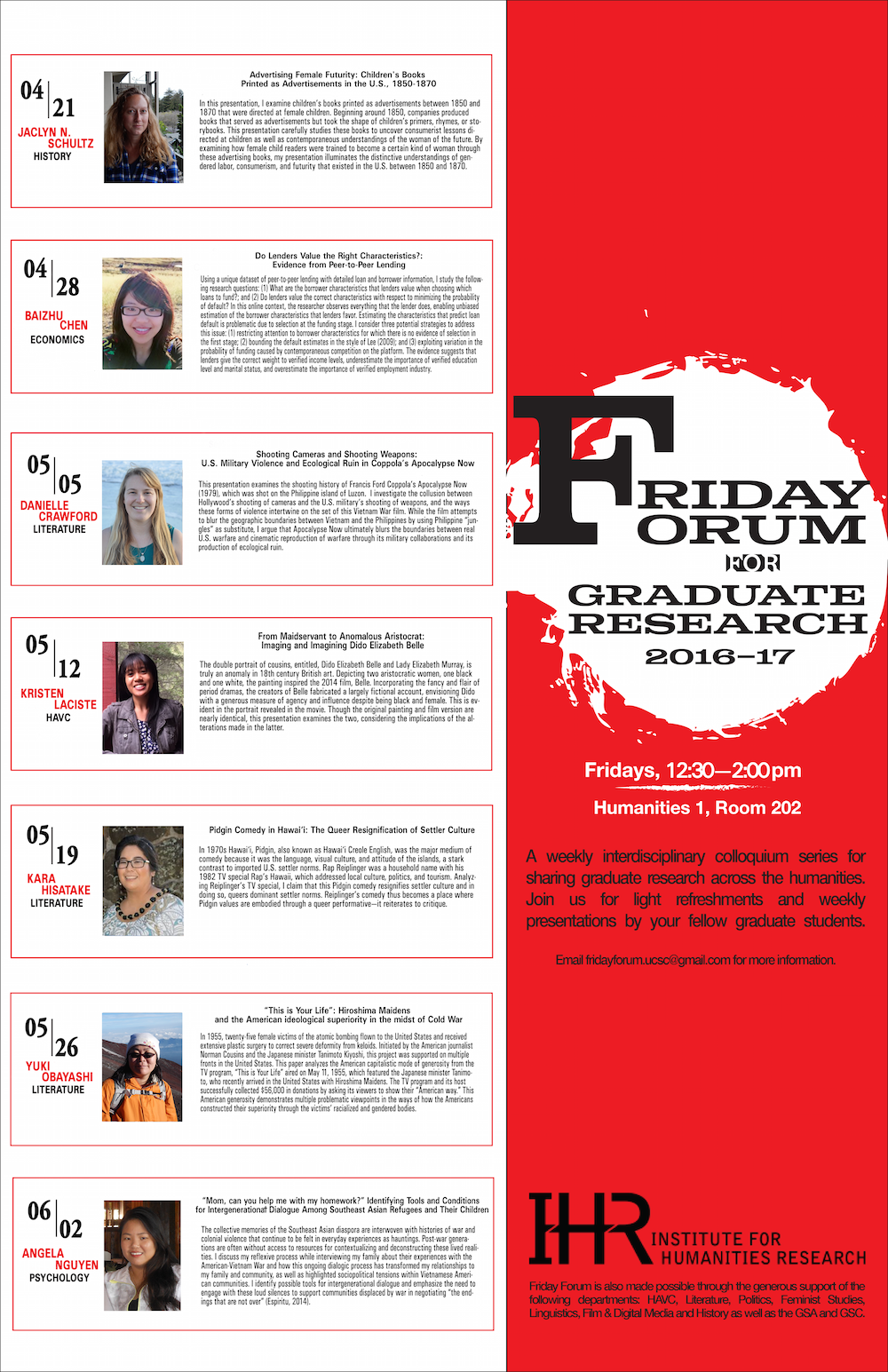 Friday Forum for Graduate Research: Danielle Crawford
May 5, 2017 @ 12:30 pm

-

2:00 pm

| Humanities 1, Room 202
Share
Shooting Cameras and Shooting Weapons: U.S. Military Violence and Ecological Ruin in Coppola's Apocalypse Now
This presentation examines the shooting history of Francis Ford Coppola's Apocalypse Now (1979), which was shot on the Philippine island of Luzon. I investigate the collision between Hollywood's shooting of cameras and the U.S. military's shooting of weapons, and the ways these forms of violence intertwine on the set of this Vietnam War film. While the film attempts to blur the geographic boundaries between Vietnam and the Philippines by using Philippine "jungles" as substitute, I argue that Apocalypse Now ultimately blurs the boundaries between real U.S. warfare and the cinematic reproduction of warfare through its military collaborations and its production of ecological ruin.
Friday Forum Spring quarter 2017 Schedule:
Fridays 12:20-2pm
Humanities 1 Room 202
A weekly interdisciplinary colloquium series for sharing graduate research across the humanities. Join us for light refreshments and weekly presentations by your fellow graduate students.
April 21, 2017: Jaclyn N. Schultz, History
April 28, 2017: Baizhu Chen, Economics
May 5, 2017: Danielle Crawford, Literature
May 12, 2017: Kristen Laciste, HAVC
May 19, 2017: Kara Hisatake, Literature
May 26, 2017: Yuki Obayashi, Literature
June 2, 2017: Angela Nguyen, Psychology