Events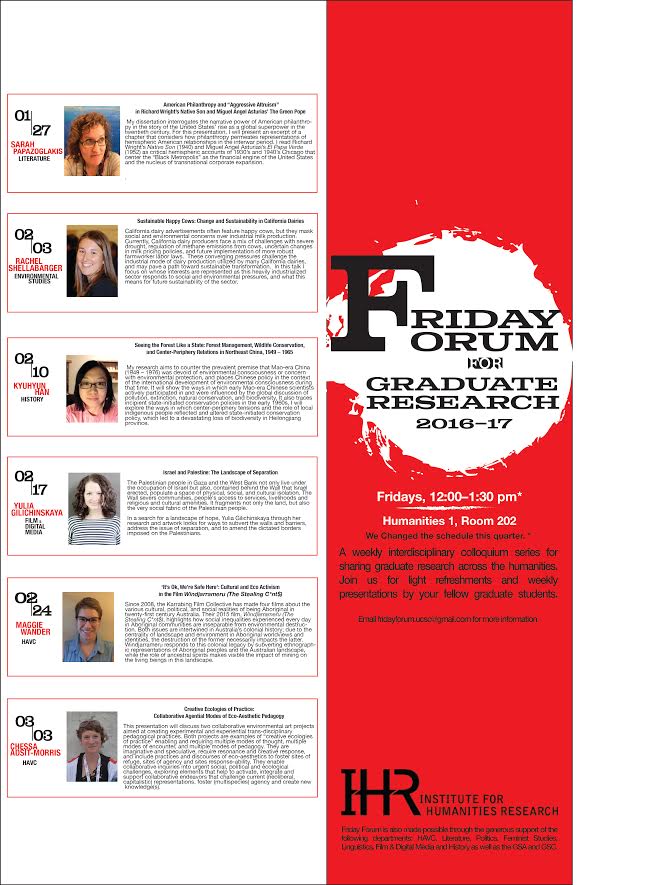 Friday Forum for Graduate Research: Kyuhyun Han
February 10, 2017 @ 12:00 pm

-

1:30 pm

| Humanities 1, Room 202
Share
Sewing the Forest like a state: Forest Management, Wildlife Conservation, and Center-Periphery Relations in Northeast China, 1949 – 1965
My research aims to counter the prevalent premise that Mao-era China (1945-1976) was devoid of environmental consciousness or concern with environmental protection, and places Chinese policy in the context of the international development of environmental consciousness during that time. It will show the ways in which early Mao-Era Chinese scientists actively participated in and were influenced by the global discussion of pollution, extinction, natural conservation, and biodiversity. It also traces incipient state-initiated conversation policies in the early 1960s. I will explore the ways in which center- periphery tensions and the role of local indigenous people reflected and altered state-initiated conversation policy, which led to a devastating loss of biodiversity in Heilongjiang province.
Friday Forum Winter quarter 2017 Schedule:
Fridays 12:20-2pm
Humanities 1 Room 202
A weekly interdisciplinary colloquium series for sharing graduate research across the humanities. Join us for light refreshments and weekly presentations by your fellow graduate students.
January 27, 2017: Sarah Papazoglakis, Literature
February 03, 2017: Rachel Shellabarger, Environmental Studies
February 10, 2017: Kyuhyun Han, History
February 17, 2017: Yulia Gilchinskaya, Film & Digital Media
February 24, 2017: Maggie Wander, HAVC
March 3, 2017: Chessa Adsit-Morris, HAVC