Events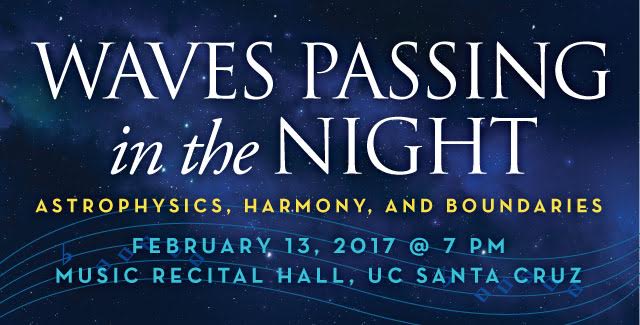 Waves Passing in the Night: a Conversation on Astrophysics, Harmony, and Boundaries
February 13, 2017 @ 7:00 pm

-

9:00 pm

| Music Center Recital Hall

$10
Share
Event Photos: by Steve Kurtz

UC Santa Cruz Original Thinkers Series
Cowell College and the Institute for Humanities Research Present
Waves Passing in the Night
Monday, February 13, 7 p.m.
Followed by dessert reception and book signing
Music Recital Hall, UC Santa Cruz
Please join Chancellor George Blumenthal, Walter Murch, a three-time Academy Award-winning sound and film editor, and author Lawrence (Ren) Weschler (Cowell '74), with astronomer Enrico Ramirez-Ruiz for a conversation on astrophysics, harmony, and boundaries.


$10 ticket includes parking in the Performing Arts lot. Free admission for Students who register.
Ren Weschler's book on Walter Murch, "Waves Passing in the Night: Walter Murch in the land of Astrophysics," releases in January 2017. Murch is a 3-time Academy Award-winning sound and film editor with an interest in astrophysics. As a consummate outsider, Murch had a hard time attracting any sort of comprehensive hearing from professional astrophysicists. However, Murch has made advances that even some of them find intriguing, including a connection between Titius Bode and earlier notions–going back past Kepler and Pythagorus–of musical harmony in the heavens.
"It is controversy that brings science alive."
– Lee Smolin, theoretical physicis
Brought to you by Cowell College, in partnership with the Institute for Humanities Research, Astronomy & Astrophysics Department, and Film & Digital Media Department.
Questions? UC Santa Cruz Special Events Office. Specialevents@ucsc.edu or (831)459-5003
About the book – Waves Passing in the Night
From Pulitzer Prize nominee Lawrence Weschler, a fascinating profile of Walter Murch, a film legend and amateur astrophysicist whose investigations could reshape our understanding of the universe. Click here for more information.
About the Speakers:
Walter Murch
Murch has been a Hollywood sound editor for over 45 years, and has worked with such names as Francis Ford Coppola and George Lucas. He has won three Academy Awards—one for his work on Apocalypse Now (Best Sound) and two for The English Patient (Best Sound and Best Film Editing).
Lawrence (Ren) Weschler
A graduate of Cowell College (1974), Weschler was a staff writer for over twenty years (1981–2002) at The New Yorker, where his work shuttled between political tragedies and cultural comedies. He is a two-time winner of the George Polk Award (for Cultural Reporting in 1988 and Magazine Reporting in 1992) and was also a recipient of Lannan Literary Award (1998).
Enrico Ramirez-Ruiz
Ramirez-Ruiz is a professor of Astronomy and Astrophysics at UC Santa Cruz with a Ph.D. from the University of Cambridge. His research focuses on the violent universe with an emphasis on stellar explosions, gamma-ray bursts and accretion phenomena. Ramirez-Ruiz is one of the seven international scholars selected this year for the Niels Bohr Professorship Program, which aims to attract top international researchers to Danish Universities. He leads the international research collaboration in theoretical astrophysics and splits his time between UC Santa Cruz and the University of Copenhagen.