Events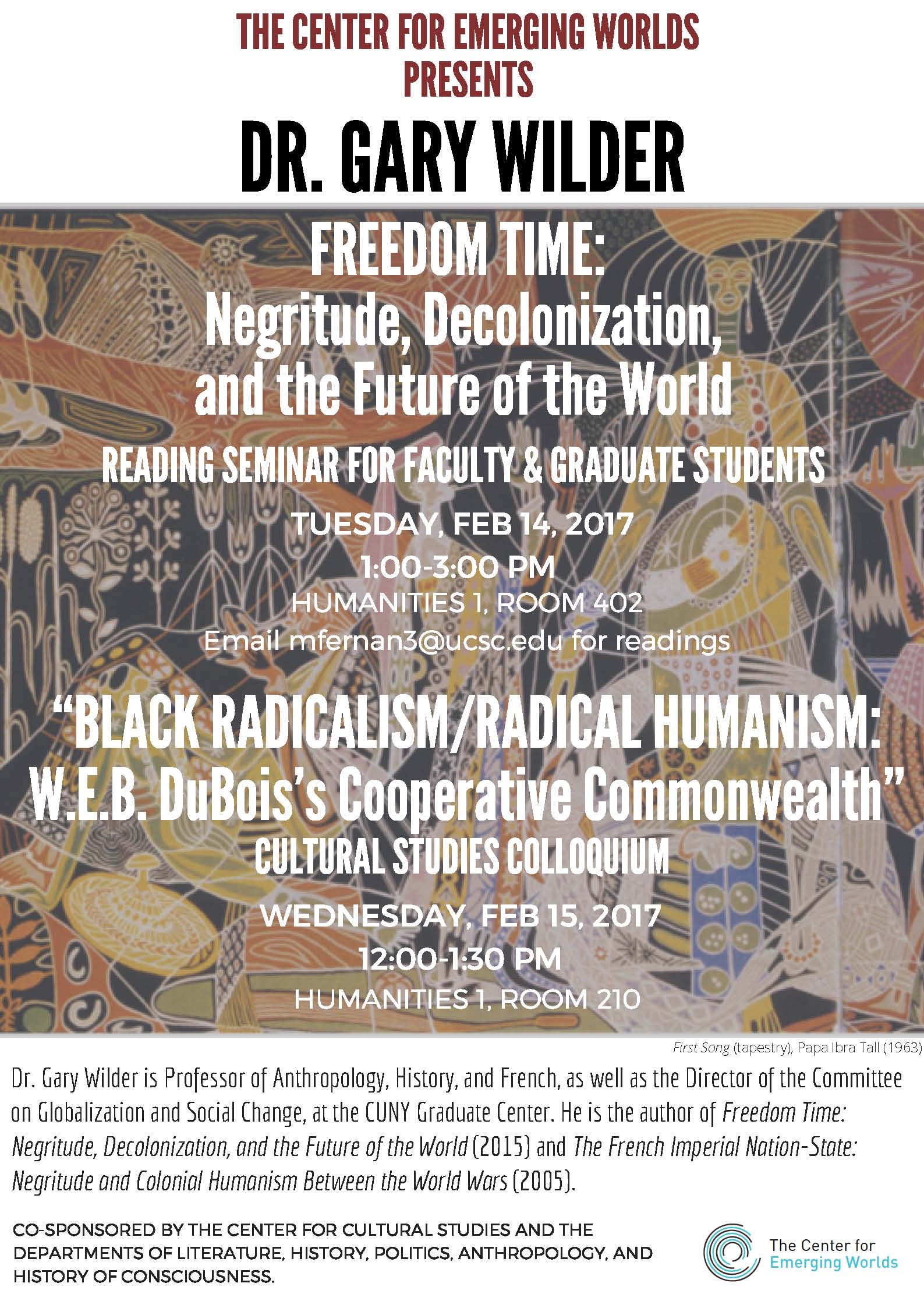 Gary Wilder: "Black Radicalism/Radical Humanism: W.E.B. Du Bois's Cooperative Commonwealth"
February 15, 2017 @ 12:00 pm

-

1:00 pm

| Stevenson Fireside Lounge

Free
Share
Event Photos:

If you have trouble viewing above images, you may view this album directly on Flickr.
Gary Wilder is the author of Freedom Time: Negritude, Decolonization, and the Future of the World (2015) and The French Imperial Nation-State: Negritude and Colonial Humanism Between the World Wars (2005). He is currently co-editing the volume The Postcolonial Contemporary and working on a book entitled "Cooperative Commonwealth: Radical Humanism and Black Atlantic Criticism."
Gary Wilder is a Professor of Anthropology, History, and French; and Director, Committee on Globalization and Social Change at the CUNY Graduate Center.
Co-Sponsored by the Center for Emerging Worlds
The Center for Cultural Studies hosts a weekly Wednesday colloquium featuring work by faculty and visitors. The sessions consist of a 40-45 minute presentation followed by discussion. We gather at noon, with presentations beginning at 12:15 PM. Participants are encouraged to bring their own lunches; the Center provides coffee, tea, and cookies.
All Center for Cultural Studies events are free and open to the public. Staff assistance is provided by the Institute for Humanities Research.
Winter 2017 Colloquium Dates:
January 18th: Susan Buck-Morss
January 25th: Emily Mitchell-Eaton
February 1st: Regina Kunzel
February 8th: Camillo Gomez-Rivas
February 15th: Gary Wilder
February 22nd: Rick Prelinger
March 1st: Hillary Angelo
March 8th: Akash Kumar