Events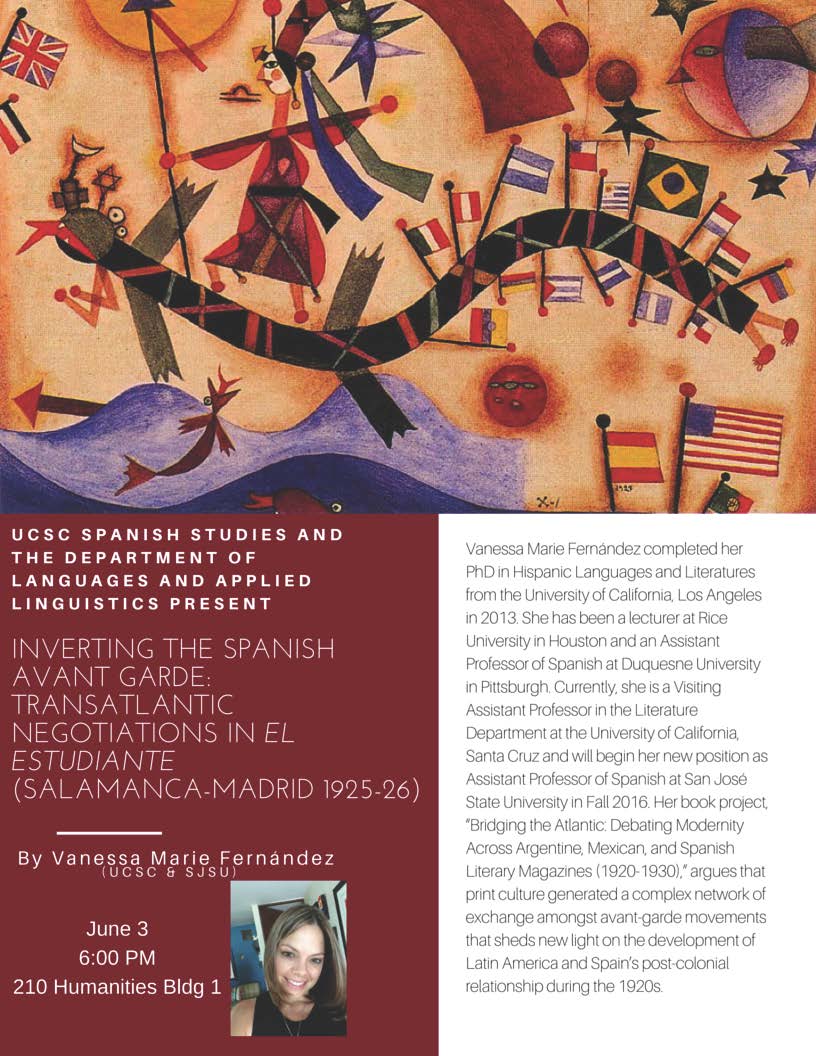 Inverting the Spanish Avant Garde: Transatlantic Negotiations in El Estudiante (Salamanca-Madrid 1925-26)
June 3, 2016 @ 6:00 pm

| Stevenson Fireside Lounge

Free
Share
UCSC Spanish Studies and the Department of Language and Applied Linguistics present:
Inverting the Spanish Avant Garde: Transatlantic Negotiations in El Estudiante (Salamanca-Madrid 1925-26)
By Vanessa Marie Fernandez (UC Santa Cruz and San Jose SU)
Friday June 3rd, 6:00PM
Humanities 1, Room 210
Vanessa Marie Fernandez completed her PhD in Hispanic Langiages and Literatures form the University of Claifornia, Los Angeles in 2013. She has been a lecturer at Rice University in Houston and an Assistant Professor of Spanish at Duquesne Univeristy in Pittsburgh. Currently, she is a Visiting Assistant Professor in the Literature Department at the University of California, Santa Cruz and will begin her new position as Assitant Professor of Spanish at San Jose State University in Fall 2016. Her book project "Bridging the Atlantic: Debating Modernity Across Argentine, Mexican, and Spanish Literary Magazines (1920-1930)," argues print culture generated a complex network o exchange amongst avant-garde movements that sheds new light on the development of Latin America and Spain's post colonial relationship during the 1920s.