Events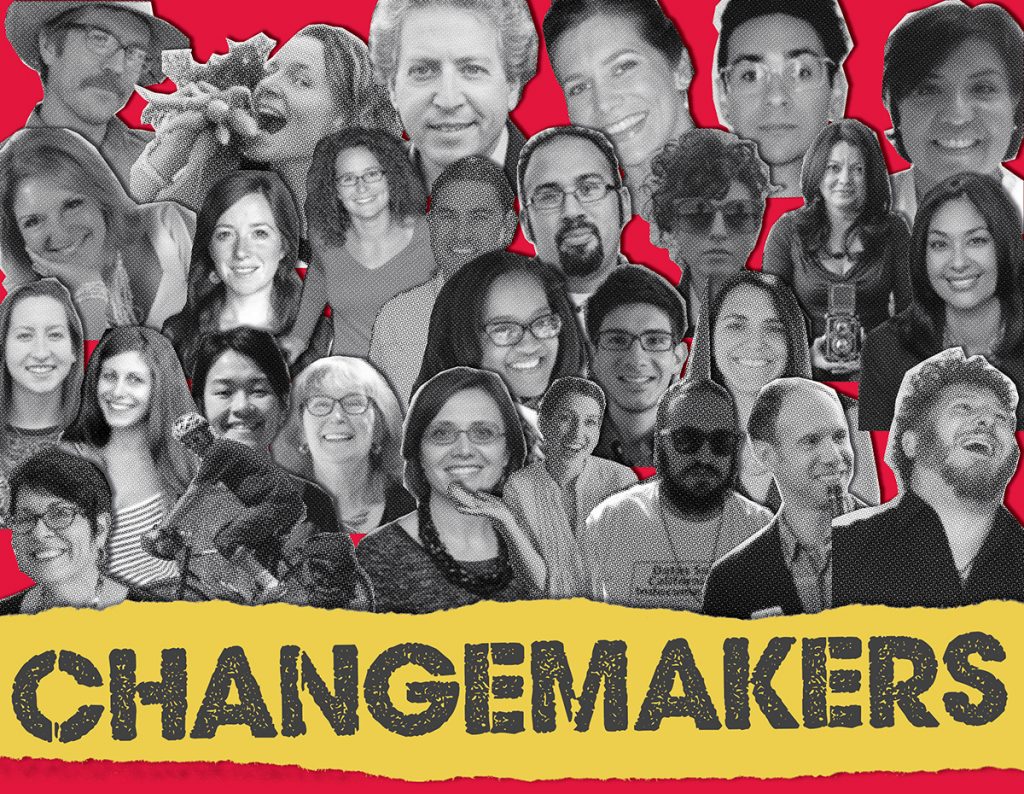 MAH 3rd Friday: Changemakers
June 17, 2016 @ 6:00 pm

-

9:00 pm

| Santa Cruz Museum of Art and History
Share
Meet the creative leaders making change happen in Santa Cruz County.
Engage with county supervisors and cycling advocates. Meet artists and food justice activists. Network with film festival directors and Oaxacan cultural preservationists. Interact with hands-on workshops, demonstrations and performances.
C3 (Creative Community Committee) is the MAH's community think tank of 45 diverse leaders across our county. We have spent the year creatively brainstorming new ways to build cultural bridges in our community. Meet us, learn about our work, step out of your comfort zone and explore all the ways you can connect with these leaders and each other.
Performances
6-7PM Preserving Mexican Cultural Traditions Through Dance and Healing with Senderos' Centeotl Danza y Baile who will perform Mexican folkloric dance. Senderos are an all-volunteer organization dedicated to sharing cultural arts to provide pathways for Latino youth and an appreciation of our community's diversity.
Drop-in Workshops & Demonstrations
7-8PM Preserving Mexican Cultural Traditions Through Dance and Healing with Senderos: Oaxaqueña curandera (healer), Marta Martinez Navarro and her husband, Ramiro Hernandez, will demonstrate traditional remedies.
A Living History of Cooperatives in Santa Cruz and Beyond with Zachary Wolinsky from Santa Cruz: PedX Courier & Cargo and Santa Cruz Pedicab: What can we learn from democratically governed businesses in Santa Cruz County? Join us for a few rounds of Co-opoly, the game of cooperatives. Learn about the stories of the local cooperative businesses in Santa Cruz County and how they anchor wealth in the community and create opportunities for human connection. Help us create a map of cooperative business stories across time and space in the past, present, and future.
Everyday Science with Antonia Franco from SACNAS and Irena Polic from the Institute for Humanities Research:Explore your capacity for science and learn how even normal household products can be turned into fun & educational experiments.
Bringing the Museum to Your Bus Stop with County Supervisor John Leopold: Bus stops can be a site to share cultural experiences. Do you know there's a psychedelic bus stop in Soquel about the history of Counterculture in Santa Cruz? Come see the original model and help turn the Metro's Bus Shelters into vibrant "mini-museums" by celebrating our County's art and culture.
The Tree that Overcame with Edgar Ontiveros from Nopal Media and Rebecca Hernandez Rosser from the UCSC American Indian Resource Center: Write on the leaves about a time you had a positive or negative experience around your gender, race/ethnicity, religion, sexuality, nationality, dis/ability or age. Share a moment of empowerment on a paper blossom.
PLACE Bingo with anthropologist and educator Natalie Baloy and Rick Flores, Steward of the Amah Mutsun Relearning Program and Amah Mutsun Land Trust: Get to know your place – Santa Cruz, your neighbors, your community – with a conversational Bingo game. Earn squares by engaging in conversations with fellow visitors – get five squares in a row and you'll win a prize!
Abstract Identities with Nicole Zahm from the Santa Cruz Farmers Market and Doron Comerchero from Food What?!: Create an abstract image representing your identity and connect with others who share that with you. Explore our shared complex identities.
Pop-Up State Park with Friends of Santa Cruz State Parks Bonnie Hawley, Jorge Savala and Vance Landis-Carey: Transport yourself to the Castro Adobe — play Californio games, make a tortilla ranchero style, and learn to rope. Take a virtual field trip, then come visit the Castro Adobe State Historic Park in Watsonville.
Have you ever built a time machine? with artist and educator Kyle McKinley: Explore the transformed history gallery as a machine for traveling through time. Time machines appear in American literary narratives as a technical solution to the historical dilemma of how to get from where we are to a utopian society. By asking participants to imagine the past and future differently, the idea of a time machine enables us to re-think the ways in which our present day decisions determine the shape that our collective futures will take.
Wayfinding with artist and designer, Raphael Arar: a responsive installation that reflects on the paths one chooses in life and their subsequent periods of chaos and harmony.
Dream Piñata with artist Louise Leong and artist Janis O'Driscoll from the Santa Cruz Public Libraries: What are the obstacles that get in the way of building bridges across difference in Santa Cruz? What are your hopes and dreams for bringing people together? At the end of the night we'll break through all those obstacles written on the outside of the piñata to release all our dreams inside the piñata!
The Mask You Live In with Monica Martinez and Maria Castillo from Encompass Community Services: We often wear masks on the outside to conceal what's on the inside. Make a mask that represents the ideas, feelings and experiences we often do not wear openly. See masks made with individuals in our community through Encompass and connect with others who share similar stories to your mask.
My Rite of Passage with Consuelo Alba from the Watsonville Film Festival and Christina Cuevas from the Community Foundation Santa Cruz County inspired by the documentary Xilonen: The Ceremony of Tender Corn. All cultures around the world celebrate rites of passage ceremonies or rituals that mark people's transition into a new stage of life or a brand new identity. These transitions can be cultural, religious or social; the rites of passage include three phases: separation, transition or adventure and incorporation. Share with us that special moment of transition in your life. What was it? Why it happened? When? Where? Tell us your story.
Story Sharing with Strangers with : Anonymous story sharing will invite you to share a meaningful story with a stranger and listen to theirs.
Finding Home Between Different Worlds: Poems about Culture, Place, and People with UCSC history professor Pedro Castillo and Jacquie Benetua-Rolens from Santa Cruz Community Health Centers: Home means a lot of different things to us all. It is where we've unpacked our lives and planted seeds. It is a tapestry of different experiences, different languages and different places. It's where we rest while it rests in our memories. We leave and come back everyday, carrying it with us, and always with the people we love. Invite us into your home by sharing your story.
Bike the Bay with Tawn Kennedy from Bike Santa Cruz County: Tawn is biking with Santa Cruz youth this year on the Bike the Bay Tour. What should they learn about the communities they're riding through? What are the secret histories, wild adventures, and fun facts they should discover as they bike along this route?
What is C3? with Creative Community Committee (C3) Interns Ana Leopold & Alma Villa and C3 Members Keisha Frost from the United Way & Jacob Martinez from the Digital Nest: Learn about this group of Changemakers and the topics we've been discussing this year.
If you want to learn more contact Stacey Marie Garcia, stacey@santacruzmah.org