Events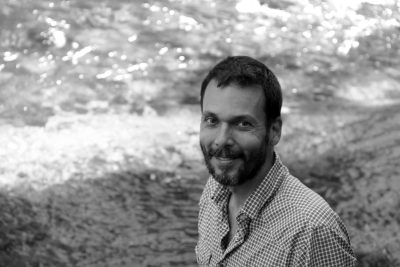 Jorgge Menna Barreto – Voicescapes for the Landless
February 9, 2022 @ 12:00 pm

-

1:30 pm

| Virtual and In Person
Share
This project expands traditional oral history methodologies by recording the voices of farmers of the Brazilian Landless Workers Movement (MST) embedded in the soundscapes of the food forests they cultivate. The resulting situated multispecies voicescapes will be used in the creation of pedagogical material for students in rural schools and beyond.

Jorgge Menna Barreto, Ph.D. is a Brazilian artist and educator, whose practice and research have been dedicated to site-specific art for over 20 years. In 2014, he worked on a postdoctoral research project at Universidade do Estado de Santa Catarina, Brazil, where he collaborated with a biologist and an agronomist to study relations between site-specific art and agroecology, centring around agroforestry. In 2020 he completed a second postdoctoral research at Liverpool John Moores University, England, which led to the work presented at the Liverpool Biennial in 2021. Menna Barreto approaches site-specificity from a critical and South American perspective, having taught, lectured, and written on the subject. He has translated authors from English into Brazilian Portuguese, including Miwon Kwon, Rosalyn Deutsche, Hito Steyerl and Anna Tsing. Menna Barreto has participated in art residencies, projects and exhibitions worldwide. In 2016, he took part in the 32nd São Paulo Biennial with his award-winning project Restauro: a restaurant set up to work as a system of environmental restoration in collaboration with settlements of Brazil's Landless Workers' Movement [MST]. The project travelled to the Serpentine Galleries in London in 2017, where the artist worked with a wild edibles expert, a botanical illustrator and local organic growers. In 2020, as a resident at the Jan van Eyck Academie, Netherlands, he launched a periodical called Enzyme in collaboration with artist Joélson Buggilla. In Geneva, Switzerland, he has collaborated on the MFA in Socially Engaged Art at HEAD – Haute École d'Arts Appliqués, where he is working on a research project focused on ecopedagogy. In 2021, Menna Barreto joined the Art Department of University of California, Santa Cruz, where he also teaches at the new MFA in Environmental Art and Social Practice.
The Center for Cultural Studies hosts a weekly Wednesday colloquium featuring work by faculty and visitors. We gather at 12:00 PM, with presentations beginning at 12:15 PM.
For Winter 2022, the colloquium will take a hybrid format, in which some events are fully remote and others have the option of in-person attendance. Attendees have the option to attend in person in Humanities 210 or to watch the presentation on zoom. Those who attend in person must adhere to the campus mask mandate for all indoor activities and must complete UCSC's symptom-check form before coming to campus. In person attendees are asked to please arrive at 12pm so that the event coordinators can verify the symptom check has been completed. To attend remotely via zoom, please RSVP in advance, and you will receive a zoom link on the morning of the colloquium. In most cases, speakers will appear remotely so that they will not have to present wearing a mask. To RSVP for the full Winter colloquium series, please use this form. If you have any questions about the colloquium, please contact Piper Milton (cult@ucsc.edu).
Staff assistance is provided by The Humanities Institute.